Friday Message 9/18/2020
Posted September 19, 2020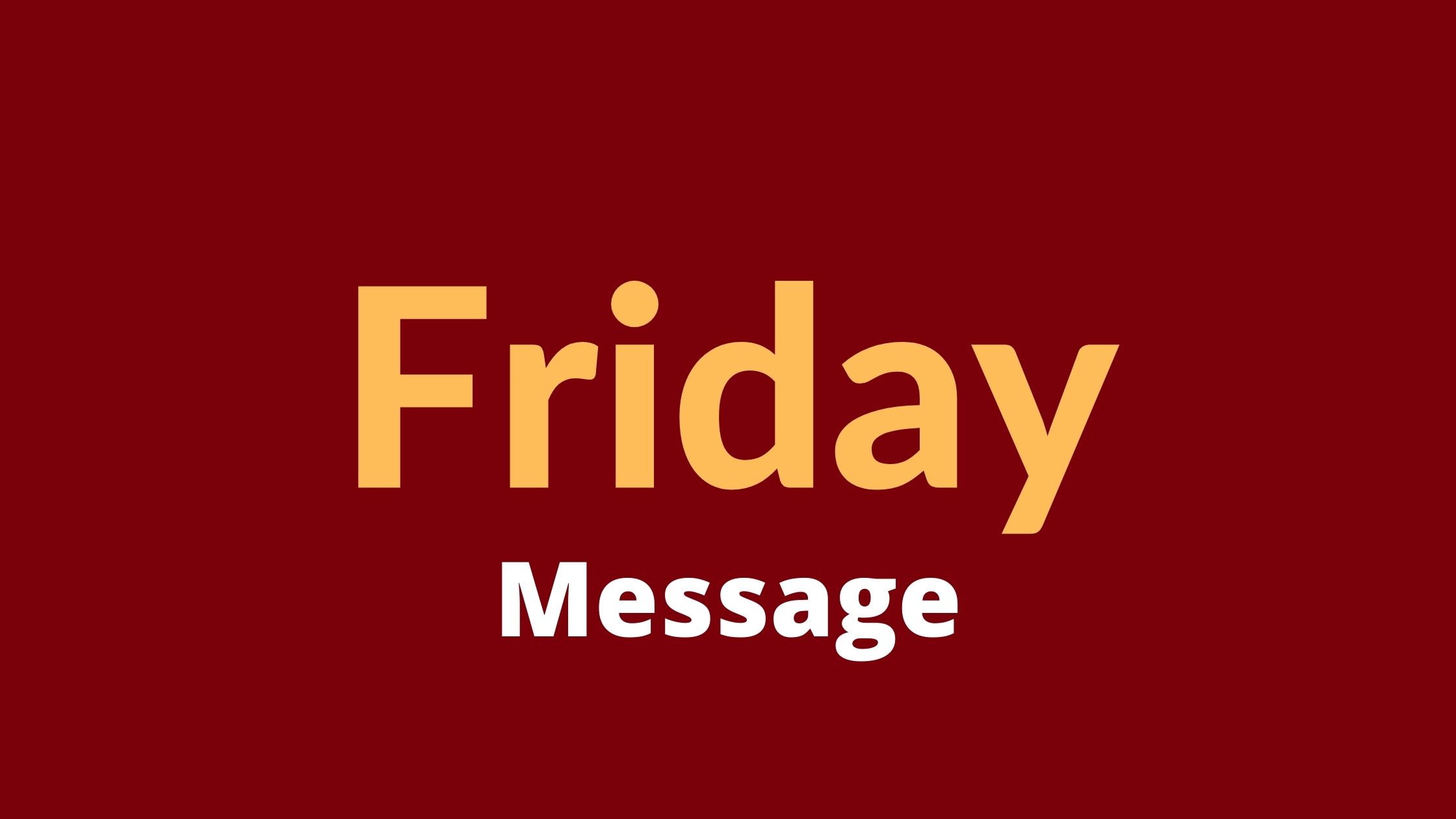 Good Day Families,
It has been quite the finish of week four for kids, parents and staff.  Undoubtedly, the remote learning environment has tested us all in different ways.  Clearly, it has been a wonderful opportunity to be able to spend so many hours reconnecting with the family, something that is very unusual.  We have all gotten to know each other just a little better and I must admit, it has been extremely entertaining to be able to be gather into so many homes in such a short time span.   Many of us have even developed relationships with household pets, have gotten to know parents on different levels, and have even had the opportunity to observe some of your unique working from home habits.  Last week, I was introduced to some very uncommon rock music, appreciated the new techniques of getting toddlers to sleep, read about a peace treaty between siblings, and even were invited to tour the family refrigerator.   A special invite came  from a staff members son that just needed to show me a water-logged ceiling caused from his mom (his exact words) and a bath tub over flowing because  "mom got distracted and spent way too long" on her zoom meeting.  Sometimes kids just say too much.
Glad we can continue to see the humor in things during this time, especially when days seem tough. There is a lot of information filtering through the system at this time. We are doing everything we can to deliver relevant and important information to you as we receive it. Enjoy, your weekend, Monday will be here quickly. Please take the time to read through the information and if you have questions, don't hesitate to ask your teacher, the office or us.
Thanks,
Trich, Eric and Katheryn
Coming Up:
Virtual Learning Option/In Person Learning
The deadline for elementary school families to choose or change their enrollment option is still end of the day today, Friday, Sept. 18.
**The deadline for middle school families to select or change their enrollment in in-person learning or the virtual program for the second quarter has been extended to the end of the day on Wednesday, Sept. 23.**
Choices will remain valid through December 31st.
Return to in Person Learning
Kindergarten – October 5th
During the week of 9/28, Kindergarten teachers will have a 60 minute dress rehearsal of routines for the first day back. Each teacher will let you know their specific date.
1st Grade – October 12th
During the week of 10/5, First grade teachers will have a 60-minute dress rehearsal of routines for the first day back. Teachers will let you know their specific date.
2nd – 5th Grades return – October 21st
Look for upcoming Town Halls for 3rd-5th grade.
Please remember that a dress code will still exist at Bill Roberts. Please review our dress code here.
Discovery Link
DPS Discovery Link will return with reduced capacity to regular before and after school programming. Registration for ECE-5th grade is now open on a first-come, first-served basis. Families who have already enrolled their students in Discovery Link programming can register for the days their students will attend by clicking here. For families new to Discovery Link, please click here to enroll.
CSC Meeting
Tuesday, September 22, 2020
4 pm
This committee discusses school policies, staffing needs, and budget concerns throughout the year.
Eat and Give
Mark your calendars and MENTION BILL ROBERTS AS INSTRUCTED BELOW when you order from these neighborhood restaurants on their given dates and they will give back between 20-25% of your total order to our school!
Noodles & Co, Town Center
Wednesday, September 23rd
4-8pm (25%)
Online and app orders use Coupon Code "GIVING2
Middle School Parent Support Committee
September 24, 2020
3pm
Please see this LINK for information about the upcoming meeting.
Be Active! Fundraiser
In place of our annual in-person Fun Run, this year we are doing a month-long event! Students will track their daily physical activity and have parents sign off. First, we need t-shirt designs! All students are encouraged to draw and submit their "Go Bobcats! Be Active!" designs by October 1st (white base, 3 to 4 colors). Submit drawings in .jpeg or .pdf format to:
billrobertsfunrun@gmail.com or cheryl_learned@msn.com
Click HERE to see some of last year's awesome submissions.
Registration opens October 1st!
The fundraiser event will run October 15th – November 15th.
BESS Social and Emotional Screener
This fall we will continue the BESS Social and Emotional Screener as part of the DPS Whole Child Initiative. Click here for more information on this process.
If you would NOT like your child to participate, please complete
Resources for Family/Student Meals
Breakfast and Lunch
Denver Public Schools is providing free weekday breakfast and lunch for children at Bill Roberts, Monday through Friday from 11 a.m. until 1 p.m.
Apply for P-EBT
P-EBT provides families with children eligible for free or reduced-price school meals with funds to help buy food since schools were closed this Spring due to the pandemic. You can receive up to $279 per eligible child to stretch your food budget. Please click here for more information. Deadline to apply is September 23rd.
Food Bank of the Rockies
This website will provide you a list of food pantries closest to you
PTA Food Pantry
The Bill Roberts PTA Food Pantry is preparing to begin serving our school once again. The food pantry will provide assistance to families in need during the 2020-21 school year.
We understand that our school is a diverse community serving students with a variety of situations. The success of all children at Bill Roberts is important to the school.
If you would like to receive, assistance please complete the google form and you will be contacted with additional information. Please note that the school staff will take great care in maintaining confidentiality.
Technology
If you still need to exchange your iPad or Chromebook, need a new device or need device repair please email June_Jose@dpsk12.org
Transportation
Families will receive a district communication related to who will and will not receive transportation services this year by September 21st.
Bill Roberts will have very limited bus services this year
School Supplies
Some school supplies are on backorder. As soon as they arrive, look for communication from the front office that will provide specifics on how and when you will be able to pick these things up.