Midweek Message 9/22/202
Posted September 23, 2020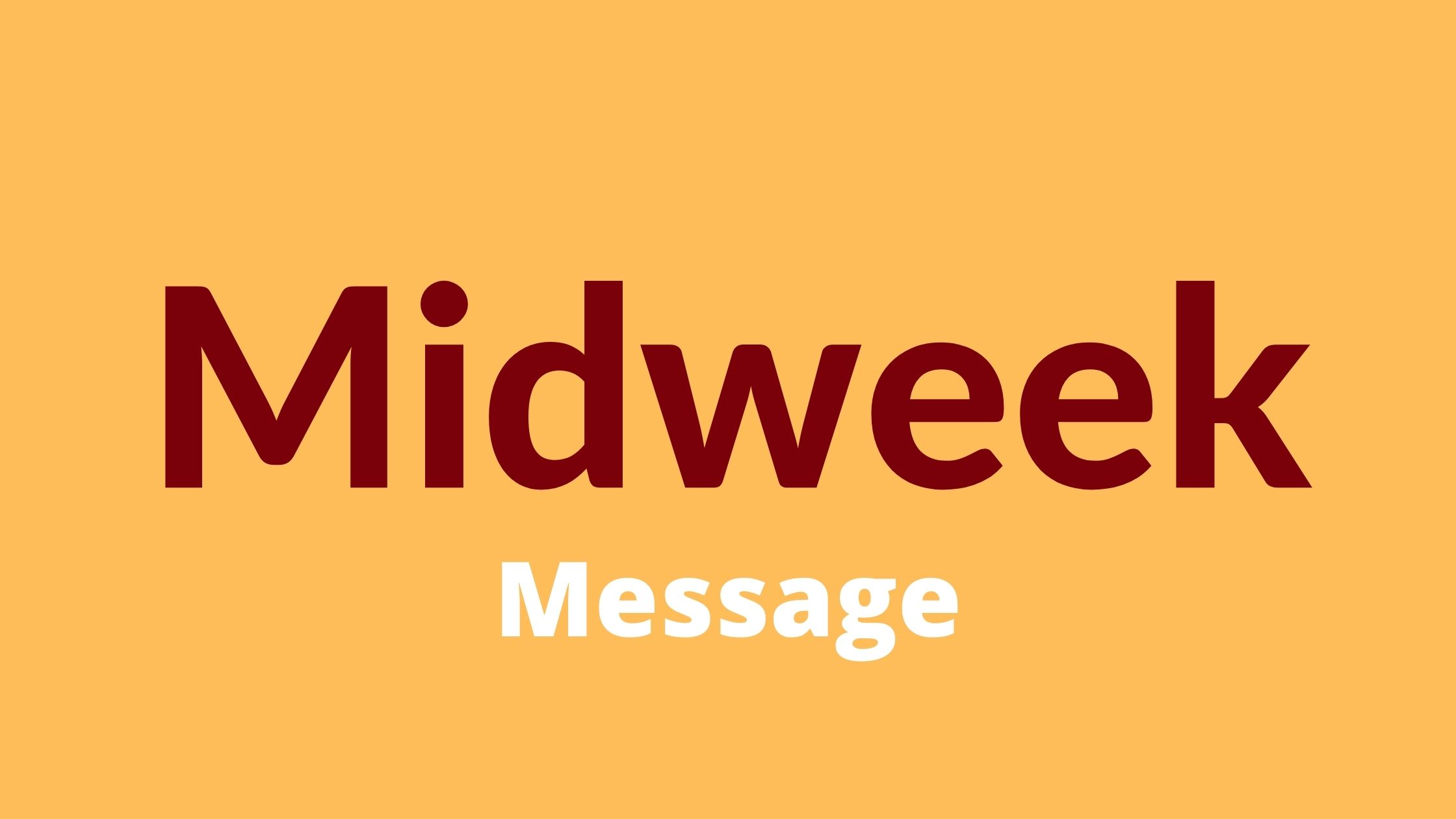 Return to in Person Learning
We realize that there is a lot of concern around a "Safe Return to School." While the plan may appear to be fairly simple, the process around its completion is very complex. The original plan was started in July and then placed on hold when the start date for schools returning to in-person platform was delayed. That draft was completed in August. A school leadership team (SLT) was selected by vote from the staff, consisting of three teachers, a school union representative, and a principal selected teacher and administration. This team has been working diligently to make modifications to the plan. We meet several times a week, go through the document to make changes, as the committee deems necessary. IT is a tedious yet necessary process. We will do walkthroughs in the building with the leadership team, with our facility management teams and with the district. We are strategically planning this grade by grade, with many considerations involving health and safety, school schedules, structures, recess and lunch, virtual teaching and learning etc. The document is involved. However, this is a priority and not taken lightly. I want to reassure you that we have thoughtful planning and excessive planning going into this process. The team continues to refine some of the work to ensure that every student and staff member will be safe. Plans must be approved by the district in order to be implemented. Students are at the forefront of this plan and every decision that is made.
Kindergarten – October 5th
During the week of 9/28 Kindergarten teachers will have a 60 minute dress rehearsal of routines for the first day back. Each teacher will let you know their specific date.
1st Grade – October 12th
During the week of 10/5 First grade teachers will have a 60 minute dress rehearsal of routines for the first day back. Each teacher will let you know their specific date.
2nd – 5th Grades return – October 21st
Look for upcoming Town Halls for 2nd-5th grade. We will be hosting these to9wn halls
Please remember that a dress code will still exist at Bill Roberts. Please review our dress code here.
Virtual Learning Option/In Person Learning
**The deadline for middle school families to select or change their enrollment in in-person learning or the virtual program for the second quarter has been extended to the end of the day on Wednesday, Sept. 23.**
Choices will remain valid through December 31st.
Currently the numbers at each grade level choosing the virtual learning platform are as follows (remember that middle school parents still have time to choose.)
Kindergarten-17
1st- 23
2nd-13
3rd-15
4th-9
5th-11
6th-7
7th-8
8th-11
The SLT is working to determine cohorts for students that have selected virtual learning with teachers that have been approved by the district for virtual instruction. As soon as we have that finalized, we will communicate a plan for each grade level.
Eat and Give
Noodles & Co, Town Center
Wednesday, September 23rd
4-8pm (25%)
Online and app orders use Coupon Code "GIVING2
Kids Heart Challenge Prize Pick Up
9/25 3-4:30 pm
Come ONE Come ALL! They are finally here! Ms. Nadon, Mr. Bellis and Mr. E will be passing out Kids Heart Challenge THANK YOU gifts for those students that have been expecting their "prizes/thank you gifts" from our service learning project last year. We will be doing a drive through pickup this Friday the 25th from 3-4:30. Come wave hello and get those hard-earned gifts from American Heart Association. Email Ms. Nadon with any questions!
Middle School Parent Support Committee
September 24, 2020
3pm
Please see this LINK for information about the upcoming meeting.
10/10 Giving
Exciting announcement! We are having a party next week! Well… not an IN-PERSON party, of course. Since we cannot have Greet and Gives this year, we are throwing an online party. Look in your email inbox next week for a link.
Whether in person or online, Bill Roberts offers an exceptional education with extras not funded by DPS. In order to support those extras, your Parent Teacher Association (PTA) needs to fundraise. So, on 10/1/2020, get your party pjs on and look in your email for the link
Be Active! Fundraiser
In place of our annual in-person Fun Run, this year we are doing a month-long event! Students will track their daily physical activity and have parents sign off. But first, we need t-shirt designs! All students are encouraged to draw and submit their "Go Bobcats! Be Active!" designs by October 1st (white base, 3 to 4 colors). Submit drawings in .jpeg or .pdf format to:
billrobertsfunrun@gmail.com or cheryl_learned@msn.com
Click HERE to see some of last year's awesome submissions.
Registration opens October 1st!
The fundraiser event will run October 15th – November 15th.
Used Spirit wear and Uniform Sale
10/3
The PTA will be holding an outside spirit wear and uniform sale at Bill Roberts School on Saturday, October 3rd. In order to adhere with social distancing rules, clothing will be broken out, per grade, as follows:
Kindergarten & 1st Grade – 8am to 9am
2nd & 3rd Grades – 9:30am to 10:30am
4th & 5th Grades – 11am to 12pm
Middle School 12:30pm to 1:30p
This is a PTA sponsored fundraiser to help raise money for our school. Every item will only be $1! This includes spirit wear! We will accept credit cards, cash and checks. Only one parent from your family is allowed, and masks are required at this event.
CSC Meeting
The next CSC meeting will be Tuesday, October 13, 2020
4 pm
This committee discusses school policies, staffing needs, and budget concerns throughout the year.
BESS Social and Emotional Screener
This fall we will continue the BESS Social and Emotional Screener as part of the DPS Whole Child Initiative. Click here for more information on this process.
If you would NOT like your child to participate, please complete
Resources for Family/Student Meals
Breakfast and Lunch
Denver Public Schools is providing free weekday breakfast and lunch for children at Bill Roberts, Monday through Friday from 11 a.m. until 1 p.m.
Apply for P-EBT
P-EBT provides families with children eligible for free or reduced-price school meals with funds to help buy food since schools were closed this Spring due to the pandemic. You can receive up to $279 per eligible child to stretch your food budget. Please click here for more information. Deadline to apply is September 23rd.
Food Bank of the Rockies
This website will provide you a list of food pantries closest to you
PTA Food Pantry
The Bill Roberts PTA Food Pantry is preparing to begin serving our school once again. The food pantry will provide assistance to families in need during the 2020-21 school year.
We understand that our school is a diverse community serving students with a variety of situations. The success of all children at Bill Roberts is important to the school.
If you would like to receive assistance please complete the google form and you will be contacted with additional information. Please note that the school staff will take great care in maintaining confidentiality.
Technology
If you still need to exchange your iPad or Chromebook, need a new device or need device repair please email June_Jose@dpsk12.org