Friday Message 9/25/2020
Posted September 26, 2020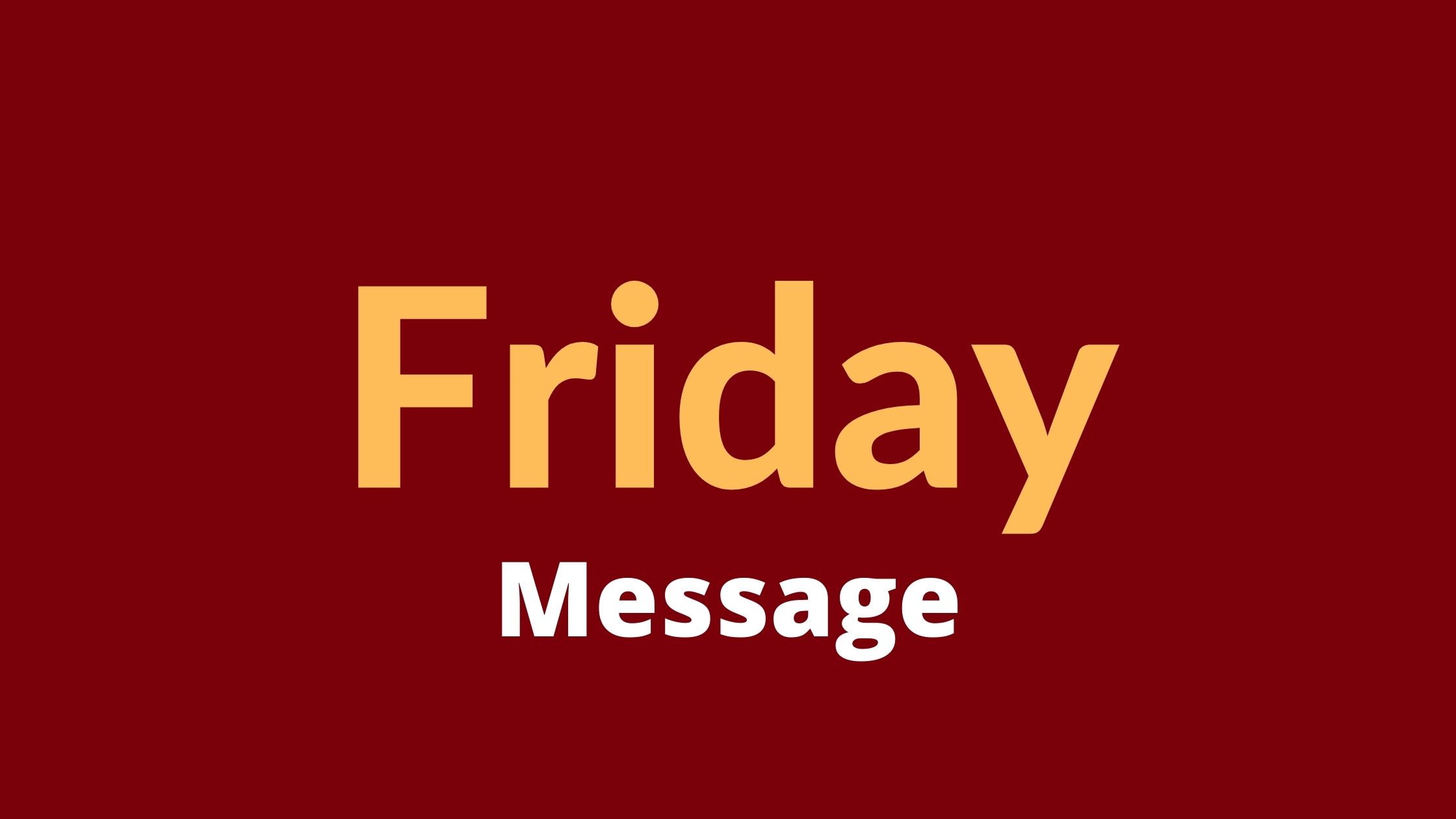 Good day,
Fall is in the air and the school has been bustling with unusual activity all week. Unusual only compared to past traditional years. We are not preparing for our annual Middle School sponsored "Trick or Treat" street for our younger students (K-2), but look forward to the time when we will be able to do something very similar and bring back old traditions. What remains the same is our message to children about character building and becoming an Everyday Leader. Now more than ever, we want to focus on the importance of LISTENING to others, setting a good EXAMPLE, being aware that ACTIONS speak louder than words, always DOING your best and doing what is right. We have so much to be thankful for. We want to express our gratitude to all of you for being a part of our community. To our staff, parents, volunteers, students, supporters, sponsors and everyone that makes up our Bill Roberts Family, a heartfelt appreciation.
A big thank you and congratulations to all of our readers who participated in the Book It Bobcats summer reading program. We had 144 students participate who read over 11,000 hours total and raised money for Bill Roberts! We want to recognize and thank Adie Tate and all the Book It volunteers for their countless hours and hard work on this program. Our school is better because of you!
Have a great weekend and we will see you Tuesday!
Trich, Erik & Katheryn
No School
Monday, September 28th
Teacher Planning Day
10/10 Giving
Recognize anyone in this short video? Your kids will for sure! Check it out to see familiar faces and some exciting news."
Eat and Give
MENTION BILL ROBERTS AS INSTRUCTED BELOW when you order from these neighborhood restaurants and they will give back between 15-25% of your total order to our school!
Freddy's in Northfield
Thursday, October 1st
4-8pm (15%)
Counter and drive-thru
Wednesday, October 7th
4pm-Close (20%)
Important Updates on Our Return to School
Elementary: Based on data from Denver Health that the rates of COVID continue to be low, so depending on how that continues, we will cautiously move forward with the following dates as planned, while continuing to monitor health conditions closely in consultation with Denver Health. Please check with your school for more details.
Kindergarten students will start back in person on October 5th
All first-grade students will start back in person of October 12th
All elementary students (ECE-5th grade) will return to full in-person learning on Oct. 21, with the exception of students who have chosen a virtual program.
Secondary: We are closely monitoring the latest trends in the data for this age group, and again, we are cautiously continuing to plan for reopening secondary for in-person learning in the second quarter, although it will be in a hybrid approach as we have previously shared. .
Students in grades 6-8 return to a mix of in-person and remote learning. Look for specific dates in the Tuesday Middle School Message.
All middle and high schools will provide a minimum of 10 hours of in-person learning for students who have opted in, but the use of that time can vary by school:
At some secondary schools, students may participate in a traditional, in-person class (like English 1) during in-person learning time. At other schools, they may continue remote classes and have a minimum of 10 hours of in-person time for academic/social-emotional support, academic advising, credit recovery, college advising or other options that address students' needs.
Kindergarten – October 5th
During the week of 9/28 Kindergarten teachers will have a 60 minute dress rehearsal of routines for the first day back. Each teacher will let you know their specific date.
Katheryn Keyes will host a socially distanced forum (outside on blacktop) for Kinder parents while the students are inside. She will welcome you, present some new procedures and answer questions.
1st Grade – October 12th
During the week of 10/5 First grade teachers will have a 60 minute dress rehearsal of routines for the first day back for each class. . Each teacher will let you know their specific date.
2nd – 5th Grades return – October 21st
Look for upcoming Town Halls for parents of 2nd-5th graders. We will be hosting specific grade level "dress rehearsals" as administration and grade level teachers determine where that may be necessary. For our younger grades, where students line up, arrival, dismissal etc. and establishing routines may be necessary to do in person. We will inform you about that. The older students who have been at Roberts for a while may be comfortable simply by observing any new routines (arrival, dismissal etc.) through a classroom video created by their teachers. Please look out for communication from teachers regarding these specifics. As the 21st gets closer, we may make modifications to our safe return to school plan but will communicate any of those changes to you.
Please remember that a dress code will still exist at Bill Roberts. Please review our dress code here.
Virtual Learning Option/In Person Learning
**The deadline for middle school families to select or change their enrollment in in-person learning or the virtual program for the second quarter has been extended to the end of the day on Monday, Sept. 28.**
Choices will remain valid through December 31st.
Currently the numbers at each grade level choosing the virtual learning platform are as follows (remember that middle school parents still have time to choose.)
Kindergarten-17
1st- 23
2nd-13
3rd-15
4th-9
5th-11
6th-7
7th-8
8th-11
The SLT (a school leadership team) selected by teachers is working to determine class cohorts for students that have selected virtual learning with teachers that have been approved by the district for virtual instruction. As soon as we have that finalized, we will communicate that plan and their specific teacher.
Be Active! Fundraiser
Calling all T-shirt designers: we need your submissions! Instead of the Fun Run, we are doing a month-long "Go Bobcats! Be Active!" event where students will track their daily physical activity. Please submit designs by October 1st (white base, 3 to 4 colors) in .jpeg or .pdf format to billrobertsfunrun@gmail.com or cheryl_learned@msn.com
Click HERE to see some of last year's awesome submissions.
Registration opens October 1st!
The fundraiser event will run October 15th – November 15th.
Used Spiritwear and Uniform Sale
The PTA will be selling gently USED SPIRITWEAR AND UNIFORMS* outside the school Saturday, October 3rd. EVERY item will be just $1! Clothing will be sorted and available per grades as follows:
K & 1st Grade – 8-9am
2nd & 3rd Grades – 9:30-10:30am
4th & 5th Grades – 11am-12pm
Middle School – 12:30-1:30pm
Cash, checks and credit cards accepted. Only one adult per family is allowed and MASKS ARE REQUIRED AT THIS EVENT.
*We are NOT accepting donations of used uniforms at this time. We ARE accepting gently used Spiritwear for this sale. Email robertspiritwear@gmail.com to arrange your donation.
Message from BR School Nurse
We are now accepting medications in preparation for our return to school. All medication forms are located on our Health Information webpage
Download your child's form…asthma, allergy/anaphylaxis, seizure, or general meds
Fill out your parent portion of the form and fax/deliver to your student's medical provider
The medical provider can fax the completed form to us at 720-424-2665
Drop Off:
Please place your student's prescription labeled medication in a zip lock bag. On the zip lock include name, date of birth, grade, & teacher.
You may drop off medication during school hours. Ring the doorbell at the main office. A staff member will collect your medication and place it in the nurses office.
*** If you are new to DPS, please provide a small wallet sized picture of your student. We have always done this as an added step to ensure administration to the correct student. It is even more important this year as we are wearing face masks. If you are not a new student, I have access to last year's school picture.
BESS Social and Emotional Screener
This fall we will continue the BESS Social and Emotional Screener as part of the DPS Whole Child Initiative. Click here for more information on this process.
If you would NOT like your child to participate, please complete
Resources for Family/Student Meals
Breakfast and Lunch
Denver Public Schools is providing free weekday breakfast and lunch for children at Bill Roberts, Monday through Friday from 11 a.m. until 1 p.m. As October 21st draws closer, we will be reaching out to determine who will need a grab n go breakfast. Lunches can still be ordered but will be delivered to each classroom and eaten in rooms. We will take lunch orders from each student in the each morning for that day.
Food Bank of the Rockies
This website will provide you a list of food pantries closest to you
PTA Food Pantry
The Bill Roberts PTA Food Pantry is preparing to begin serving our school once again. The food pantry will provide assistance to families in need during the 2020-21 school year.
We understand that our school is a diverse community serving students with a variety of situations. The success of all children at Bill Roberts is important to the school.
If you would like to receive, assistance please complete the google form and you will be contacted with additional information. Please note that the school staff will take great care in maintaining confidentiality.
Technology
If you still need to exchange your iPad or Chromebook, need a new device or need device repair please email June_Jose@dpsk12.org