Friday Message 10/9/2020
Posted October 10, 2020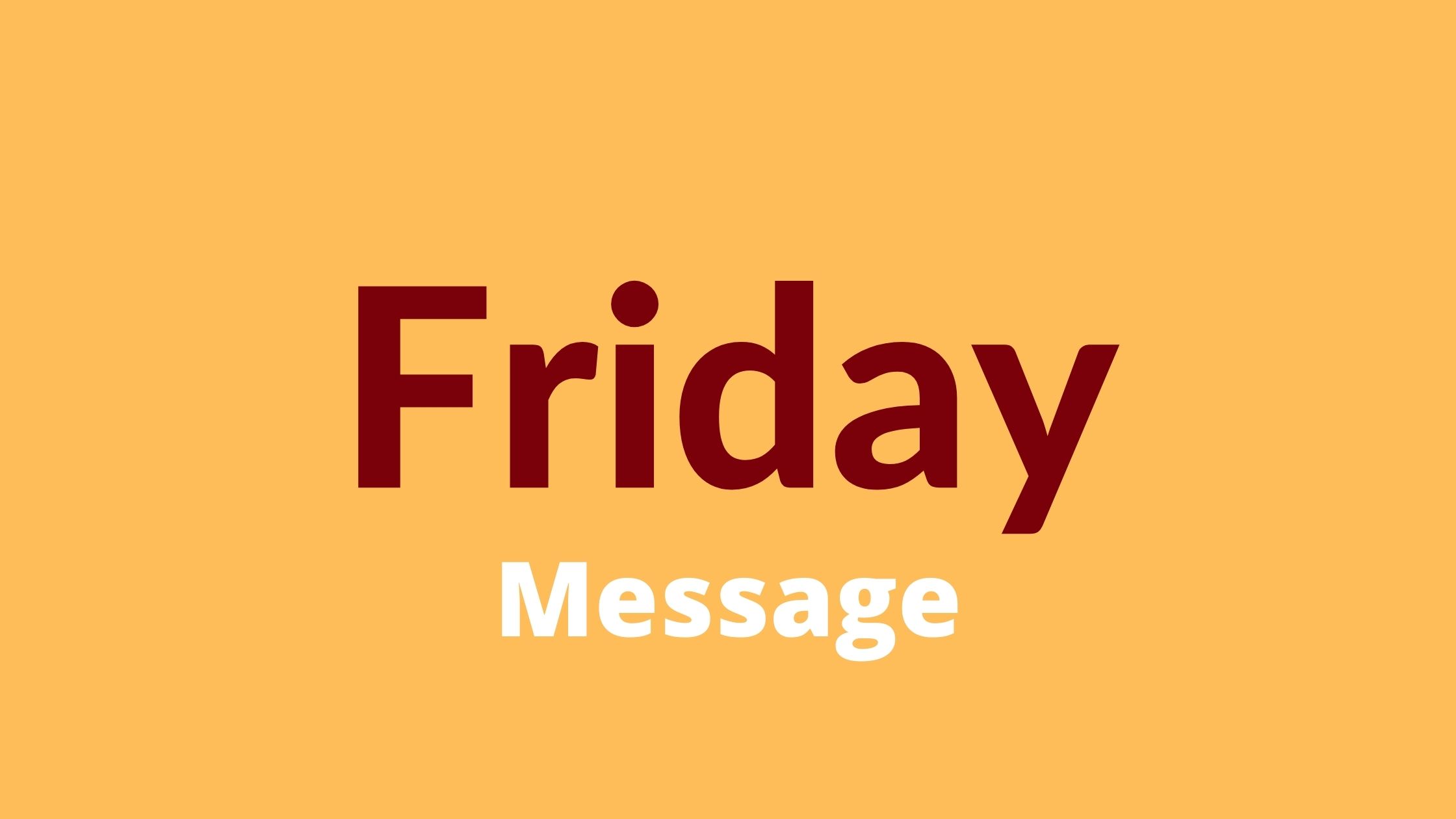 Good Day,
We hope this fall Friday finds you well and in good health. Let me thank you for your encouragement as a community and how you responded to the unanticipated delay of the start of kindergarten last week. We continue to work persistently in order to be prepared for the safe return of in person learning in just eleven days. We have eight teachers and administrators spending a substantial amount of time creating the "Safe to Return to School Plan." The team continues to work through a plan that involves arrival and dismissal procedures, parking lot challenges, in building traffic flow, lunch and recess routines and even bathroom breaks. It is tedious work but we are committed to be prepared, be proactive, while realizing that even after all the preparation we all must remain flexible and open to any changes that may need to occur when a plan does not seem to be efficient, as it needs to be. Our goal is a safe return to school as typical as possible with heightened safety and cleaning processes.
We are pleased to communicate that Bill Roberts's teachers will teach all Bill Roberts virtual students. This is a gift. This does mean that "extra" services may look different, may be modified or rolled out in a different format. However, specialized instruction will continue. Grade level teachers will be communicating their remote plan initially and introducing themselves where applicable. These are all very unique to each grade. Please be aware that these plans are in place until the end of December. In order to remain as consistent as possible, we will not be supporting switching platforms during this time except in extreme situations. Teachers will be notifying parents about conferences and their schedules for dress rehearsal times for their classes for next week.
We will hold virtual town halls next week for all parents. Please see the dates listed below
Middle School Town Hall
Tuesday, October 13th
6-7 pm
2nd & 3rd Grade
Wednesday, October 14th
5-6 pm
*Link will be sent out next week*
4th & 5th Grade
Wednesday, October 14th
6:15-7:15 pm
*Link will be sent out next week*
Thank you for your constant support and positivity as we make every effort to do what is best for ALL of our students and employees during these perplexing times.
Trich, Erik and Katheryn
Eat and Give
MENTION BILL ROBERTS AS INSTRUCTED BELOW when you order from these neighborhood restaurants and they will give back between 15-20% of your total order to our school!
Dog Haus, Northfield
Thursday, October 15th
All day (20%)
Dine in and Take out
(No delivery orders)
Or PRE-ORDER Take & Bake Sliders by 8pm, October 11th
Hank's Texas BBQ, Colfax & Grape
Wednesday, October 21st
All day (15%)
Dine in and Take out
Go Bobcats! Get Active! Fundraiser
Register now for our month-long "Go Bobcats! Get Active!" fundraiser event!
Students will LOG their daily physical activity from October 15th – November 15th. Kids can walk, hike, bike, scooter, run, swim, play basketball, soccer, baseball, golf, there is no limit!
A big Bobcat THANK YOU to the kids who submitted artwork for our T-shirts!
Everyone who registers will receive a t-shirt and "goody bag." We will also award homerooms with the most active hours! Let's get active!
CSC Meeting
Tuesday, October 13, 2020
4 pm
This committee discusses school policies, staffing needs, and budget concerns throughout the year.
PTA Meeting
Please join us for our second virtual PTA meeting of the school year.
Tuesday, October 13th
7-8pm
ZOOM LINK to meeting
No School
October 16th – 20th
Teacher Planning
Returning to In-person Learning
Next week we welcome our 1st graders to in-person learning! 1st graders can show their school spirit by wearing BR Spiritwear tops with uniform bottoms on Monday, October 12th! Students will be expected to follow the dress code after that day.
Parent-Teacher conferences will be held over the next few weeks. Please watch for an email from your kids' teachers about scheduling.
A few school reminders as we start back in person:
-Elementary school starts at 8:15am.
-Dismissal is at 2:45pm M-Th, 12:55pm on Fridays.
-PARENTS/FAMILY ARE NOT ALLOWED INSIDE THE SCHOOL.
-No dogs on school grounds.
-Follow health guidelines for sending kids to school or keeping them home.
Other grades will start back to school as follows:
Kindergarten, 2nd-5th grades – October 21st
Middle School Hybrid Model – October 26th (MS will start 15 minutes early and end 15 minutes early)
Join us on October 13, 6:00 – 7:00 pm for a Middle School Town Hall where Dr. Cohen will go over the return to school plan. Google Meet Link
**Middle school students who have elected in-person/hybrid beginning October 26, a message will be sent prior to our Town Hall meeting on Tuesday indicating which cohort students are placed in and their in-person start date**
Spiritwear on the 1st day of school!
Elementary school students will be allowed to wear Spiritwear tops (uniform bottoms) for their first day of school, either Monday, October 12th or Wednesday, October 21st. If you are in need of Spiritwear, you can PURCHASE HERE!
Please refer to the BR Uniform Guidelines regarding school attire. Remember, Elementary (K – 5th) are allowed to wear Spiritwear every Friday. Middle School (6th – 8th) can wear Spiritwear daily.
We can't wait to see everyone's school spirit on the 21st!
New Bill Roberts Spirit wear
New Spirit wear and accessories for students and adults can be ordered directly through this LINK.
Elementary students can wear spirit wear shirts each Friday!
Middle School students can wear spirit wear shirts with dress code bottoms every day!
BR Trunk or Treat!!!
Calling all Ghouls and Boys!!
Come Join Us for a Scary Good Time!
Bill Roberts will be hosting a socially-distanced "Trunk or Treat" in the school's parking lot on Halloween, Saturday, October 31st- with our Spooktacular DJ spinning some scary fun tunes!!
WE NEED YOUR TRUNKS!! Please see the SIGN UP to volunteer your trunk, donate treats, and help for this wonderful event!
Technology
If you still need to exchange your iPad or Chromebook, need a new device or need device repair please email June_Jose@dpsk12.org