Friday Message 10/16/2020
Posted October 17, 2020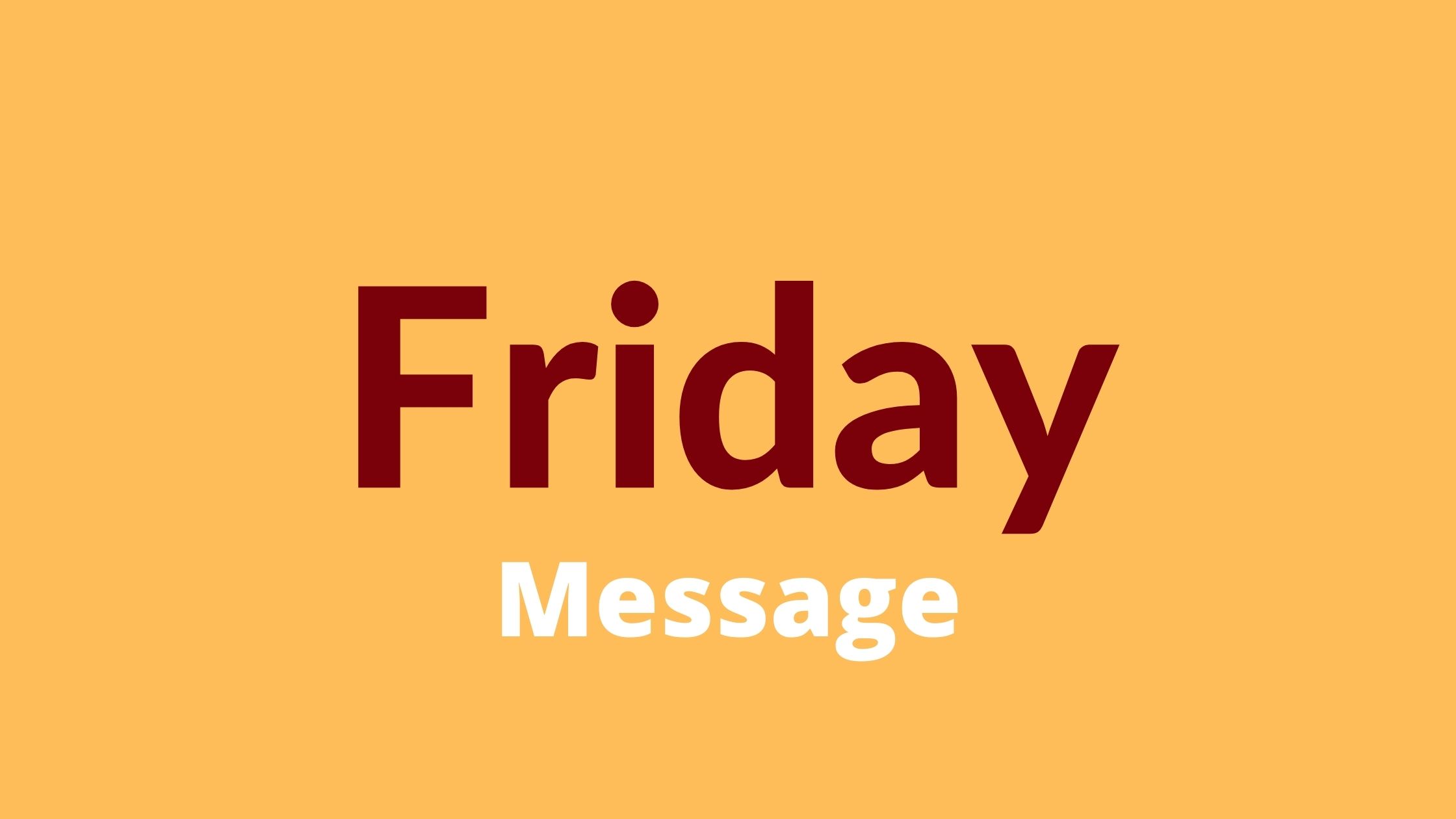 Good Day,
October is a strange time to celebrate and gear up for the first in-person day and opening of a school year. We all are so excited to finally welcome voices, laughter and face-to face learning for our elementary students. Many of us will be working throughout the weekend to get our rooms ready and welcome you back. We are committed to show gentleness, thoughtfulness and maintain our energy when are feet and bodies feel exhausted because we are out of shape from sitting by computers since March. We are committed to reveal our courageous spirits when we feel just a bit of nervousness inside. It is what our children will need and will look for in each one of us. Our roles are no longer just educators; we are caretakers, psychologists, soothers, mediators, servers, medical staff and everything else.
Part of our staff will be virtual; some staff members will be in different positions, or perhaps sharing jobs, while other roles may be varied. This will be an atypical Bill Roberts environment but a more than typical loving one. There are many changes now and expect more to come. Flexibility and positivity will be a necessary mandate. Optimistic attitudes will be a key ingredient for a positive culture. Communication will be of utmost importance. When something may need to be modified or if something might be done more efficiently, please let us know. If something needs addressing, we will find a resolution while brain storming together. We need parents and staff teaming up more now than ever before. We will share children, create paths that have never been formed before, yet still have time to laugh, while seeing children grow academically, socially and emotionally. All while social distancing!!!!! Disparities will not damage us, the parking lot will be an area of relaxation, arrival and dismissal will be hectic but will eventually become a normalcy. Together we will promote innovative ideas to create great school-wide decisions that benefits everyone.
Cannot wait to smile at everyone on Wednesday.
Enjoy your fall break.
Thanks,
Trich, Erik, and Katheryn
Coming Up:
No School
October 16th- October 20th
Teacher Planning
Returning to In-person Learning
Next Wednesday, October 21st, we welcome Kindergarten and 2nd-5th graders to in-person learning! Students can dress in Spiritwear tops and uniform bottoms on their first day back! Normal BR dress code thereafter.
There are NO SCHOOL BUSES so we are expecting a lot of car drop-offs and pick-ups. Please help us make this a smooth transition Wednesday morning by quickly dropping off your child using the Kiss & Go lane or by walking or riding your student to campus to minimize car traffic.
If you are driving, PLEASE BE PATIENT, DRIVE SLOWLY, WATCH OUT FOR KIDS, AND STAY OFF YOUR PHONE.
A few school reminders as we start back in person:
-Elementary school starts at 8:15am.
-Dismissal is at 2:45pm M-Th, 12:55pm on Fridays.
-PARENTS/FAMILY ARE NOT ALLOWED INSIDE THE SCHOOL.
-No dogs on school grounds.
-Follow health guidelines for sending kids to school or keeping them home.
Middle School Hybrid Model return to school has been DELAYED by DPS to November 9th.
We will continue to update families as we get more information.
Back to School in a Pandemic
COMPLETE A DPS DAILY HEALTH SCREEN ON YOUR STUDENT(S)
See this LINK for instructions on student daily health screens.
PLEASE REPORT A POSITIVE COVID TEST
All positive cases must be reported including students and staff who are learning or working remotely.
Case Reporting Hotline: 720-426-9999
Click the links below and thoroughly read the documents that explain how we can safely return all of our kids to school and minimize the spread of the coronavirus.
Return to School/Work Guidance after a positive SYMPTOM SCREEN
How Sick is Too Sick to go to school/work
Late Arrival/Early Sign Out
If your student arrives after the bell, please complete this form and have your student enter through the main door.
If you need to check your student out early from school please complete this form and let the front office know when you are outside.
**This form can also be found on the BR website under Parent Resources**
Eat and Give
MENTION BILL ROBERTS AS INSTRUCTED BELOW when you order from these neighborhood restaurants and they will give back between 15-20% of your total order to our school!
Hank's Texas BBQ, Colfax & Grape
Wednesday, October 21st
All day (15%)
Dine in and Take out
Go Bobcats! Get Active! Fundraiser
Register now for our month-long "Go Bobcats! Get Active!" fundraiser event!
Students will LOG their daily physical activity from October 15th – November 15th. Kids can walk, hike, bike, scooter, run, swim, play basketball, soccer, baseball, golf, there is no limit!
A big Bobcat THANK YOU to the kids who submitted artwork for our T-shirts!
Everyone who registers will receive a t-shirt and "goody bag." We will also award homerooms with the most active hours! Let's get active!
Conferences
Parent-Teacher conferences will be held over the next few weeks. Please watch for an email from your kids' teachers about scheduling.
New Bill Roberts Spirit wear
New Spirit wear and accessories for students and adults can be ordered directly through this LINK.
Elementary students can wear spirit wear shirts each Friday!
Middle School students can wear spirit wear shirts with dress code bottoms every day!
BR Trunk or Treat!!!
Calling all Ghouls and Boys!!
Come Join Us for a Scary Good Time!
Bill Roberts will be hosting a socially-distanced "Trunk or Treat" in the school's parking lot on Halloween, Saturday, October 31st- with our Spooktacular DJ spinning some scary fun tunes!!
WE NEED YOUR TRUNKS!! Please see the SIGN UP to volunteer your trunk, donate treats, and help for this wonderful event!
Calling All 5th Grade Parents!
Come to a Bill Roberts Middle School Mixer on either October 29th or November 12th! MS Mixers are informal gatherings with Dr. Cohen hosted by a current MS parent during which we enjoy a mix of fun, drinks and MS discussion. This adult-only evening is open to current 5th grade Bill Roberts parents/guardians.
Space will be very limited. Learn more and RSVP HERE!
To Our 5th Grade Families: You are 100% guaranteed a spot at Bill Roberts Middle School if you select BR as #1. Every student going into 6th grade must fill out a DPS Choice Form in February
Student Meals
Breakfast and Lunch
Denver Public Schools is providing free weekday breakfast and lunch for children at Bill Roberts when school begins. Lunches can still be ordered daily but will be delivered to each classroom and eaten in rooms or outside when weather permits. We will take lunch orders from each student in the morning for that day.
As of October 21st curbside pick-up will no longer be available at Bill Roberts. Please visit the DPS food distribution website to view curbside pick-up locations.
Technology
If you still need to exchange your iPad or Chromebook, need a new device or need device repair please email June_Jose@dpsk12.org