Friday Message 11/13/2020
Posted November 14, 2020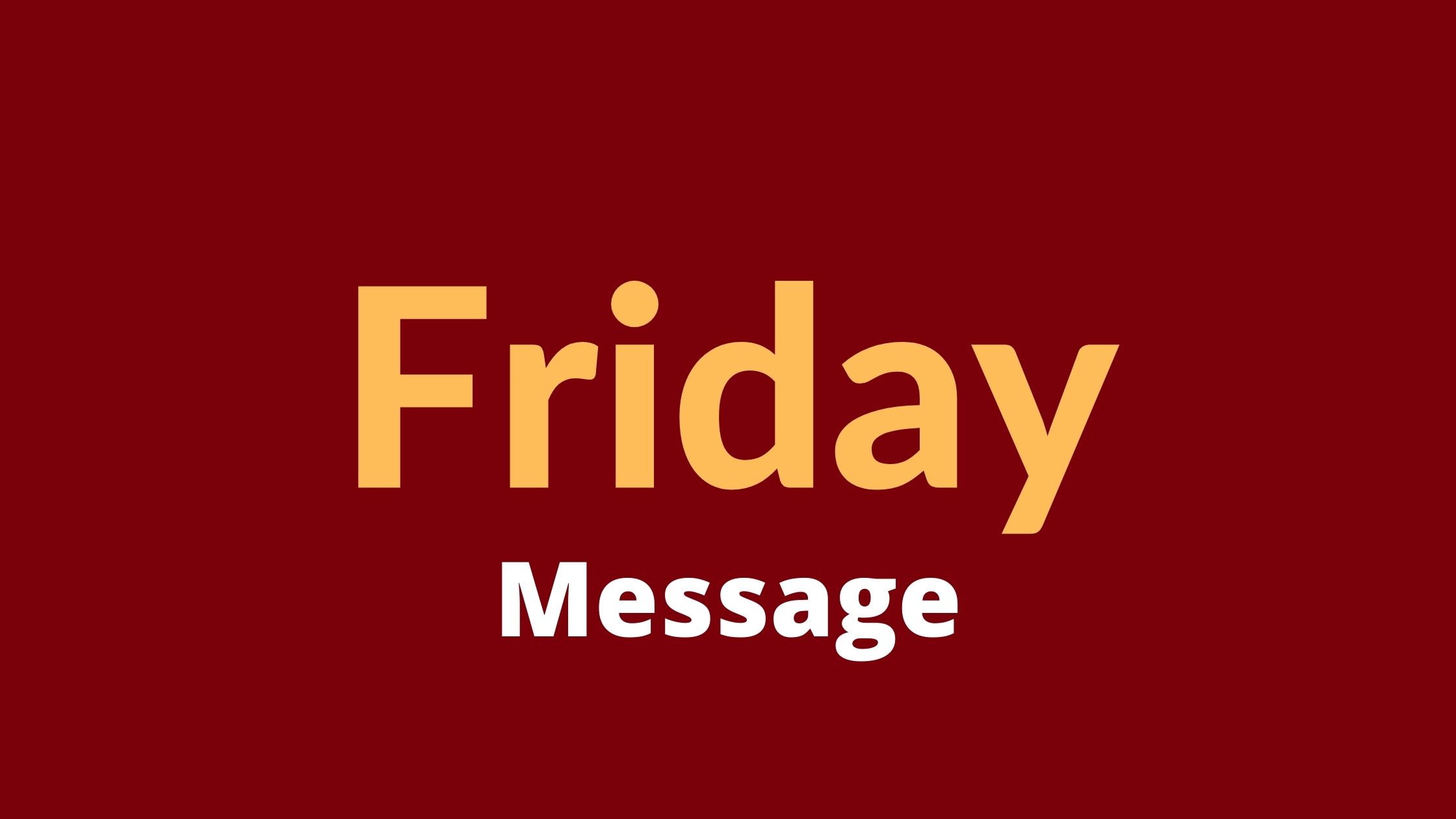 Good Day,
In typical Colorado fashion, this week we came to school with light jackets and by the next day we needed our winter coats, hats and most of us could not find our car scrapers. It is timely however, experiencing several seasons in a short time frame as we head into our Thanksgiving break and upcoming Holiday Season. Snow often brings us thoughts of peace and calm; it signals us to slow down, sometimes to just stop and enjoy the simple things around us that we may often take for granted. All gentle reminders to us as we take the journey into the rush and uniqueness around this time into the upcoming weeks.
I believe most of us value the attribute of strength. It is a characteristic I admire and respect in any individual. It may be something we desire to achieve ourselves or yearn for our children to inherit or for our family members to exhibit. I wondered if strength and fear really do have completely opposite meanings. I kept questioning if perhaps I was confusing strength with other words, words like aggression, power, strong willed, relentlessness, convincing, influential, and even persuasiveness.
Today I thought of the many examples of strength I observed at school and in our community these past few months and how the attributes of strength have been the driving force that has opened our eyes during difficult conversations, challenging times and with the uncertainty we are faced with now. Our strength is what unifies people here. I wish you all peace, contentment, and strength to enjoy the beauty around you this weekend.
Class Happenings for In Person Learners:
ECE – Students went on a virtual field trip to the Morrison Nature center as part of a tree study. They learned about the importance of trees, the different parts of a tree, trees as habitats and the different animals that live in trees. They were able to see a snake, a black widow and a turtle.
Kindergarten – Students continued their inquiry unit on Owls by dissecting owl pellets in class this week. They learned about the whole digestion process and found some interesting bones in the pellets.
1st – Students are learning about the life cycle of living things that grow and change. They studied the life cycle of a pumpkin. First you plant a seed, next a sprout grows, after that a vine grows, then a flower blooms on the vine, after that a green pumpkin grows and finally an orange pumpkin!
2nd grade – Some of our students went on a virtual field trip to Kenya with Rosie and Julian from 'Kids National Geographic'. Rosie and Julian visit a giraffe sanctuary where they feed the tallest animals on earth. They even climbed a tower to see eye-to-eye with their spotty, long-necked new friends. They learned how they take care and rehabilitate giraffes and release them back into the wild.
Stay tuned next week for Class Happenings for our virtual learners!
Thanks,
Trich, Erik, & Katheryn
Coming Up:
Thanksgiving Break – NO SCHOOL
November 23-27, 2020
Eat and Give
Mod Market, Glendale
Wednesday, November 18th
5-8pm (30%)
Online orders: use code giveback002
This is an ONLINE ORDERS ONLY event!
School Choice Dates
Round 1 of School Choice for the 2021-22 school year is Jan. 15-Feb. 16, 2021. Visit the SchoolChoice website for more information.
REALGiving2020 Campaign
For the last 11 years the REALGiving campaign has provided King Soopers gift cards to local families in need at Thanksgiving. Please help support the 25 families at Bill Roberts and the 200+ families in our local community who need assistance! This campaign also donates directly to our school's food pantry which has consistently provided much needed groceries to our own Bill Roberts families in need.
Learn more and DONATE HERE by Sunday, November 22nd so that gift cards can be distributed the week of Thanksgiving.
Go Bobcats! Get Active! Fundraiser
Let's keep this party going for one more month! We're extending this event through December 15th. Register HERE.
Parents – show us what your students have been doing to stay active by posting photos to the private BR PE/Art Facebook group page!
Annual Middle School Wreath Fundraiser
Pre-order your holiday wreaths and support our Middle School! We are offering beautiful, hand-tied 20" wreaths from Nick's Garden Center for $27 each!
To order, log on to My SchoolBucks then go to the school store. The wreath will be a featured product on the first page. You can also arrange to drop off a check made out to Bill Roberts with "Wreath Fundraiser" written in the memo line.
Place your order by November 17th for socially-distanced pick-up at school on Friday December 4th
Original Works Art-Based Fundraiser
Turn your child's artwork into custom keepsakes that are perfect for holiday gifts! This year Original Works will be an Online at-home program that will still benefit our school.
It's easy! You can choose something your child has already drawn or painted or have your child create a new piece of artwork. Big, bold and colorful artwork makes for the best gifts! Next, upload your child's artwork to the Original works website. Place your order by November 30th. That's it!
CLICK HERE for all the details
School Tours
Elementary – Stay tuned for Elementary virtual tour dates and our virtual Kindergarten Open House date/sign up.
**Incoming Kindergarten Parents: Please complete this short survey regarding Open House and Tours**
Middle School – Please join us for a virtual middle school tour with Dr. Cohen! We are PROUD to be a great school for your students to RISE from ECE all the way through Middle School. As the DPS School Choice process for next year approaches, we want to share our amazing middle school with current parents as well as the larger community.
Please share this information with friends and families looking for a great school for their children.
In-person Learning Reminders
Do not forget to complete the DPS DAILY HEALTH SCREEN on your student.
You will need your child's Student ID number for this screen.
Remember that the purpose of this is to complete an honest evaluation of the health of your children and of yourself. It allows each of us to be reflective and really think about how we are feeling. This affects the entire community; please make the right choice of when to keep your children home from school.
Late students/Early pick up information HERE.
Please remember:
-PARENTS/FAMILY ARE NOT ALLOWED INSIDE THE SCHOOL CURRENTLY
-No dogs on school grounds.
-Follow health guidelines for sending kids to school or keeping them home.
Please report a positive COVID test
All positive cases must be reported including students and staff who are learning or working remotely.
Case Reporting Hotline: 720-426-9999
See the BR Health and Safety webpage for more detailed information.
Bill Roberts Annual Auction 2021
We are excited to announce that the 2021 Bill Roberts Annual Auction is in the planning stages! Our tentative date is May 8, 2021 and we need your help to make this a huge success. Since the auction will look different this year, we would love to have anyone interested in helping or sharing ideas to join a virtual interest call on Tuesday, November 17th at 7pm. Please email Auction Chair Nikki Parish at billrobertsauction@gmail.com with your name for the Zoom link.
Library Announcement
If you are using Overdrive through DPS to access library materials, you will need to switch to using SORA. As of November 20th, Overdrive will not be available.
Questions/concerns, please email catherine_pretlow@dpsk12.org