Midweek Message 12/2/2020
Posted December 3, 2020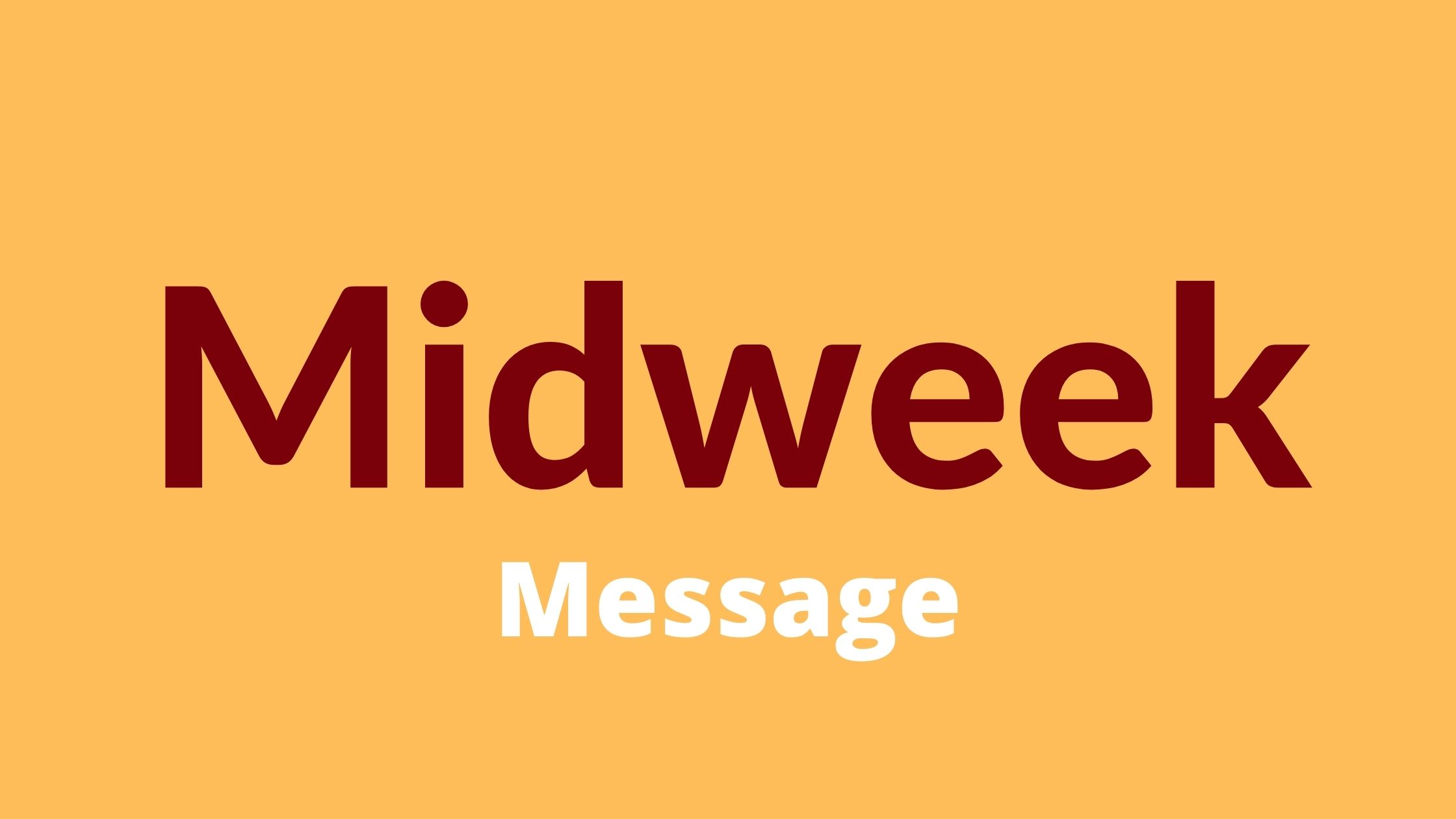 Midweek Reminders:
Learning Options for Spring 2021
Elementary school families with students in grades K-5 can request a change to their current learning option the week after Thanksgiving break. The window to make a change will be open from Monday, Nov. 30 through Sunday, Dec. 6. Elementary families that don't take action will remain enrolled in their current learning option through the end of the school year.
Much like this semester, we are hoping to be able to offer in-person learning for all elementary students next semester, along with a 100% virtual option, but it will depend on current health conditions at the time. Therefore, families enrolled in the in-person option are choosing that they want their student to attend school in-person as much as possible as soon as the health conditions allow through the end of the school year. Families that don't feel comfortable having their student participate in in-person learning for the spring (through May 2021) should be enrolled in the 100% virtual option.
If you would like to request a change to your current learning option, please complete the Learning Option Update form on the Parent Portal by Dec. 6. You can also call our school's front office to complete a paper form or make your request for changes over the phone.
We will make every effort to accommodate change requests for families who need it. Families who put in a request for a change to their student's learning option can expect to receive confirmation from us after Dec. 7.
Coming Up:
Tomorrow December 3 is the last day for our Book Fair!
Stock up for the holidays, help your child discover new books and support our school at the same time! 25% of sales goes back to the Bill Roberts library!
Select from over 6,000 products including bestsellers and award-winners. Get FREE shipping to your home when you spend $25 or more.
To view new titles:
Elementary Digital Book Fair Flyer
Middle School Digital Book Fair Flyer
Middle School Parent Support Committee
Thursday, December 3 at 2:30pm
Thursday, January 7 at 8:30am
CSC Meeting
No CSC Meeting in December
Middle School Virtual Open House
December 10th at 6 pm
We are excited to invite you to the Bill Roberts Middle School Open House. Join our vice principal, Dr. Erik Cohen, and panels of teachers, parents, students and alum to answer all of your questions about Bill Roberts!
Sign up here!
Go Bobcats! Get Active! Fundraiser
Let's keep this party going for one more month! We're extending this event through December 15th. Register HERE.
Parents – show us what your students have been doing to stay active by posting photos to the private BR PE/Art Facebook group page!
Holiday Outreach
The Bill Roberts Holiday Outreach is happening in 2020 but has been adjusted due to COVID restrictions.
Keep an eye out for a SignUp Genius to come out in early December with opportunities to sponsor Bill Roberts families with gift cards.
No meals will be provided, but grocery gift card donations will be distributed.
Hope to have the Bill Roberts Holiday Outreach back in 2021 with the BIG community event in the gym.
School Choice Dates
Round 1 of School Choice for the 2021-22 school year is Jan. 15-Feb. 16, 2021. Visit the SchoolChoice website for more information.
School Tours
Elementary – Stay tuned for Elementary virtual tour dates.
Upcoming Kindergarten Families
Kinder Open House
December 14, 2020
6-7 pm
Please join us for a virtual open house for incoming Kinder children on Monday, Dec. 14th at 6:00 P.M. Meet the teachers, tour the school virtually, listen to present and former students and get to know our administration. Learn why Bill Roberts could be the perfect fit for your little one.
Please sign up to attend at this link.
Middle School – Please join us for a virtual middle school tour with Dr. Cohen! We are PROUD to be a great school for your students to RISE from ECE all the way through Middle School. As the DPS School Choice process for next year approaches, we want to share our amazing middle school with current parents as well as the larger community.
Please share this information with friends and families looking for a great school for their children.
Yearbook
This year is unlike any other, so another thing that will look different is the yearbook. We are still doing one and it is available for purchase now at treering.com. We won't have most of our usual yearbook content so we are looking for new ways to capture this unusual time. Please send us your best photos of this unprecedented school year! So that we may include as many families as possible, please limit your submission to your favorite 2-3 photos. Purchasing information HERE.Send photos to brbobcatyb@gmail.com