Friday Message 1/22/2021
Posted January 23, 2021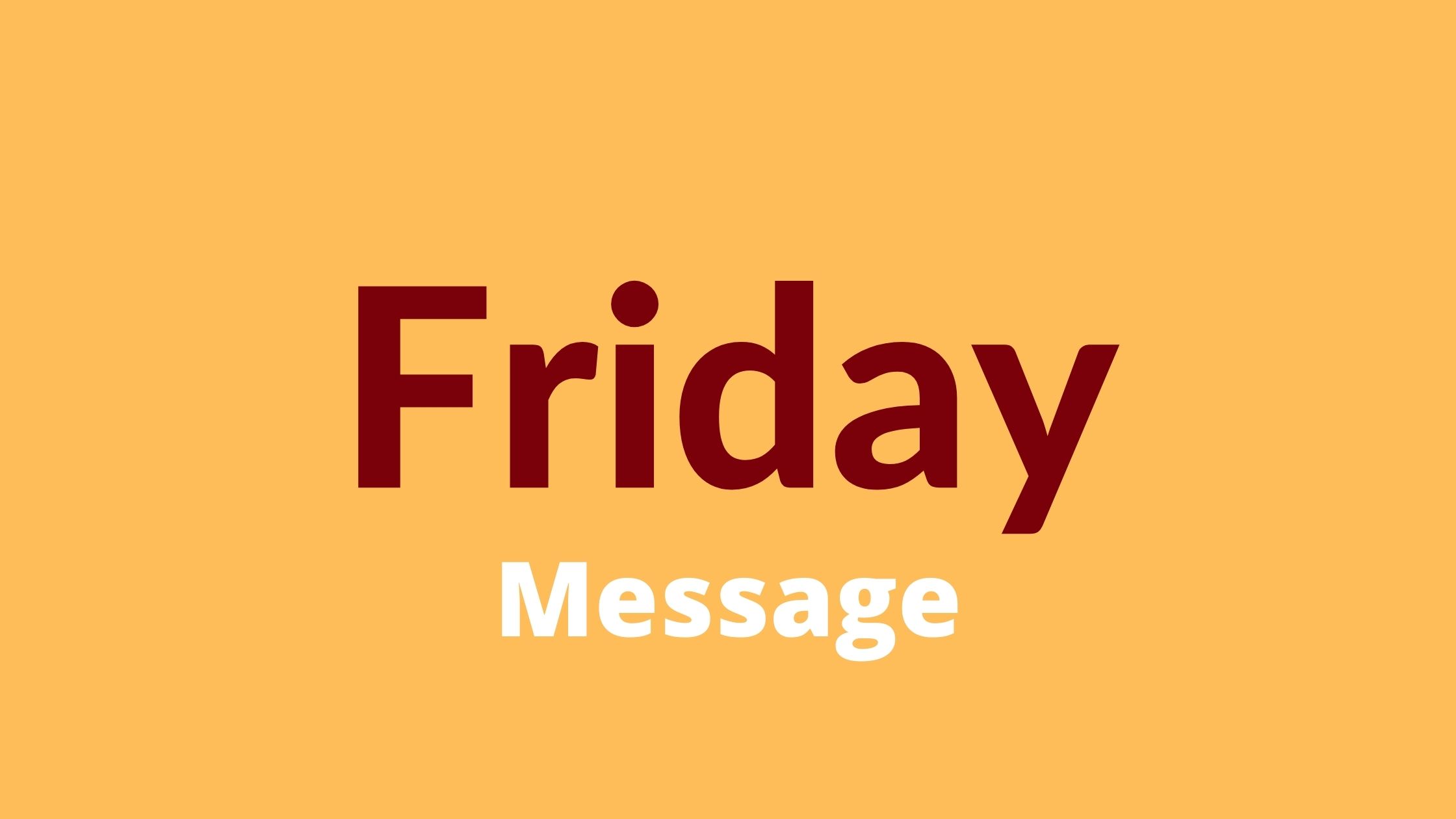 Good Day,
Welcome back, 6th, 7th and 8th graders! We're so glad you're finally here in the building. In our hearts, we know the little and medium people are the ones who inspire all of the adults here with the work we do. They are the buzz of our community and it's truly great to have that spirit finally being circulated throughout the building. We should be able to experience some established traditions soon, perhaps they will need to be a bit modified but sure to be familiar. Although still different, it's starting to feel like school again!!
As we start to frame our minds around the cold days ahead, it's the perfect time to send some weather related reminders:
Students need their winter gear on most days as they will be outdoors for arrival, recess and dismissal. Please make sure your child has a winter coat every day and boots and gloves on snowy days. Label clothing items with your child's name this way if it lands in Lost & Found, it's likely to return to you.
Enjoy your weekend.
Trich, Erik & Katheryn 
Reminders:
Eat & Give 
Five Guys
January 27
Eat & Give with other Bill Roberts Families on Wednesday, 1/27/21 from 2-9pm at Five Guys Northfield. 15% of proceeds go back to Bill Roberts. Remember to say Bill Roberts! Five Guys honors this for dine in or take out!
CLICK HERE for future Eat & Give events.
MS Boys and Girls Basketball Sign Up
Any middle school students interested in playing basketball this season need to fill out the registration by tomorrow (1/23/21) at 4pm. Students that have not filled out the form will not be permitted in the gym for tryouts per new DPS regulations. Even if you just want to come to tryouts to see if you want to play this season, you will need to fill out the form!
BR 2021 Annual Auction
We are so excited for our upcoming virtual auction, Hindsight is 2020, on March 13th!
We need Auction Donations to make this event successful!
We need bottles of wine valued at $20 or more for the Wine Wall!
Have a cool item or experience to donate to the auction such as a unique service or artwork, a round of golf, a restaurant gift card, an upscale tote bag or purse, signed sports memorabilia, or a mountain home you're willing to share? Please fill out our online donation form or email billrobertsptaauction@gmail.com.
Thank you for helping to make our auction a success!
Breakfast & Lunch
Breakfast and Lunch is free for the remainder of the school year
Breakfast – 7:45 am grab and go (tables are set up in front/back of school) (**no adult supervision till 8 am**)
Hot School Lunch is ordered daily by the teacher. Menus located on School Café
Enter school and grade, to view daily entrée (week or month can also be seen)
Drop-off and Pick-up Reminders
BUS LANE: for K-2nd graders
Our youngest students will be able to immediately head to their teachers and outside doors without delay.
KISS & GO LANE: for 3rd-5th graders
Once your student has crossed over the bus lane, kindly drive off as others are waiting for your space to drop off their child.
Elementary school hours: 8:15am-2:45pm
Middle School hours: 8am-2:30pm
Now that our middle schoolers are back in person, this will increase traffic in and around the school. Please be patient on the road and plan ahead!
Finally, please consider turning right out of the school property to reduce traffic congestion.
SchoolChoice
January 15, 2021
The SchoolChoice window for the 2021-22 school year is open now through 4 p.m. Feb. 16.
School Tours
Elementary School – Come and learn more about our Elementary program at Bill Roberts! We are a creative, safe, and dynamic community of learners that nurtures and educates the whole child. Our Tours will be held via Google Meet. The google meet link will be sent out via email a day before the event.
Dates:
January 28, 2021 9-10 am
February 4, 2021 9-10 am
Middle School – Please join us for a virtual middle school tour with Dr. Cohen! We are PROUD to be a great school for your students to RISE from ECE all the way through Middle School. As the DPS School Choice process for next year approaches, we want to share our amazing middle school with current parents as well as the larger community.
Sign up for MS Virtual Tours (our next tour is January 28th, 6pm)
Please share this information with friends and families looking for a great school for their children!
Attendance Line
Please call the attendance line 720-424-2641 if your child will be absent, tardy, or has an appointment, even if you have notified teachers or the nurse.
EARLY PICK UP? Please ring the buzzer at the door and the front office will call your student down while you SIGN THEM OUT HERE.
Yearbook
Please send us your best photos of this unprecedented school year! So that we may include as many families as possible, please limit your submission to your favorite 2-3 photos. Purchasing information HERE. Send photos to brbobcatyb@gmail.com