Friday Message 2/5/2021
Posted February 6, 2021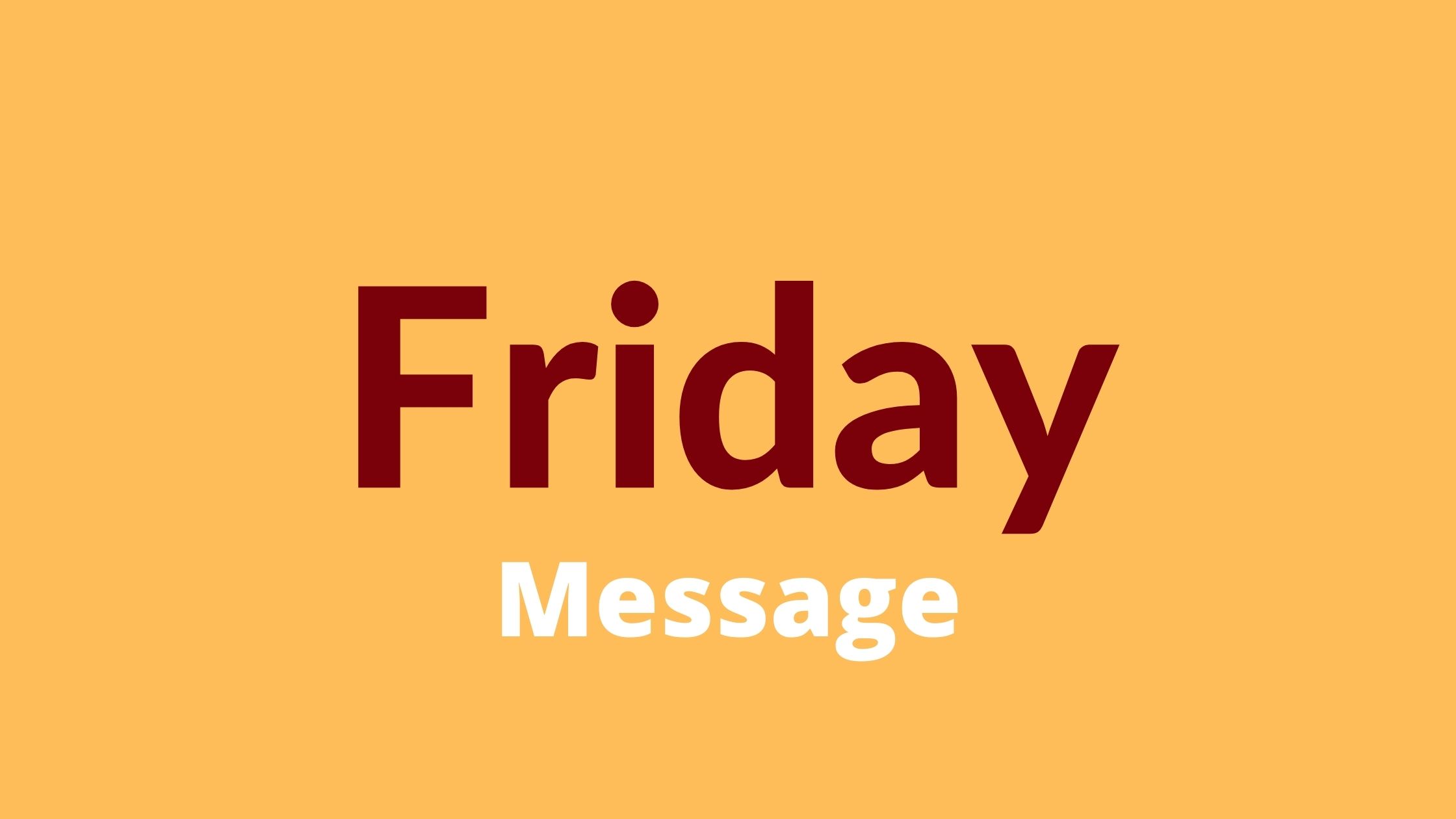 Good Day,
We are not sure if we are actually going into the " testing season" or not at this point. That decision will come from the state where there is tremendous debate around testing because of the pandemic . There are always questions asked about the different assessments that we are required to administer throughout the year and we wanted to again familiarize you with those. Teachers may occasionally choose to use additional assessments in their classrooms to monitor student growth, but these are the primary ones used:
Istation: This is an electronic reading skills assessment that is given monthly to K-5 students. It provides information on reading skills relating to phonemic awareness, alphabetic knowledge (for our little ones), fluency, vocabulary, and comprehension.
Interim Assessments
Students in grades 3-8 take common math and literacy assessments two-three times a year, some grades also take social studies and/or science.. This district testing is a formative assessment for teachers to use as a tool to evaluate how their kids are progressing toward mastering grade level standards throughout the year. This test closely aligns with common core standards and state tests.
CMAS (formally PARCC and TCAP) is Colorado's state testing and is now all under the umbrella of Colorado Measures of Academic Success. Usually, we are given a strict timeline as well as rigid rules that must be adhered to for administering this assessment, which in past years could have begun as early as February. As soon as we hear from the district regarding decisions concerning state testing and specific administration dates, administration and teachers will be communicating to families. Historically, all 3rd-8th graders would take literacy and math assessments. Science is tested in 5th and 8th grades. Every other year, 4th and 7th graders take the social studies portion .
Again, we will update you as we hear about testing decisions.
Enjoy your weekend.
Thanks,
Trich, Erik & Katheryn
Class Happenings: Each week we are going to highlight a few elementary classes and share some of their teaching and learning experiences. This month as we celebrate Black History Month, it is a time to recognize and honor the authors, laborers, innovators, educators, medical workers, mathematicians, scientists, politicians, researchers and people that have been so meaningful in creating our history. The teachers have focused on many different cultural events and people that have had a significant impact on our history. Our past is vital in understanding our present and the changes that must be made to become a better country.
This week Kindergarten students read a book titled "The Oldest Student" by Mary Walker who was born a slave in 1848. At the age of 15 she was freed, at the age of 20 she was married and had her first child, at the age of 68 she was still working and raising money for her church and at the age of 116 she learned to READ!
On February 8th kindergarten students and their teachers will be celebrating the 100th day of school. They will dress up appearing as if they are 100 years old and have a virtual parade.
2nd Grade is studying Faith Ringgold as part of our celebration of Black History Month. Faith began her artistic career more than thirty-five years ago as a painter. Today, she is best known for her painted story quilts – art that combines painting, quilted fabric and storytelling. Her first book, Tar Beach was a Caldecott Honor Book and winner of the Coretta Scott King Award for Illustration, among numerous other honors. She has written and illustrated eleven children's books.
Each week the classes will focus on one of her books. The plan is to have each class create their own class quilt inspired by Faith Ringgold's artwork and storytelling in her books and we will proudly display them in our hallway.
Coming up:
No School
February 15 – Presidents' Day
February 16 – Teacher Planning Day (non student contact day)
Eat & Give
Wednesday, February 3rd – Tuesday, February 9th, 8pm
Green Roots Meals, Denver delivery
Pre-order online for delivery on Wednesday, February 10th
Add Bill Roberts next to your name or in the Notes section when ordering.
BR 2021 Annual Auction
Tickets are now available for the 2021 Bill Roberts Virtual Auction "Hindsight is 2020"!
Tickets are FREE but you'll need to register in order to bid online Saturday, March 13th, starting at 6pm. #brhindsightis2020
EARLY BIRD REGISTRATION CONTEST
Help your student's grade-level win a PIZZA PARTY! The grade-level with the most parents who register by March 1st will win a pizza party for EVERY student in that grade!
Our event program will feature Bill Roberts students, silent and live auctions, 'door' prizes, and contests throughout the night! You can add-on great additions to make your night even more memorable: exclusive Spiritwear stickers, t-shirts, and sweatshirts and exclusive charcuterie platters and cocktail kits from So Damn Gouda, designed specifically for our auction!
PRE-PARTY EVENT – NEW THIS YEAR!
We will have a pre-party in the afternoon before the auction to get you ready for the big event! Come by the school between 1-4pm on Saturday, March 13th to pick up your pre-ordered items from So Damn Gouda and your Spiritwear! Win wine from our fabulous Wine Wall, preview the awesome Class Baskets and other auction items, and join some of our great staff to celebrate our school.
ORDER YOUR EXCLUSIVE SPIRITWEAR HERE!
ORDER YOUR CHEESE BOX AND COCKTAILS HERE!
Go Bobcats! Get Active!
Participant Goodie Bags with t-shirts, etc. will be distributed between January 29th and February 7th. Bags will be dropped on doorsteps but if participants would rather pick them up at school, please contact cheryl_learned@msn.com
SPIRITWEAR! Get your SPIRITWEAR!
Order Spirit Wear in person at IMPACT we print or ONLINE for delivery or pick-up. Turn-around time for most orders is just a day!
Review the Bill Roberts spiritwear and uniform guidelines HERE.
CSC Meeting
Tuesday, February 9th at 4 pm
Please use this Google Meet Link to join us.
PTA Virtual Meeting
Tuesday, February 9th, 6:30pm
Please click THIS ZOOM LINK to join us for our virtual meeting
Picture Day
Wednesday, February 17th and Tuesday, February 23rd
Check out the FLYER and pre-order your student's school pictures.
School Name: William (Bill) Roberts E-8 School
Picture Day ID: EVTQPW3DK
Students may DRESS UP or wear their school uniforms but they may NOT dress down.
The CURRENT Schedule for Picture Taking:
Wednesday, February 17th:
All in-person ELEMENTARY students
6th Grade Cohort A
7th/8th Cohort B
Tuesday, February 23th:
6th Grade Cohort B
7th/8th Cohort A
All Virtual students
SchoolChoice
January 15, 2021
The SchoolChoice window for the 2021-22 school year is open now through 4 p.m. Feb. 16.
Library Book Checkout
For in-person and remote students
Place up to 3 books on hold in our online catalog. Click on Denver School District SSO. Login is your students lunch number and birthdate. (Here' s a video on how to place books on hold.)
Book holds will be delivered to homeroom classrooms for in-person students. Remote students can get their holds from a labeled bin outside of the BR front doors M-F, 8:30-3:30. An email will be sent when the hold is ready to be picked up.
Returned books will sit in the DPS recommended quarantine for seven days and then be wiped down before recirculating. Email catherine_pretlow@dpsk12.org with questions.
Attendance Line
Please call the attendance line 720-424-2641 if your child will be absent, tardy, or has an appointment, even if you have notified teachers or the nurse.
EARLY PICK UP? Please ring the buzzer at the door and the front office will call your student down while you SIGN THEM OUT HERE.
Yearbook
Please send us your best photos of this unprecedented school year! So that we may include as many families as possible, please limit your submission to your favorite 2-3 photos. Purchasing information HERE.
Send photos to brbobcatyb@gmail.com