Friday Message 2/12/2021
Posted February 13, 2021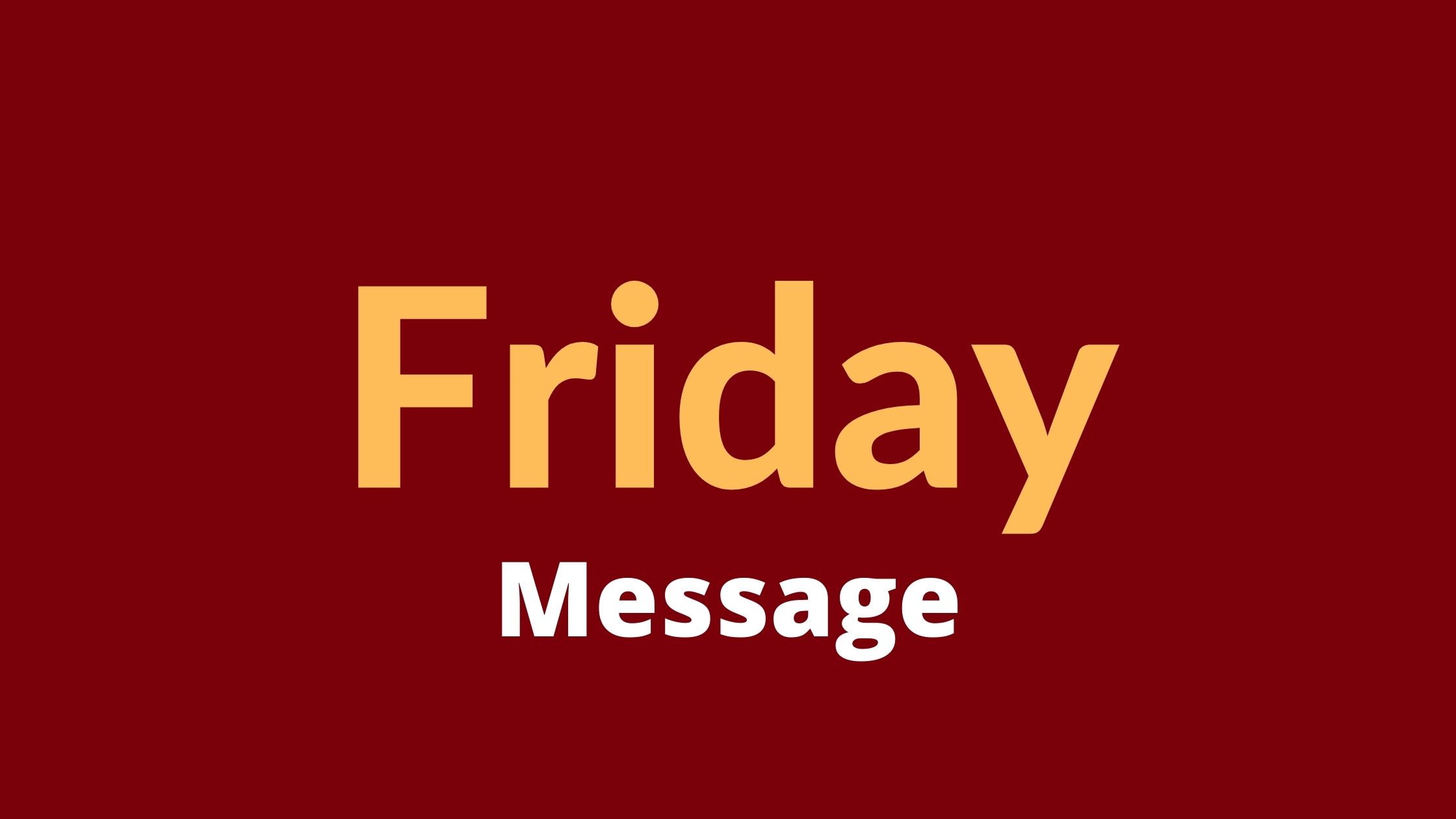 Good Day,
Easter decorations are currently going up in Target as we speak. Valentine's Day is not even here yet, but the celebrations in our school have commenced, and concluded, what was a busy week at Roberts. We can all argue about whether Valentine's Day is too commercialized; however, at a time in our world where it feels like there is so much conflict, any opportunity for people to tell someone that they love them is a good thing. Our lives move fast, we juggle so many responsibilities. Holidays may seem commercialized or diluted from their original purpose, there are times when it may be necessary for us to take a break from life to celebrate, recognize, or appreciate all the blessings we have. At Roberts, we want our students to celebrate something as simple, profound, and needed as love. Unfortunately, today this comes with a lot of sugar, so we appreciate all our families who have to weather the sugar rush, and subsequent crash that will likely ensue this afternoon.
Love was in the classes this week with our many Valentine's Day celebrations!
Enjoy your long weekend, stay warm!
Thanks,
Trich, Erik & Katheryn
Class Happenings: Each week we are going to highlight a few elementary classes and share some of their teaching and learning experiences. This month as we celebrate Black History Month, it is a time to recognize and honor the authors, laborers, innovators, educators, medical workers, mathematicians, scientists, politicians, researchers and people that have been so meaningful in creating our history. The teachers have focused on many different cultural events and people that have had a significant impact on our history. Our past is vital in understanding our present and the changes that must be made to become a better country.
Mr. Lewis's 4th grade students are reading a book aloud each week to learn about black history in this country, and will be extending their thinking beyond the month of February. This week, they read Lizzie Demands a Seat, by Beth Anderson and learned about Elizabeth Jennings and her fight to ensure that all African Americans had access to a seat on streetcars in the 1910s. This fight continued on for decades after Jennings led the way. Our awesome librarian, Miss Cassie gave 4th grade this book and a stack of other books to read this month!
Our 5th grade virtual students enjoyed a close reading analysis of Amanda Gorman's inaugural poem "The Hill We Climb" and had some great learning and discussion around social dances with African roots and the painter and sculptor, Kehinde Wiley. This week 5th graders started sharing their independent research findings on important figures in the Black community. Their teachers said that It has been really wonderful to learn together and see students exploring the lives of diverse individuals from the renowned playwright, Lorraine Hansbury, to sprinter, Usain Bolt, and even hear about a student's grandfather that served our country in the Air Force! They are very excited to be welcoming some community members as guest speakers into their virtual classrooms.
Classes are immersed in their Social Studies and Language Arts units. We reflect all the time on the content and consider the perspectives that may be missing from the history books to promote critical thinking and awareness in our learning community. We realize that Black History is an important thread that should be understood and woven throughout our year long work, not just focused on in February.
Coming up:
No School
February 15 – Presidents' Day
February 16 – Teacher Planning Day (non student contact day)
February 16 – SchoolChoice 1st round closes at 4 pm
Eat & Give
Thank you for supporting the restaurants that give back to our school! Your dining purchases have raised close to $4000 for Bill Roberts since August 2020!
February 19th, 2-10pm
IHOP, Quebec
February 24th, 10:30am-9pm
MOD Pizza, Northfield
CMAS Testing Update
If you have a student–remote or in person in grades 3-8 please read this letter about CMAS testing. The state has decided to move forward with testing this year and the first thing we need to do is get an accurate count of who will be participating this year so we can make an appropriate schedule that will maintain the cohorting guidelines.
Message from our School Nurse Sarah Schrader
Each year schools are required to send an annual immunization Parent Letter. Please see our letters below:
BR Immunization Rates (Please select William Roberts K-8 from the drop down menu)
BR 2021 Annual Auction
Registration for the 2021 Bill Roberts Virtual Auction "Hindsight is 2020" is open! Did we mention that it's free?!
Join us on Saturday, March 13th at 6:00pm for a fun night celebrating and supporting our amazing school!
EARLY BIRD REGISTRATION CONTEST
Help your student's grade-level win a PIZZA PARTY! The grade-level with the most parents who register for the auction by March 1st will win a pizza party for EVERY student in that grade!
Have you seen our awesome, exclusive auction Spiritwear? If you haven't had a chance to buy your t-shirts and sweatshirts yet, make sure to get yours soon as sales close on Friday, February 26th!
ORDER YOUR EXCLUSIVE SPIRITWEAR HERE!
Let So Damn Gouda take care of dinner and drinks on auction night!
ORDER YOUR CHARCUTERIE BOXES AND COCKTAIL MIXES HERE!
(deadline to order is Wednesday, March 10th)
Have a cool item or experience to donate to the auction such as a unique service or artwork, a restaurant gift card, a round of golf, upscale tote bag or purse, signed sports memorabilia, or a mountain home you're willing to share? Please fill out our online donation form or email billrobertsptaauction@gmail.com.
Picture Day
Wednesday, February 17th and Tuesday, February 23rd. Students may dress up (not down) or dress in their regular dress code attire on those days.
Check out the FLYER and pre-order your student's school pictures.
School Name: William (Bill) Roberts E-8 School
Picture Day ID: EVTQPW3DK
The CURRENT Schedule for Picture Taking:
Wednesday, February 17th:
All in-person ELEMENTARY students
6th Grade Cohort A
7th/8th Cohort B
Tuesday, February 23th:
6th Grade Cohort B
7th/8th Cohort A
All Virtual students
8:30 am – Kindergarten Virtual Students
8:45 am – 1st Grade Virtual Students
9:00 am – 2nd Grade Virtual Students
9:15 am – 3rd Grade Virtual Students
9:30 am – 4th Grade Virtual Students
9:45 am – 5th Grade Virtual Students
10:00 am – 6th Grade Virtual Students
10:15 am – 7th Grade Virtual Students
10:30 am – 8th Grade Virtual Students
SchoolChoice
January 15, 2021
The SchoolChoice window for the 2021-22 school year is open now through 4 p.m. Feb. 16.
Volunteers Needed
Help Ms. Nadon repaint parts of the playground!
Saturday, March 20th, 10am-2pm
We're looking forward to warmer temperatures and PE/recess outside on the playground – but our basketball courts and foursquare areas desperately need to be repainted! This would normally be completed through a DPS work order but they can't get to it until next school year. We would love your help determining the right kind of paint and getting the job done properly. Please SIGN UP HERE! We appreciate any help!!
Yearbook
Please send us your best photos of this unprecedented school year! So that we may include as many families as possible, please limit your submission to your favorite 2-3 photos. Purchasing information HERE.Send photos to brbobcatyb@gmail.com