Friday Message 8/21/2021
Posted August 20, 2021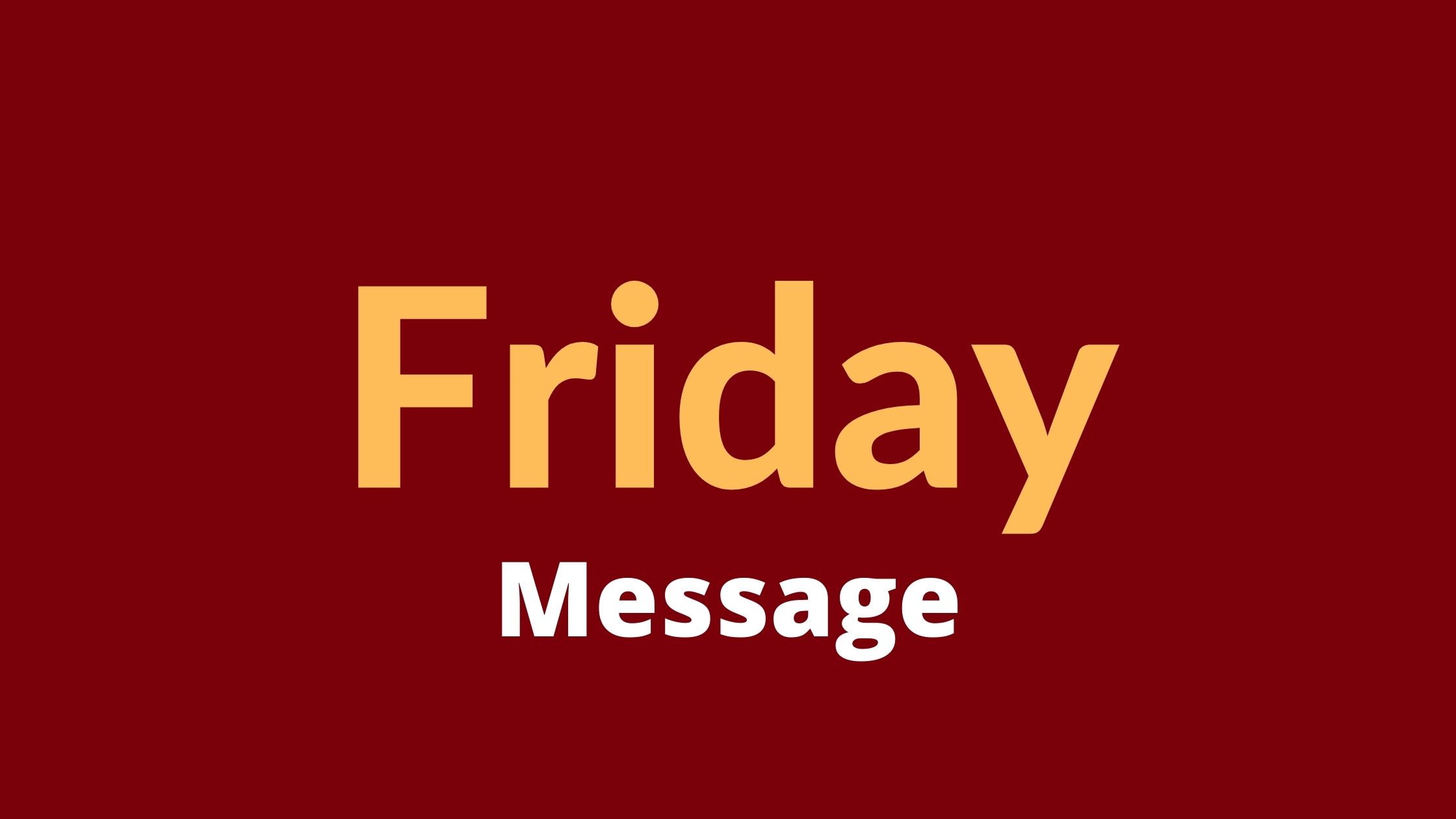 Good Day,
Welcome to the 2021-22 school year! We are excited to welcome our students as well as the entire community back to school. On Monday, August 23rd, we begin another fantastic year, continuing our focus on creating a culture where respect for teaching, learning and understanding are at the center of what we do.
First Day Reminders for Monday, August 23rd
Morning Bell (final) rings at 7:40 am
Afternoon Dismissal Bell rings at 2:40 pm
We strongly encourage everyone to arrive early on the first day to allow plenty of time to find your classroom teacher and be ready to line up by 7:35am, when the first bell rings. Teachers will be outside starting at 7:30 am. All students must be in their seats by 7:40 am.
If the weather is nice, please consider leaving your car at home (or park a few blocks away) and ride or walk to school. The parking lot will be particularly chaotic on Monday!
School buses will be in the first lane, no cars are allowed to travel through the bus lane. This year due to busing we will ONLY HAVE ONE Kiss & Go Lane will mean a quick goodbye to your student(s) and then you're off! Please DO NOT park in the Kiss & Go lane to walk your kids to the door.
Student Arrival Line Up
Kindergarten, 1st, 2nd, 3rd (Only Mrs. Wicks), 5th grade & Middle School: meet your teachers in the front of the school. Teachers will have signs with their names on them.
Kindergarten teachers will be waiting outside on the grassy area in front of the school
1st grade teachers will be in the circular area near the flagpole in front of the school
2nd Grade teachers will line up at Door #20
3rd Grade Adkins/Wicks class will line up at Door #20
5th Grade will line up near the bike racks close to Door #19 and Door #20
The following Middle School homerooms will line up in front of the building and enter through door #19:
Harvey (8th grade)
Simmons (7th grade)
Teutsch (8th grade)
Gallagher (8th grade)
3rd, 4th, and Middle School: meet outside on the blacktop in the back of the school. Teachers will have signs with their names on them.
3rd & 4th Grade will line up on the blacktop
The following Middle School homerooms will line up in the back, behind the basketball courts, near the field:
Davis (6th grade)
Wojcik (6th grade)
Braun (6th grade)
Roecker (7th grade)
Havens (7th grade)
We are thrilled to see so many of our outstanding teachers returning back and as excited to add some talented new additions to our staff.
We are delighted to welcome the following new (this year) teachers /staff to Bill Roberts:
4th Grade Math – Gabby Highdale
3rd, 4th, 5th Grade Sped- Colleen Finley
6th Grade Literacy- Brandon Wojcik
7th/8th Writing/Intervention- Sydney Simmons
Visual Art- Andrea Mondragon
Music/Drama- Colleen Beatty
GT- Patrick Seeney
Part time Social Worker – Emily Hill
Bios on our new teachers coming soon
Second Year teachers you may not know:
6th Grade Sci/SS-Brooklyn Braun
7/8 Literacy- Kate Gallagher
MS STEM/Intervention- Kristen Roecker
Not new to BR but in new positions:
Kinder/Teacher Leader- Jackie Whitney
Kinder/STEM- Kim Duran
1st Grade- Leslie Haltiner
2nd Grade Math- Jessica Bland
3rd Grade Math- Chi Onyewuenyi
3rd, 4th, 5th intervention .5- Leslie Wicks
5th Grade Math- Brenna Markson
6th Grade Math- Laurel Davis
7th/8th Sci/SS-Chelsea Teutsch
See you Monday! We are looking forward to a fabulous year!
Thanks,
Trich, Erik, & Katheryn
Coming Up:
Eat & Give
Eat & Give is our school's partner program throughout the year partnered with local restaurants and food trucks. We support them and they support us! Mention Bill Roberts when ordering and they'll give back a percentage of your order total to the school!
Friday, August 27th, 12:30-2pm
Kona Ice
There will be 2 trucks at school!
Tuesday, August 31st, 4-8pm
Chipotle, Town Center
Online ordering code is: QH88Y73
NO SCHOOL for Kindergarten (Assessment Days)
There is NO SCHOOL on August 27th and August 30th for Kindergarten students ONLY. Your students' classroom teacher will reach out to schedule a time for the assessment.
BR Calendar
Check the Bill Roberts Calendar for the most updated schedule. You can also check the DPS 2021-2022 Calendar for district-wide dates.
Back to School Nights (will be VIRTUAL)
Kinder – August 26th 6-7 pm (please the time has changed)
1st/2nd – Sept. 1st 5-6 pm
3rd/4th/5th – Sept.1st 6-7pm
Dress Code
Please visit our uniform/spirit wear website for detailed information on the BR dress code.
Order your Bill Roberts Spiritwear online before school starts. Items can ship to your house or be picked up at Impact We Print, located just 10 minutes from Bill Roberts. Remember, Bill Roberts has a school dress code policy that will be enforced on Day One
Access to the Building
For safety and health reasons, no visitors are allowed inside the school building, including parents and families. Thank you for understanding as your students safety is our main concern.
Breakfast
Free breakfast will be offered to all students starting at 7:30 am and will be a grab and go method. Tables will be located in front of the school and near the cafeteria door.
Support BR with your Regular Purchases
COVID Information
We are taking a layered approach with our COVID mitigation strategies which include universal masking, mandated vaccination for all employees, upgrades to the ventilation and air filters in our buildings and are implementing stringent cleaning routines. Our plan also includes communicating with families should their child be in close contact with an infected person. Per CDC, the definition of a close contact in a school setting is students who are within 3 feet of an infected person for a cumulative total of 15 minutes or more over a 24 hour period.
We have the following procedures in place to support a safe start to the 2021-22 school year.
Mask Requirements
-Masks will be required for all students, visitors, and staff while indoors in all DPS schools and buildings, regardless of vaccination status.
-Masks will not be required outside, since the risk of COVID transmission is significantly lower outdoors.

Health Screenings and Hygiene
Formal student health screens are not required for students or staff to enter a building. However, parents/guardians should monitor their children for symptoms of illness and keep them home if they are sick. Students and staff should continue to practice good hygiene. This includes washing your hands or using hand sanitizer, covering coughs and sneezes, and avoiding touching your face.
Physical Distancing, Cohorts and Quarantines
At this time, there are no physical-distancing requirements for DPS students and staff. However, as part of our layered approach to health and safety, schools are encouraged to take advantage of additional space to distance students when possible.
-All schools can return to normal use of hallways and stairways.
-Schools will not need to implement cohorts or altered schedules for the 2021-22 school year.
-Quarantines for close contacts in the school setting may still occur but they will be less common due to universal masking, and may vary based on the circumstances of the exposure.
-People exposed to COVID-19 outside of the school setting, including at home, must follow the guidance of their medical provider and the health department.
Lunch Procedures
Schools will continue to leverage the outdoors for lunchtime as much as possible, since the risk of COVID transmission is significantly lower outdoors. If students eat indoors, contact-tracing protocols will be in place.
Materials and Shared Supplies
Classroom supplies and materials can be shared between students. Deep cleaning of supplies between uses is no longer required, though schools will periodically clean and sanitize supplies. Students will be encouraged to wash their hands or use hand sanitizer after using any shared supplies.
Field Trips
Day trips and overnight field trips can resume. Students and staff must follow all health and safety protocols for the designated field trip and any additional requirements at their destination. Students must also complete all required waivers and permission slips before a field trip or overnight trip.
School Visitors
All visitors and family members must follow DPS' masking guidance and any health protocols currently in place.
-For the beginning of the school year, visitors and families will not be allowed past the front desk unless absolutely necessary, or if there is a scheduled IEP, 504 or other necessary meeting to support student success.
-Students should be dropped off and picked up outside of the building.
Please note: The school visitor policy will be reevaluated after 30-60 days and adjusted as needed.
Please note that these policies are subject to change and will be updated as new information becomes available. We will continue working closely with our health experts to re-evaluate and make any necessary adjustments based on current health conditions in the community.
Visit www.dpsk12.org for updates.