Friday Message 10/29/2021
Posted October 29, 2021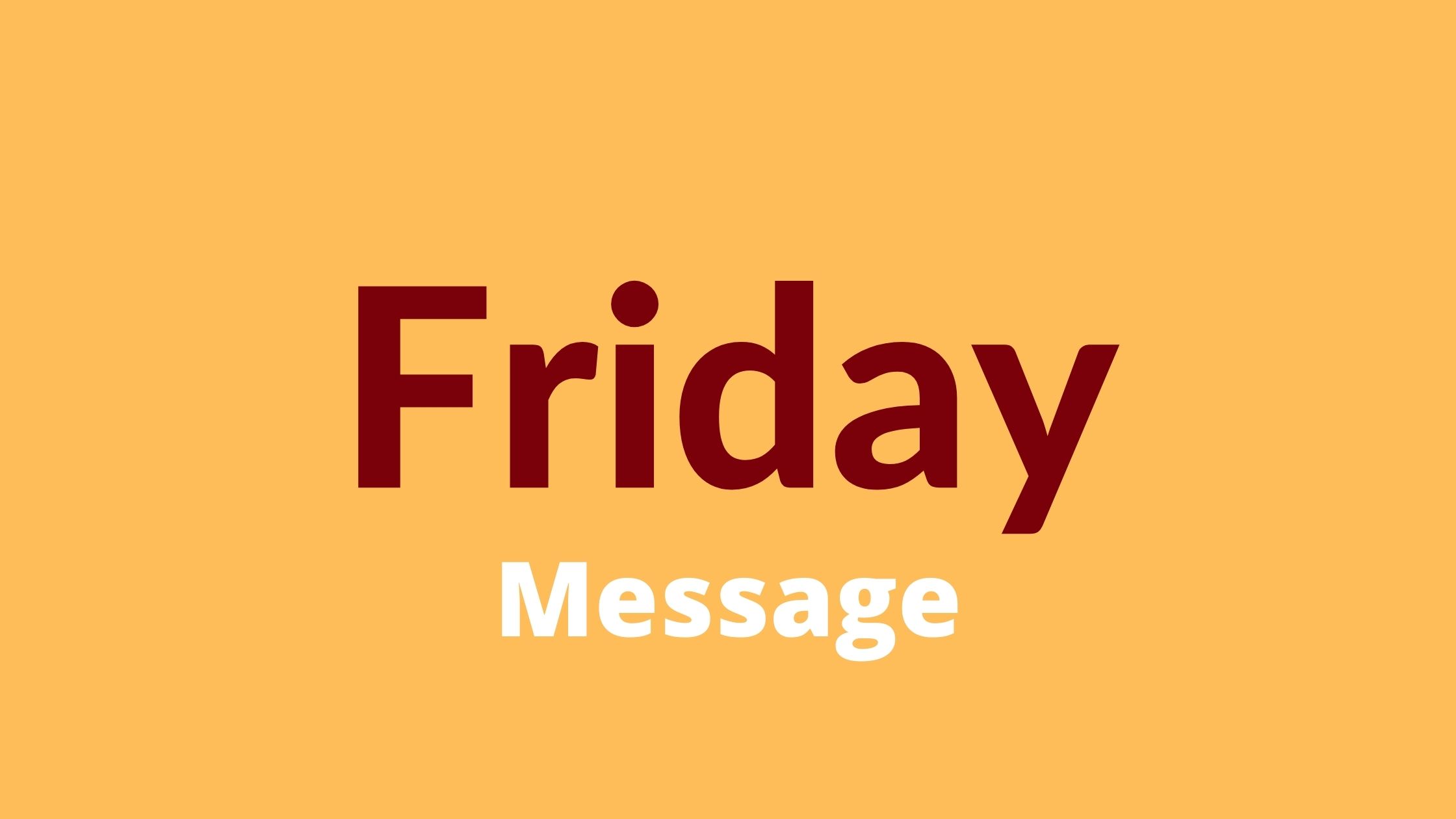 Good Day,
As we head into the final two months of 2021, we know the weeks ahead may become hectic for families. In our classrooms, we will continue our ongoing intentional and focused learning. Outside of our normal routines at school, we share below dates of some of the exciting family events coming up. These include the Fun Run, the Book Fair and our Holiday Outreach. We look forward to coming together at these school community events and celebrating the season with you.
Each month in the Friday message we will be sharing an update from the Equity Committee. This is a group of teachers and administrators who meet weekly after school to help lead our efforts to be a more inclusive, welcoming and anti–racist school. For October here are some things they worked on:
Provided staff professional development on Racial Equity: Nice Is Not Enough: Combatting the Conspiracy of Silence. This workshop focused on skills and mindsets necessary to have conversations about race and interrupt the unspoken protocols that may keep people silent in the face of inequities.
Brought Levi Arithson DPS Program Manager of LGBTQ+ Equity Committees to present to staff on LGBTQ+ inclusion
Provided time and resources for teachers to plan activities around Hispanic Heritage Month
Crafted and sent a survey to our Black Families about Black Excellence at Bill Roberts and shared those results with staff. We will be using the survey as we continue to build and modify our Black Excellence Plan and form our Equity Advisory Parent Committee.
Please head over to our William "Bill" Roberts School Facebook Page to see pictures from our Halloween Celebrations. Thank you as always for all your support.
Also, we would like to congratulate our Flag Football Bobcats on their historic win against McAuliffe this week! They're now 3-0 and play their fourth game on Nov. 11th at 4pm at Bill Roberts. Spectators are welcome as these games take place outside.
Thanks,
Trich, Erik & Katheryn
Coming Up:
10/25-10/30 Shop and Give – Aspen Lane
11/3 Eat & Give – Modern Market
11/4 SOMETHING EXCITING
11/7 Bell Time Survey DUE
11/13 Fun Run
11/7 Get to Know BR Middle School Mixer for 5th Grade Families
11/11 Eat & Give – Maria Empanada
11/17 Elementary School Tour
12/6-10 Winter Book Fair
On Thursday next week, something exciting is happening! Look in your inbox on Thursday, November 4 for an important message about how you can help our school stay amazing. Put a reminder on your calendar to check email messages from Bill Roberts on Thursday, November 4!
Bell Time Survey
We have the option to submit an appeal to move our bell time next year to Tier 3, which has an 8:50-9:10 A.M. start range. There are no guarantees about any changes but I need your help.
If you would like to share your thoughts on whether or not we should appeal our bell times for the 2022-23 school year, please complete this Survey. Please complete this survey by 5 pm on November 7th.
Please keep in mind that whether or not we keep our bell times for the next school year, our bell times could possibly change for the 2023-24 school year. That is when the Healthy Start Resolution will begin for middle school and high school students. The changes to make sure all secondary schools are in compliance could have rippling effects to all schools across the district.
Eat and Give
Mention Bill Roberts when ordering and they'll give back a generous percentage of your order total to the school!
Wednesday, November 3rd, 10am-9pm
Use coupon code "giveback002" when ordering online or in-person
Wednesday, November 11th, 9am-8pm
Maria Empanada, Stanley Marketplace
Use coupon code "LEARN2021" when ordering
Click here for a full menu of all Fall Eat & Gives. .
Shop & Give
October 25th-30th
Aspen Lane Gift Shop, Northfield
Shop in-store or online and 20% of your purchase goes back to Bill Roberts! Online orders can also be picked up curbside to save on shipping costs.
A few special events will be happening during our Give Back Week:
On Tuesday, October 26th, the store will be open until 7pm for some late night shopping and special giveaways.
On Saturday, October 30th, there will be a pop-up in the store with Ashely Echavarria who has beautiful wreaths and arrangements!
USE CODE: WELOVEBILLROBERTS21
Click here for flyer about the event!
Fun Run Registration is Now Open!
November 13th, 10am
Register for the Annual Fun Run on November 13, 2021
Walk, run, jog, trot, skip and join the Annual Bill Roberts Fun Run Family event. Start date and time will be November 13th, 2021, at 10am with groups of 50 stagger-starting every 15 minutes.
We'll have Pozzetti Gelato, pancake, and coffee trucks on-site; medals will be awarded to each runner and we'll have a raffle for fantastic prizes.
To receive your shirt on race day, please register by November 3rd. All water bottle and tumbler orders close on November 8th.
Learn more, register for the Fun Run and purchase your Bill Roberts Personalized Water Bottle and/or Tumbler here!
---
Also – Art submittals for the Fun Run are due by November 3rd!
Send images to cheryl_learned@msn.com. Images can be viewed on the Fun Run site. Special thanks to Mr. E for providing the art class last week to get the inspiration flowing!
Attention 5th Grade Families
Our thanks to the many of you who attended our in-person "Get to Know Bill Roberts Middle School" event last night. We have two virtual events scheduled in the near future and hope to have another in-person event if possible.
To Our 5th Grade Families: You are 100% guaranteed a spot at Bill Roberts Middle School if you reside in the DPS boundary and select BR as #1. Every student going into 6th grade must fill out a DPS Choice Form. If you have Choice questions please email jennifer_kahn@dpsk12.org.
The DPS Choice process starts Friday, January 14th and closes at 4pm on Tuesday, February 15th
Kindergarten and Elementary School Choice and Tours
If you have an incoming Kindergartener or know of a new incoming family, please check out our tour schedule sign-up. Choice will be open this year from Jan 15th through Feb 15th. These tours are designed for new and/or incoming Kindergarten/Elementary families.
For general Choice information, please refer to the DPS School Choice page: https://schoolchoice.dpsk12.org/
For questions please contact: schooltoursbillroberts@gmail.com
Healthy Start Times Virtual Events
To help support the health and well-being of our adolescent students, the DPS Board of Education has voted to move to later school start times for all middle and high schools for the 2023-24 school year. The Healthy Start Times initiative will mean more rest for older students, with the intention of better attendance rates and academic outcomes, and better physical and mental health overall. With this change, middle and high schools will start their day at 8:20am or later, and elementary students, who are more able to obtain sufficient sleep, will start their day earlier.
Please join us for an upcoming virtual event to provide feedback, ask questions, and learn more about why Healthy Start Times will help our Denver students thrive!
English: Wednesday, Nov. 3, 6-7pm
En Español: Martes, 9 de Nov, 6-7pm
Visit HealthyStartTimes.dpsk12.org or call 720-423-3054 to learn more.
Colorado Passport Program
Registration for the 4th, 5th & 6th Grade Ski Passport Program is now available for the 2021-22 winter season!
What is the Passport Program?
The CSCUSA Ski Passport Program offers 4th through 6th graders up to 88 days of skiing or riding at 21 of Colorado's mountains (starting at $59). Passport holders also receive 2 free ski or snowboard rentals from Christy Sports.
Make sure your student does not miss out on the fun and sign up today! Visit coloradoski.com/passport to learn more.
Are you getting the PTA Thursday Notes?
The PTA's opt-in weekly email newsletter shares information on happenings at the school, including Eat & Give opportunities, upcoming school community events, volunteer opportunities, and general school information. Subscribe here or view past editions in the archive.
Support BR with your Regular Purchases