Friday Message 12/3/2021
Posted December 4, 2021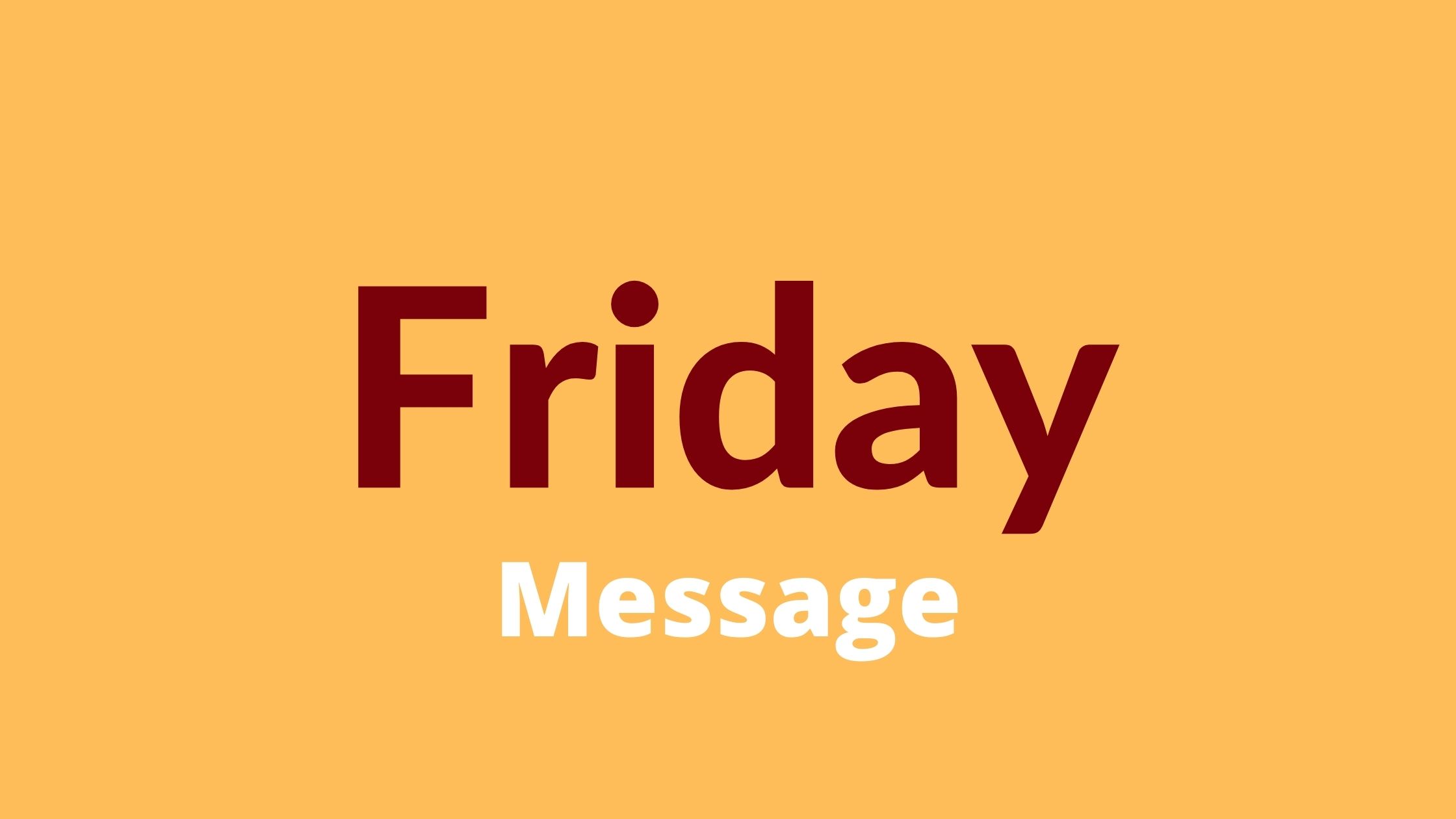 Good Day,
It is with a heavy heart that we announce to our community that Trich's mom, Marie Baldi, has passed away. She passed on Tuesday, November 23 with Trich by her side. Trich took some time off before her mom's passing and has continued to be out as she helps her family through this difficult time. The rest of the Roberts administration team has stepped up in her absence and the school continues to flourish, even under the difficult conditions of the ongoing pandemic and the sadness we feel for Trich. With the Holidays all around us, we know it presents an opportunity to spend time with those we love. We also recognize that the Holidays can also be a difficult time for people who have to manage grief with the pressures that we are to be joyful this time of year regardless. Many of us in this community are privileged to have the means to enjoy this holiday, but that doesn't mean we may not bring forward experiences that can make this time hard. Others who are less socio-economically privileged may be accustomed to embracing the Holidays as a time of adversity, which might characterize their experience navigating the expectations of a dominant culture other times of the year. We are fortunate to have a school that encompassess both experiences, yet our diversity doesn't mean it's easy to package all of our experiences as one nice and neat narrative. It's ok to recognize and name our differences, and accept that we hold different truths. Each one is beautiful in their own way. Each is valued. Each is important. That is our story. Right now, as a school comes together to support its leader, our story is one of understanding, sacrifice, and showing up.
Hope you all have a great weekend!
Erik & Katheryn
Coming Up:
12/4-10 Winter Book Fair
12/7 Eat & Give Chik Fil A
12/8 Black Excellence Parent Forum
12/8 Eat & Give Mondo Market
12/9-10 Shop and Give Kendra Scott
12/16 Eat & Give Scratch Kitchen
Bill Roberts Book Fair
December 4th-10th
Good news! Due to the warm weather there will be an additional outdoor book fair (weather permitting) and families are invited:
Monday, December 6th, 2:30 – 3:30pm
The student-only book fair will be in the library during school hours from 12/6-12/10. Students may purchase items during their library time.
Don't want to give your student cash? No problem! Sign-up for an eWallet. Give your student a secure, cash-free way to shop. Simply create a free account, pre-authorize a spending limit, and have funds immediately available. Out of town relatives can contribute too.
Black Excellence Parent Forum
On Wednesday Dec,8 the Equity Committee is hosting a Black Excellence Parent Forum for our families with Black students. The purpose of this forum is to listen to better understand the needs of our Black families and to inform our Black Excellence Plan. This is one of many steps Bill Roberts is taking to realise the vision of Equity in DPS. If you have a Black or mixed student and unintentionally did not receive an invitation to this meeting and want to participate please reach out to Ms. Onyewuenyi.
Eat and Give
Mention Bill Roberts when ordering and they'll donate 15-20% of your order total back to our school!
Tuesday, December 7th, 4:30 – 7:30pm
Chick-Fil-A, Quebec St location – DRIVE THRU ONLY
Mention "Bill Roberts" when ordering
Wednesday, December 8th, open to close
Mondo Market, Stanley Marketplace
Thursday, December 16th, open to close
Enter code BILLROBERTS10 online for $10 off your order.
Click here for a full menu of all Fall Eat & Gives.
Shop & Give
Thursday and Friday, December 9th & 10th
Kendra Scott, Shops at Cherry Creek North and online
Shop in-store or online and 20% of your purchase goes back to Bill Roberts!
USE CODE: GIVEBACK-AXQSD
Click here for a flyer about the event!
Winter Giving Campaigns
Every year we try to find meaningful ways to spread cheer and joy before heading into Winter Break. This season we have two special ways to give to others by supporting students who may need some extra joy!
Adopt-a-Family/Winter Outreach December 2021
Bill Roberts' Winter Break Outreach is happening in 2021! Each year we come together in December for a school-wide event, which includes opportunities to provide families with meal boxes for Winter Break and adopt-a-family opportunities. Please see the Sign Up Genius for ways to sponsor Bill Roberts families by fulfilling adopt-a-family wish lists, or providing grocery gift cards and meal boxes to help them during Winter Break. Items will need to be dropped off by Monday, December 13th to the front office.
Cole Elementary Gift Campaign
If you would love the opportunity to spread some cheer to kids in need of a joyful holiday season, the Cole Elementary Amazon Wishlist has many unfulfilled items! Items can be shipped directly to the Cole team by using the wishlist. Please purchase items before December 10th so they are delivered before Winter Break begins. If you have them delivered to your home, we can coordinate a collection to bring to Cole by December 14th.
In addition to the Amazon Wish List items, we are also collecting hats, gloves, scarves, and neck warmers for the Cole students. We need ~280 items to supply enough for all students. These items can be dropped off at the school before December 14th. Sign up to donate Winter clothing items here.
Original Works Deadline Extended
Thursday, December 30th
Exciting news! Our Original Works Online Gallery (school code: BIRO) will remain open through December 30, 2021. You can continue to place orders during this Late Order Phase of our program.
Simply follow the instructions on this order instruction letter.
PLEASE NOTE: Orders placed during this time period are not guaranteed to arrive for the holidays. Order as early as possible AND keep in mind, the products make great gifts for any time of the year!
Since our school is closed during Thanksgiving Week, please contact Customer Service at Original Works if you need help placing your order. The number is on the order instruction letter.
Thanks so much for your support of the art program!
Old Chicago Pizza Palz
Old Chicago Pizza Palz coupon cards are now being sold in the front office to support our school's sustainability projects. Each pizza coupon is $15 and is redeemable Sunday-Thursday at ANY Old Chicago location for a large pizza of your choice up to $30. If you have questions please email Jenny Kahn or swing by the office.
School Choice for Middle School
ATTENTION 5th GRADE FAMILIES
As the DPS School Choice process for next year approaches, we want to share our amazing Middle School with current Bill Roberts families! Sign up to attend a Virtual Presentation/Q&A one morning and/or an In-Person tour with a presentation and Q&A during evening hours.
12/8 Middle School Virtual Presentation 9-10am
12/9 Middle School In-person Tour and Presentation 6-6:45pm
1/12 Middle School Virtual Presentation 9-10am
1/12 Middle School In-person Tour and Presentation 6-6:45pm
1/26 Middle School Virtual Presentation 9-10am
1/26 Middle School In-person Tour and Presentation 6-6:45pm
We recommend coming to both to get the full picture of everything Bill Roberts has to offer! Sign up here to attend any of our events.
Kindergarten and Elementary School Choice and Tours
If you have an incoming Kindergartener or know of a new incoming family, please check out our tour schedule sign-up. Choice will be open this year from Jan 15th through Feb 15th. These tours are designed for new and/or incoming Kindergarten/Elementary families.
For general Choice information, please refer to the DPS School Choice page: https://schoolchoice.dpsk12.org/
For questions please contact: schooltoursbillroberts@gmail.com
Are you getting the PTA Thursday Notes?
The PTA's opt-in weekly email newsletter shares information on happenings at the school, including Eat & Give opportunities, upcoming school community events, volunteer opportunities, and general school information. Subscribe here or view past editions in the archive.
Support BR with your Regular Purchases