Friday Message 12/10/2021
Posted December 11, 2021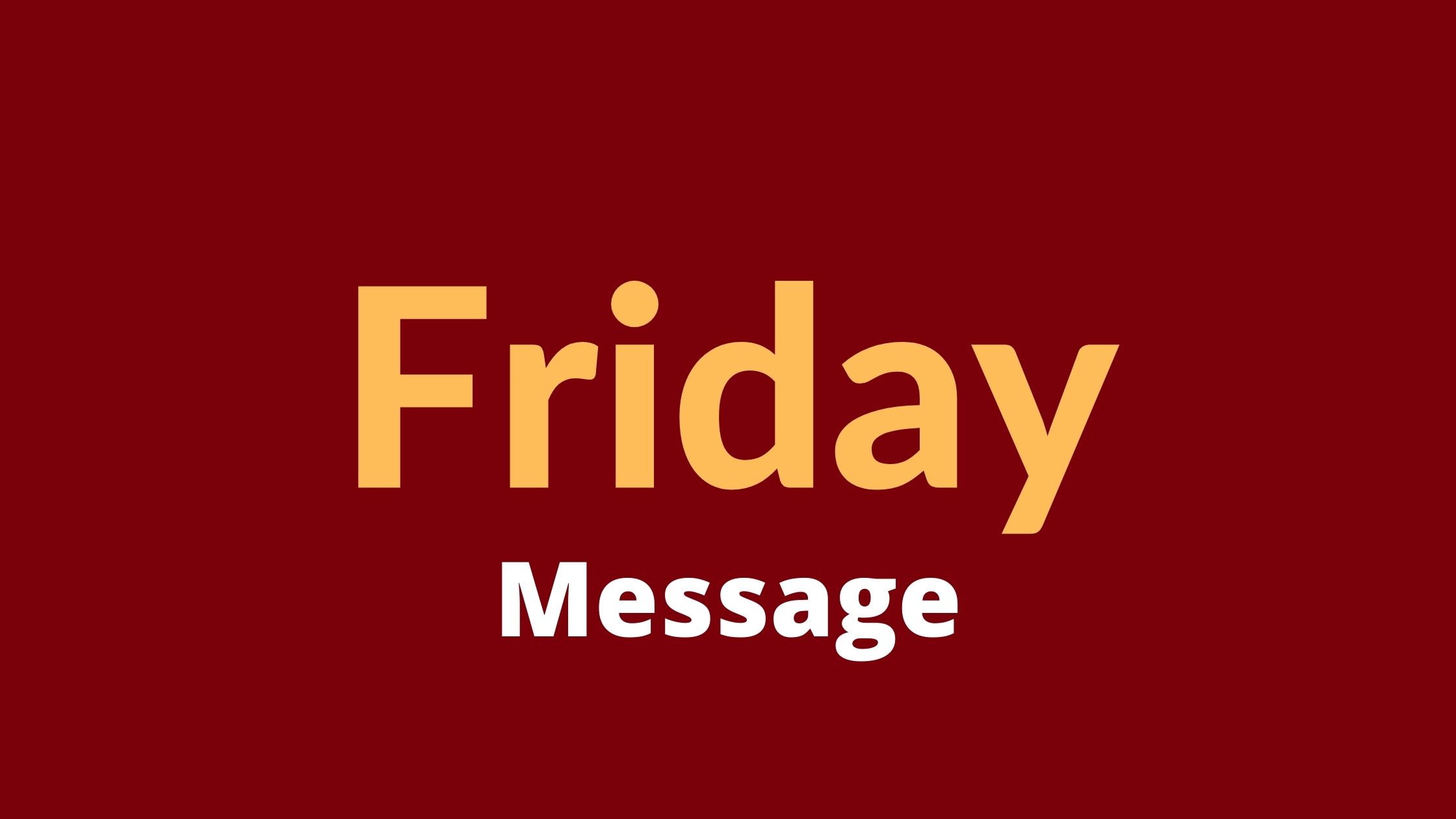 Good Day,
We've been busy at Roberts and the snow on a Friday capped off a week of learning (we even had to re-learn how to drive on the slick roads). It was a week of growth for many of us, administration and staff included. Perhaps the most profound learning experience this week came during a forum we held with our Black families and families of our Black students on Wednesday evening. We wanted to better understand their experiences to support our Black students; to recognize, nurture and grow their excellence as one parent put it. A big part of our work towards creating a truly inclusive community is through the education of our community, leveraging the experiences of those around us to grow and strengthen our resolve. Initially, there was talk of "positive" and "negative" experiences. Ultimately, they were real conversations that needed to exist as is, not qualified in any way. In fact, those conversations need to be shared as they can serve as a powerful way to facilitate the collective understanding of our community and teach our children. This is especially important when it comes to issues of equity: race, class, gender, economic inequality, etc. Those stories are real, even if they may break our hearts, or when they bring about a hard reality that we are not immune from that which we try to protect our kids.
During the forum, a parent shared that his Black daughter had been the recipient of an unfortunate comment about her hair from a white boy. We found out that his comment was in retaliation to something she said to him about his weight. He actually repeated what his Black friend said about her natural hair, to which he referred to as a "weave." Unfortunately, the comment landed differently when repeated by the white student. Unknowingly, the comment was racially charged, it carried with it the weight of history, institutions, and power.
In Colorado, the CROWN Act was passed by lawmakers to prevent hair-related discrimination. The bill's text states, "People of African descent are deprived of educational and employment opportunities because they are adorned with natural or protective hairstyles in which hair is tightly coiled or tightly curled or worn in locs, cornrows, twists, braids, Bantu knots, or Afros." One of the bill's sponsors, Rep. Leslie Herod, stated, "No one should be penalized for the way their hair grows naturally out of their heads." Herod, who is a Black woman, continued, "We should support and celebrate our diversity, our cultural diversity and we should ensure that Colorado is in place to protect folks who are being discriminated against."
This experience is an example of a microaggression. Microaggressions are defined as the everyday, subtle, intentional — and oftentimes unintentional — interactions or behaviors that communicate some sort of bias toward historically marginalized groups. The work towards ending these everyday occurrences consists of recognizing them, and educating students and families about them. Doing so also validates the lived experience of people in our community that we care about. In the season of giving, having a person share their story is perhaps one of the best gifts we could receive. When we, in turn, use them as a vehicle for positive change, they can be our gift to the world.
Hope you all have a great weekend!
Erik & Katheryn
Coming Up:
12/16 Eat & Give Scratch Kitchen
12/16 Auction Meeting
12/20-1/3 NO SCHOOL
12/30 Original Works Deadline
1/1-1/14 Eat & Give Supperbell
Eat and Give
Mention Bill Roberts when ordering and they'll donate 15-20% of your order total back to our school!
Thursday, December 16th, open to close
Enter code BILLROBERTS10 online for $10 off your order.
January 1st at 12am – January 14th at 3pm
Supperbell, Online only
Use code BRFUND at checkout. Pre-orders taken on Jan. 1 will be valid for orders delivered the following week
Click here for a full menu of all Fall Eat & Gives.
Adopt-a-Family/Winter Outreach
We are blown away by the generosity of this community! A school-wide email went out on Thursday with the adopt-a-family wish lists, and opportunities to purchase grocery gift cards and meal boxes for our students and families in need for Winter break – and the donations came in like a wrecking ball! THANK YOU!
We are still hoping for a few more King Soopers gift cards and food donations! Please drop the items off by Monday, December 13th!
Lost and Found
Please have your student check the racks and baskets in the cafeteria. We will put Lost and Found outside in the back by the cafeteria doors starting December 13th. Come look by Friday, December 17th. Everything will be donated to Clothes for Kids before we go on winter break.
Original Works Deadline Extended
Thursday, December 30th
Exciting news! Our Original Works Online Gallery (school code: BIRO) will remain open through December 30, 2021. You can continue to place orders during this Late Order Phase of our program.
Simply follow the instructions on this order instruction letter.
PLEASE NOTE: Orders placed during this time period are not guaranteed to arrive for the holidays. Order as early as possible AND keep in mind, the products make great gifts for any time of the year!
Since our school is closed during Thanksgiving Week, please contact Customer Service at Original Works if you need help placing your order. The number is on the order instruction letter.
Thanks so much for your support of the art program!
Bill Roberts Annual Auction
Save the Date! Saturday, March 12th, 2022
Bill Roberts' Annual Auction, our largest fundraiser of the year, is back in person! More details to come in the new year, but mark your calendars for Saturday, March 12, 2022 as this is an event you won't want to miss!
Do you have an item or experience to donate to the auction? Please fill in the online donation form.
There are many ways to help, both big and small, and we need volunteers! If you are interested in helping, please see the Sign Up Genius or email auction chair, Nikki Parrish at billrobertsauction@gmail.com.
Our next auction meeting will be Thursday, December 16th at 6:30pm via Zoom
Old Chicago Pizza Palz
Old Chicago Pizza Palz coupon cards are now being sold in the front office to support our school's sustainability projects. Each pizza coupon is $15 and is redeemable Sunday-Thursday at ANY Old Chicago location for a large pizza of your choice up to $30. If you have questions please email Jenny Kahn or swing by the office.
School Choice for Middle School
ATTENTION 5th GRADE FAMILIES
As the DPS School Choice process for next year approaches, we want to share our amazing Middle School with current Bill Roberts families! Sign up to attend a Virtual Presentation/Q&A one morning and/or an In-Person tour with a presentation and Q&A during evening hours.
1/12 Middle School Virtual Presentation 9-10am
1/12 Middle School In-person Tour and Presentation 6-6:45pm
1/26 Middle School Virtual Presentation 9-10am
1/26 Middle School In-person Tour and Presentation 6-6:45pm
We recommend coming to both to get the full picture of everything Bill Roberts has to offer! Sign up here to attend any of our events.
Kindergarten and Elementary School Choice and Tours
If you have an incoming Kindergartener or know of a new incoming family, please check out our tour schedule sign-up. Choice will be open this year from Jan 15th through Feb 15th. These tours are designed for new and/or incoming Kindergarten/Elementary families.
For general Choice information, please refer to the DPS School Choice page: https://schoolchoice.dpsk12.org/
For questions please contact: schooltoursbillroberts@gmail.com
New Spirit Wear
New winter beanies have been added to the spirit wear site! Check 'em out. They make great holiday gifts!
Are you getting the PTA Thursday Notes?
The PTA's opt-in weekly email newsletter shares information on happenings at the school, including Eat & Give opportunities, upcoming school community events, volunteer opportunities, and general school information. Subscribe here or view past editions in the archive.
Support BR with your Regular Purchases