Friday Message 1/21/2022
Posted January 24, 2022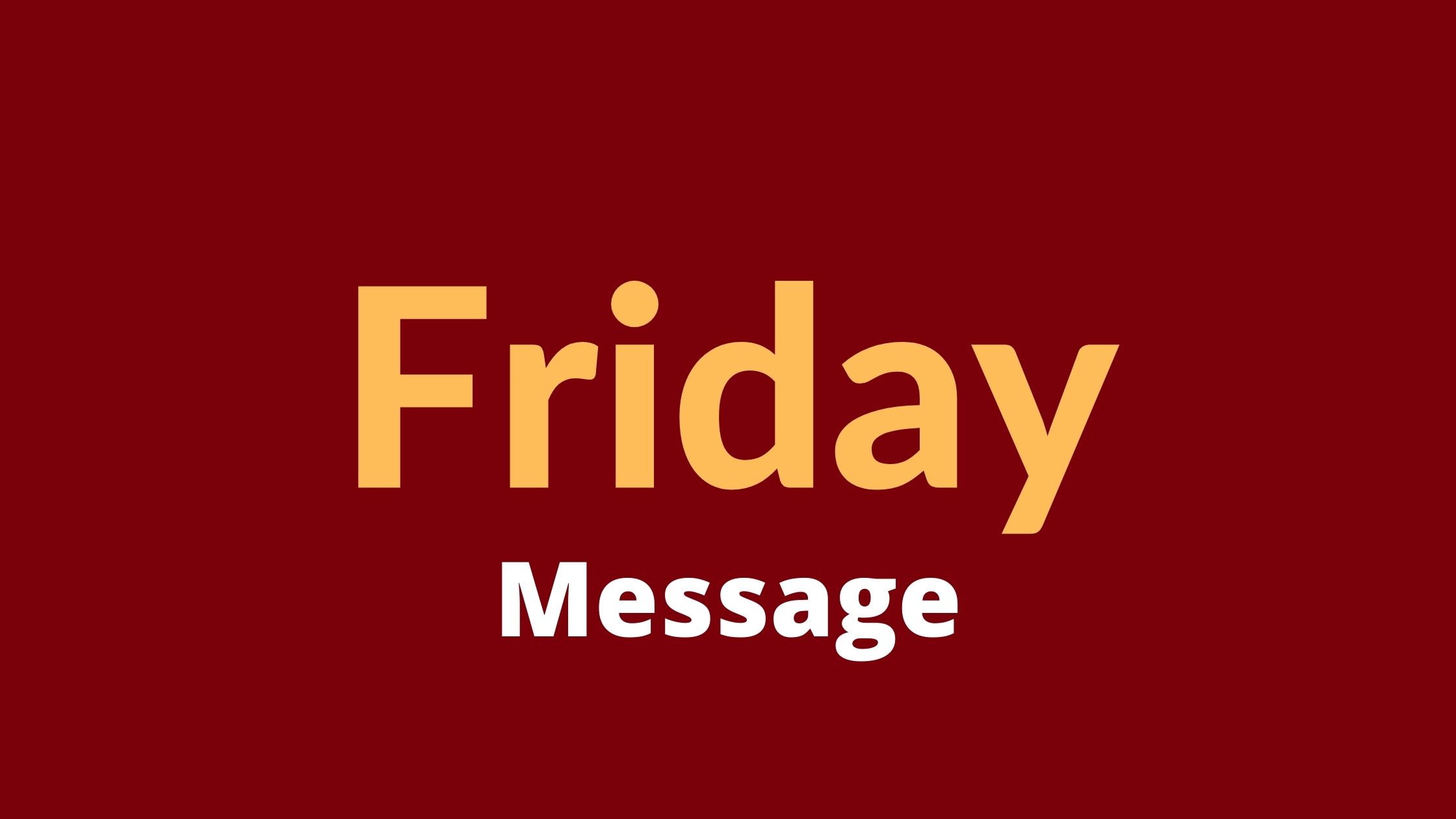 Good Day,
Last year, when we were all learning virtually in our homes, we wanted to keep as many of our traditions alive as possible. At the middle school level, that meant keeping the ritual of our Friday morning meetings and shout outs. Like a radio station, students were greeted with a series of songs as they logged onto our meeting. Songs were organized into a short playlist (formerly called a mix tape) around a theme, drawing on the music's lyrics to support whatever message was trying to be conveyed. As Omicron is surging, we have moved our morning meetings to the virtual platform because it is unsafe to gather as an entire middle school in the gym. Our first virtual morning meeting of the year fell on the Friday before Dr. Martin Luther King, Jr. Day. The theme was one of love, inspired by his words, written on posters created in his honor and memory throughout our hallways, "Hate cannot drive out hate. Only love can do that." Therefore, the music organized spoke to the most powerful protest we have against cruelty and hate: Love.
Get Up, Stand Up by The Wailers (It was recorded prior to the band breaking up, sending Peter Tosh, Bunny Livingston, and Bob Marley their separate ways)
A song of protest and standing up for what you believe in; a perfect song to capture the unwavering belief that standing up for our rights is always provocative.
Meet Me at Our Spot by The Anxiety, Willow, and Tyler Cole
Love can be consuming and so special. It links two people together and creates a world where only those two exist at any given point in time.
All I Want is You by Tristan Prettyman
We can become flexible in the face of love: to bend and accept people for who they are and complement each other. Overlooking flaws and appreciating the imperfection of people that allows love to fill in any gaps.
This Friday, we continued to discuss the change and progress we are in the midst of experiencing and acknowledging the difficult work we assume in the process. We are constantly reminded about the struggle we all face each day here, but we also are very aware of the progress we are making with our kids and with each other. Our students at all grade levels are learning and growing, despite the "normal" that no longer exists.
Enjoy the weekend,
Trich, Erik & Katheryn
Coming Up:
1/20 Eat & Give Five Eggs
1/25 Eat & Give Dos Amigas
2/10 DEI Committee Meeting
2/16 Eat & Give Pizzeria Locale
3/12 Annual Auction
SchoolChoice
If your student is a current 5th grader at BR and lives within the DPS boundary they are guaranteed a spot in the Bill Roberts 6th grade class. If you are sure you want to stay at Bill Roberts please put it as your only choice. Please do not hesitate to contact Jenny Kahn if you have any choice questions!
Eat and Give
Mention Bill Roberts when ordering and they'll donate 15-20% of your order total back to our school!
January 20th – 26th
Five Eggs, Local Online Delivery
Enter BILL ROBERTS in the "notes" line. Orders will be delivered January 31st.
Tuesday, January 25th until 8pm
Dos Amigas, Online Only
Enter code BILLROBERTS at checkout. Orders will be delivered January 26th.
Wednesday, February 16th, open to close
Pizzeria Locale, In-Person and Online
IN PERSON: Tell the cashier you are there to participate in the fundraiser. They will ensure 33% of your order is donated!
ONLINE: Order in the Pizzeria Locale App or online. Be sure to add the Fundraiser item to your basket before check out. The fundraiser item will ensure 33% of your order is donated. If you do not add the item your order will not be counted in the fundraiser.
School Choice for Middle School
ATTENTION 5th GRADE FAMILIES
As the DPS School Choice process for next year approaches, we want to share our amazing Middle School with current Bill Roberts families! Sign up to attend a Virtual Presentation/Q&A one morning and/or an In-Person tour with a presentation and Q&A during evening hours.
1/26 Middle School Virtual Presentation 9-10am
1/26 Middle School In-person Tour and Presentation 6-6:45pm
We recommend coming to both to get the full picture of everything Bill Roberts has to offer! Sign up here to attend any of our events.
Kindergarten and Elementary School Choice and Tours
If you have an incoming Kindergartener or know of a new incoming family, please check out our tour schedule sign-up. Choice will be open this year from Jan 14th through Feb 15th. These tours are designed for new and/or incoming Kindergarten/Elementary families
1/25 Elementary Virtual Tour 8-9 am
2/1 Elementary in Front of School Tour 8-9 am
2/9 Elementary in Person Tour 6-7 pm
For general Choice information, please refer to the DPS School Choice page: https://schoolchoice.dpsk12.org/
For questions please contact: schooltoursbillroberts@gmail.com
Girls on the Run
Registration starts February 7th
Girls on the Run inspires girls to a lifetime of self-respect and a healthy lifestyle through an innovative program that combines training for a 3.1-mile run/walk race with fun games and activities that help girls learn to define their lives on their own terms. The Bill Roberts team will meet Mondays and Fridays after school. Open to all 3rd, 4th and 5th grade girls. Registration opens at 9am, February 7th. Practices start March 7th.
Are you available to serve as a coach? No running experience is required! Contact Alex Foster (aofoster@gmail.com) and visit www.girlsontherunrockies.org for more information. Click here for a flier about the Bill Roberts program.
Bill Roberts Diversity, Equity, & Inclusion Committee
Thursday, February 10th at 6pm
We are happy to announce that we are launching a Diversity, Equity and Inclusion (DEI) Committee that will be open to all Bill Roberts families as a support and accountability partner for the administration in the spirit of upholding the value of EQUITY at Bill Roberts.
After a series of racial harassment/bullying incidents at Bill Roberts, a group of parents have been working with the school administration to address these incidents. These conversations have helped all of us realize that to affect meaningful change for the entire Bill Roberts community, we need to create a parent-led entity to promote a safe, inclusive, and equitable environment for all.
If you are interested and committed to the principles of diversity, equity, & inclusion, we would love to have you join. Our first meeting will be held on Thursday, February 10th at 6pm via Zoom. Please RSVP and you will receive the link to the meeting and an agenda.
If you have any questions, please reach out to us at BRDEICOMMITTEE@gmail.com.
Spiritwear Location Changed
Our spirit wear vendor, Impact We Print, has moved locations to 3930 Holly Street. You can order spirit wear online and have your items shipped or pick them up at the new location.
Bill Roberts' In-Person Auction – A Night At The Speakeasy
Saturday, March 12th at 6pm
First, the auction committee would like to thank everyone who took the time to complete our survey and offer your feedback regarding our auction this year. We have taken that information and decided to move forward with our in-person auction on Saturday, March 12th at 6pm at the Tivoli Turnhalle. Our focus is to create a safe environment that allows us to bring our community together to celebrate and support our amazing school. For those who are unable to attend or not comfortable attending an in-person event, we will be opening online bidding early for all silent auction items, including class baskets and teacher experiences, on Monday, March 7th.
Mark your calendars, book your babysitters, and join us for A Night at the Speakeasy! Don your best Roaring 20's inspired outfit (as always, this is optional, come as you feel best!) and join us for a fabulous evening of food, drinks, music, casino games (just for fun, there will be no monetary or prize winnings), and amazing auction items.
We need donations to make our event successful! Have a cool item or experience to donate to the auction such as artwork or a unique service, a restaurant gift card, a round of golf, upscale tote bag or purse, signed sports memorabilia, or a mountain home you're willing to share? Please fill out our online donation form or email billrobertsptaauction@gmail.com.
Carnival Committee
The Bill Roberts Carnival Committee is looking for volunteers for this year's event. If you are interested in helping plan and support our Spring family event, please contact Ashley Kernstock at akernstock@outlook.com. Our first meeting will be in late February/early March.
Support BR with your Regular Purchases