Friday Message 3/4/2022
Posted March 11, 2022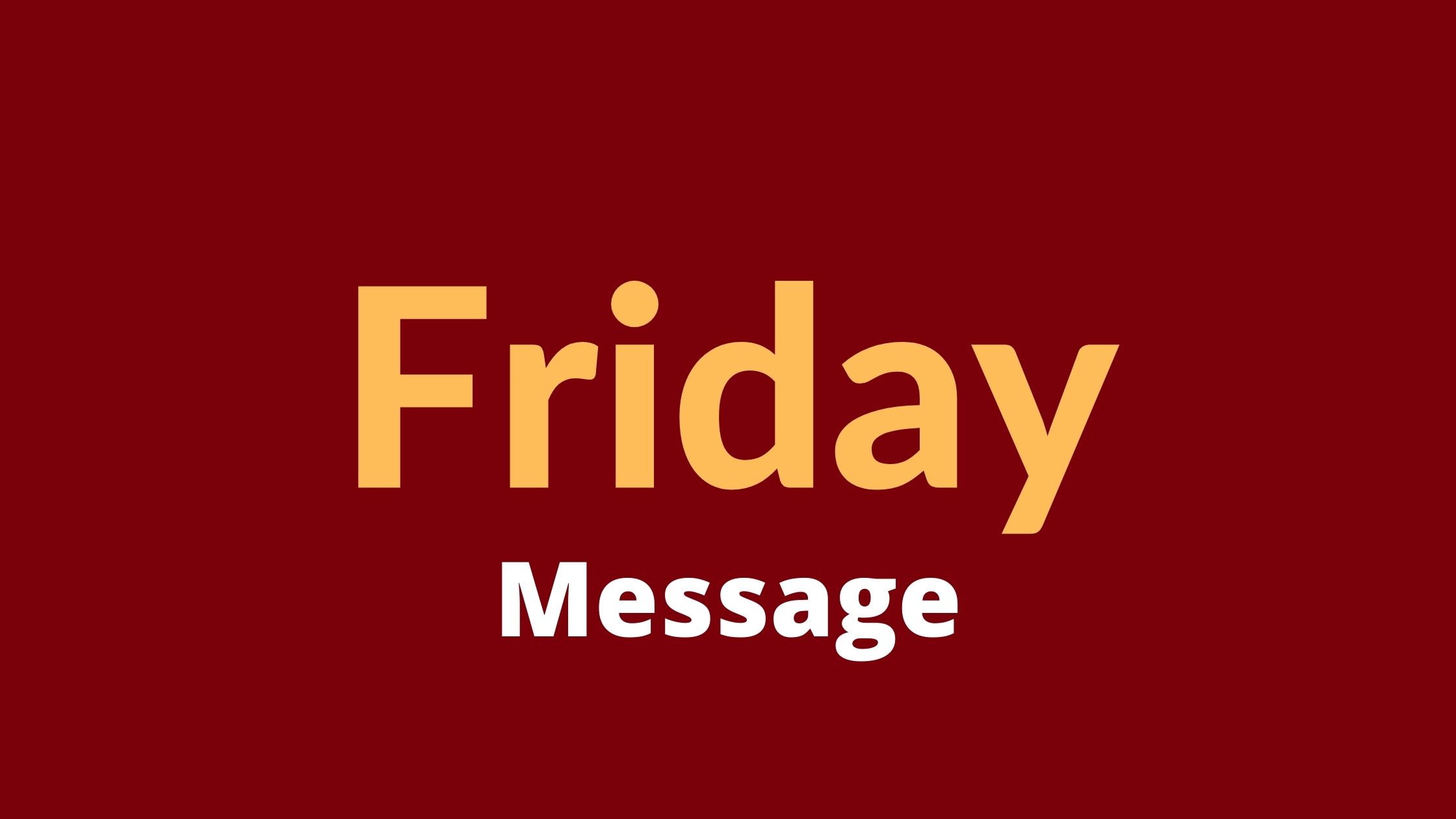 Good Day,
We are grateful this week for all the learning that continues, the warm weather, being able to see the faces of our students, being outside, eating in the cafeteria, and feeling spring in the air although it may only be a tease. When the warm weather arrives, there often seems to be a change of behavior. Kids start feeling so good at times they seem to want to test the systems. Some gentle reminders and partnerships from home would be helpful concerning things like abiding to our dress code (check our website for our dress expectation), using their wheels only when they reach the sidewalks outside of campus, academic expectations, and asking students to continue to put their best effort into what they do.
Look for invites from teachers for classroom volunteers. The Department of Safety and Security has a new visitor requirement that they have put in place, called The Raptor Visitor Management System. The Raptor system is a web-based software application that has been developed with the purpose of aiding educational facilities in tracking their visitors, students and faculty. Raptor not only provides an effective, efficient method for tracking, but also goes beyond conventional applications by utilizing available public databases to help control campus security. Raptor is capable of replacing most
paper-based logs. It will allow schools and facilities to produce visitor badges, monitor volunteer hours, and electronically check all visitors against registered sexual offender databases. The overall goal is to better control access into schools; thus providing enhanced protection for our students and staff.
With the many changes to the health guard rails, we wanted to clarify just a few things. Please read below.
Isolation refers to the time period at home after testing positive for COVID-19. Once an individual tests positive (rapid at-home tests or PCR tests), the positive individual must stay home for at least 5 days post their first day of symptoms or test date if asymptomatic.
Quarantine refers to the time at home after a direct exposure from a positive COVID-19 individual so that you don't spread the virus to others. We no longer quarantine for individual classroom cases. Only household cases must quarantine if they are not vaccinated or their COVID-19 vaccination is not current..
ENJOY THE SPRING AND WINTER WEEKEND!!
Trich, Erik, and Katheryn
Coming Up:
3/9 PTA Meeting
3/10 DEI Meeting
3/12 Annual Auction
3/23 Eat & Give – Phoenician Kabob
3/28-4/4 Spring Break- No School
Eat and Give
Mention Bill Roberts when ordering and they'll donate 15-20% of your order total back to our school!
Wednesday, March 23rd, open to close
Yearbook information
Mr. Seeney has been hard at work getting our yearbook ready with our Middle Schoolers. To purchase and/or add custom pages for your student go to Treering.com/validate. Then enter code 1014725947141451. Cost is $31.13 and purchase deadline is April 8.
Bill Roberts Diversity, Equity, & Inclusion Committee Meeting – March 10th
We were thrilled to be joined by over 30 families at our first Diversity, Equity and Inclusion (DEI) Committee last month and are excited about the energy that exists to advance this work. The BR DEI Committee is open to all Bill Roberts families as a support and accountability partner for the administration in the spirit of upholding the value of EQUITY at Bill Roberts.
We are a parent-led entity to promote a safe, inclusive, and equitable environment for all. If you are interested and committed to the principles of diversity, equity, & inclusion, we would love to have you join our next meeting on Thursday, March 10th at 6pm via Zoom. Please RSVP HERE and you will receive the link to the meeting and an agenda.
If you have any questions, please reach out to us at BRDEICOMMITTEE@gmail.com.
2022 Auction –
Just over 1 week until Bill Roberts' most fun night of the year! If you haven't gotten your auction tickets yet, now's the time! Grab your tickets here, and remember a $50 ticket comes with $100 in casino cash and a $75 ticket comes with $1000 in casino cash! If you're unable to join us in person, a mobile bidding pass for $10 will allow you to bid on all silent auction items, including class baskets, teacher experiences, and buy-a-share parties. Our silent auction will close earlier this year, at 7:30pm, so be sure to arrive on time and bid early and often!
Don't we all need a reason to dress up and enjoy ourselves a little?! Come dressed in your 20's best or however you feel best and enjoy heavy appetizers, an open bar, DJ, a fabulously fun photo booth, and casino tables (Blackjack, Craps, Roulette, and Poker)!
The auction committee is in need of volunteers for the day of and evening of the auction. Areas of help include transporting donations from the school to the venue, setting up the venue, volunteering time to support Bolder Events (registration, organizing and distributing of auction items won), 45 minute shifts at the casino cash table, and tear down at the end of the night. Please sign up via the SignUp Genius or reach out to auction chair, Nikki Parrish – billrobertsauction@gmail.com
PTA Meetings are back in person and at school!
Wednesday, March 9th at 6:30pm
Join us for an IN PERSON, AT-SCHOOL PTA meeting Wednesday, March 8th at 6:30.We will be meeting in the school library and will be holding elections for 2022-2023 officers as well as beginning to discuss events and budget allocations for the 2022-2023 school year.
New Spiritwear
New, exciting items will be added to the Spiritwear site over the next few weeks. First ones include a super cute jute tote bag and a baseball cap! Keep an eye out and get your orders in! Remember, a portion of sales always goes back to the school.
Help fulfill teacher wishlists!
As we get past the mid-point of the school year, teachers have been asked to update their amazon wishlists to replenish their supplies and we would LOVE your help getting them filled! Simply visit the teacher wishlist page or ask your teacher or room parent for their updated list