Friday Message 8/21/22
Posted August 22, 2022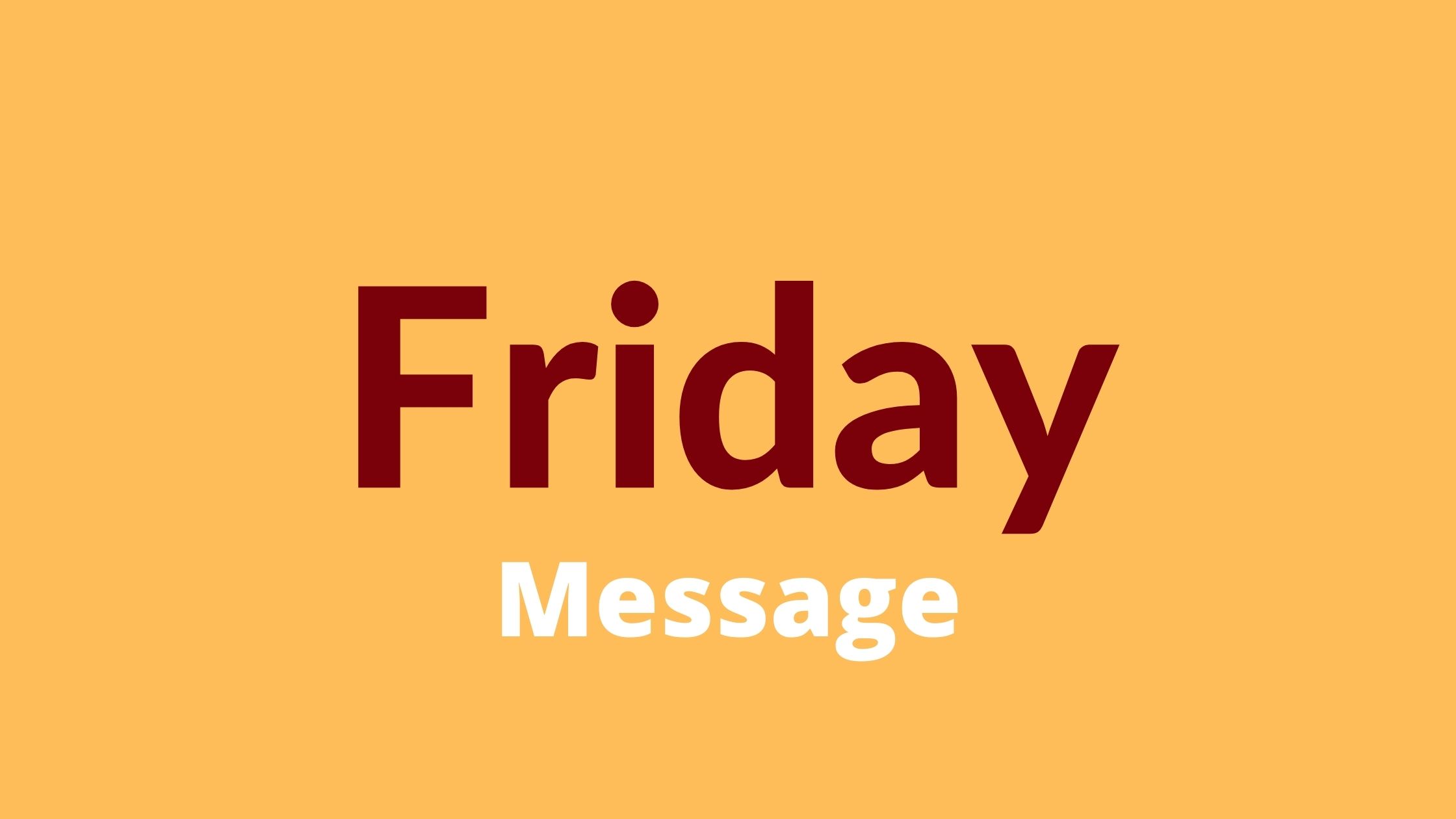 Good Day,
Welcome to the 2022-23 school year! We are excited to welcome our students as well as the entire community back to school. On Monday, August 22nd, we begin another fantastic year, continuing our focus on creating a culture where respect for teaching, learning and understanding are at the center of what we do.
First Day Reminders for Monday, August 22nd
Morning Bell (final) rings at 7:40 am
Afternoon Dismissal Bell rings at 2:40 pm
We strongly encourage everyone to arrive early on the first day to allow plenty of time to find your classroom teacher and be ready to line up by 7:35am, when the first bell rings. Teachers will be outside starting at 7:30 am. All students must be in their seats by 7:40 am.
If the weather is nice, please consider leaving your car at home (or park a few blocks away) and ride or walk to school. The parking lot will be particularly chaotic on Monday!
School buses will be in the first lane, no cars are allowed to travel through the bus lane. Due to busing we will ONLY HAVE ONE Kiss & Go Lane will mean a quick goodbye to your student(s) and then you're off! Please DO NOT park in the Kiss & Go lane to walk your kids to the door.
Student Arrival Line Up
Kindergarten, 1st, 2nd, 3rd (Only Mrs. Wicks & Mrs. Adkins), 5th grade & 7/8th Grade: meet your teachers in the front of the school. Teachers will have signs with their names on them.
Kinder, meet your teachers out front by the far kinder doors
1st grade- Out front by door 18
2nd grade and 3rd grade Adkins/Wicks by door 20
5th grade near the bike racks
7th and 8th grade students meet at door #19 with homeroom teachers.
3rd, 4th, and 6th Grade: meet outside on the blacktop in the back of the school. Teachers will have signs with their names on them.
3rd & 4th Grade will line up on the blacktop
6th Grade will line up in the back, on the east side of the blacktop
We are thrilled to see so many of our outstanding teachers returning back and as excited to add some talented new additions to our staff.
We are delighted to welcome the following new (this year) teachers /staff to Bill Roberts:
Kinder – Stephanie Gibson
Kinder – Ann Christensen
1st – Cari Prout
3rd, 4th, 5th Grade Sped- Carole Lohr
6th Grade Sci/Social Studies – Emily Roze
7/8th Science – Jacob Cloud
Drama- Christina Lundblad
Health Tech – Kaity Donaldson
Office Support – Rocio Aguayo
Psychologist – Megan Simmons
See you Monday! We are looking forward to a fabulous year!
Thanks,
Trich, Erik, & Katheryn
Coming Up:
8/22 First Day of School
8/25 Kindergarten Back to School Night
8/26 & 29 Kindergarten Assessment NO SCHOOL for Kinder
8/26 1st Grade Assessment NO SCHOOL for 1st grade
8/26 Early Release Friday 12:40pm
9/7 Eat & Give, Freddy's
9/7 Back to School Night 1st – 5th grade
9/8 Middle School Back to School Night
9/9 K-2 Greet & Give
9/13 Eat & Give, Chipotle
Online Registration
If you have not already completed the Online registration process please do so before August 22nd.
Registration – Use DPS Parent Portal (different from School Mint)
All students new and returning must complete online registration. To register online, sign in to Parent Portal, click on "See All Apps," then click on "Online Registration" to verify or update your student's information. Online registration can only be completed by the parent/guardian listed in the primary household of the student record.
If you don't have a Parent Portal account, please contact Rocio Aguayo for registration information.
Please complete online registration by August 22nd.
BR Calendar
Check the Bill Roberts Calendar for the most updated schedule. You can also check the 2022 23 District Calendar.pdf for district-wide dates.
Dress Code
Please visit our uniform/spirit wear website for detailed information on the BR dress code.
Order your Bill Roberts Spiritwear online before school starts. Items can ship to your house or be picked up at Impact We Print, located just 10 minutes from Bill Roberts. Remember, Bill Roberts has a school dress code policy that will be enforced on Day One
Thursday Notes
The PTA's opt-in weekly email newsletter shares information on happenings at the school, including Eat & Give opportunities, upcoming school community events, volunteer opportunities, and general school information. Subscribe using the link below or view past editions in the archive. Click here to subscribe to Thursday Notes.

Complete Your Volunteer Clearance for DPS
All volunteers for the 2022-2023 school year need to have a completed background check through DPS Volunteer services. Please complete one here even if you did one last year. Please forward the email with your results to billrobertspta@gmail.com once your check is complete.
If you would like to volunteer for school-wide events, please sign up here or email Adie Tate. Classroom level volunteer opportunities, including room parents, will be available for sign up at the Teacher Meet & Greet and Back to School Nights.
Kindergarten Back To School Night
Aug 25th
7:00 pm
Kindergarten Assessments –
Aug 26th and 29th
There is NO SCHOOL these days for Kindergarten students only, except for your child's test.
1st Grade Assessments
August 26th
There is NO SCHOOL on these days for 1st grade students only, except for your child's test.
K-2 Greet and Give at TOCA at the Bladium
September 9th
5-7pm
All K-5 Families are invited to "Jump Back to School" from 5-7 on September 9th! Join your fellow Bobcats for pizza, drinks and fun while parents get to know each other and learn a little more about the PTA and how it supports Bill Roberts! Please RSVP by September 5 so we can make sure we have enough food.
Email Suzi Williams or text/call 970-712-6698 if you need additional information.
Back to School Night 1st – 5th grade
September 7th
5:45-7:05 pm
(more info to come)
Middle School Back to School Night
Sept 8th
6:00-7:30 pm.
Keep Reading for Book It Bobcats
September 10th and 23rd
Book It Bobcats has been going strong this summer and students have until September 10 to keep counting reading hours. All reading hours and donations need to be turned in by September 16th. Mark your calendar for the Book It Bobcats reading celebration that will take place September 23 during school hours. Click here for more information,
Become a Room Parent for 2022-2023
Room parents work with your homeroom teacher to plan events and celebrations throughout the school year, organize classroom and field trip volunteers and help spread the word about PTA school-wide events, like the annual Auction. We would love to have a few room parents for each homeroom. For more information and to sign up, click here.
Bill Roberts Day at the Rapids
Saturday, October 1st
Watch your Colorado Rapids take on FC Dallas on Saturday, October 1st at 1:30pm at Dick's Sporting Goods Park. Bill Roberts will earn $5 from each ticket purchased using the link https://rapids.ksetickets.com/BillRoberts.
Tee Up for Bill Roberts First Annual Golf Tournament
Saturday, October 8th
Registration is now open for Bill Roberts First Annual Golf Tournament presented by Central Park Scoop! The scramble-format tournament will be on Saturday, October 8th at Willis Case Golf Course in Denver. Click here for more information and to register.
Sponsorships Available! Would you or your business like to support Bill Roberts and get your name in front of 100+ golfers at the Bill Roberts Golf Tournament? Sponsorships are available for $500 and $1000 and include signage at the event, item placement in the swag bag and more! For more details, email Ashley Kernstock or click here.
Girls on the Run Registration Coming Soon
This extra-curricular program for girls in 3rd through 5th grades combines training for a 5K with lesson plans designed to promote positive choices and mental health, and an active lifestyle. The season is 10 weeks long, with two 90-minute practices per week on Mondays and Fridays after school.
Key dates:
-Fall registration opens Monday, August 29 at www.girlsontherunrockies.org.
-The season begins Monday, September 12.
For more information, visit girlsontherunrockies.org or email Bill Roberts Site Coordinator Alex Foster.
Support BR with your Regular Purchases