Friday Message 9/9/22
Posted September 10, 2022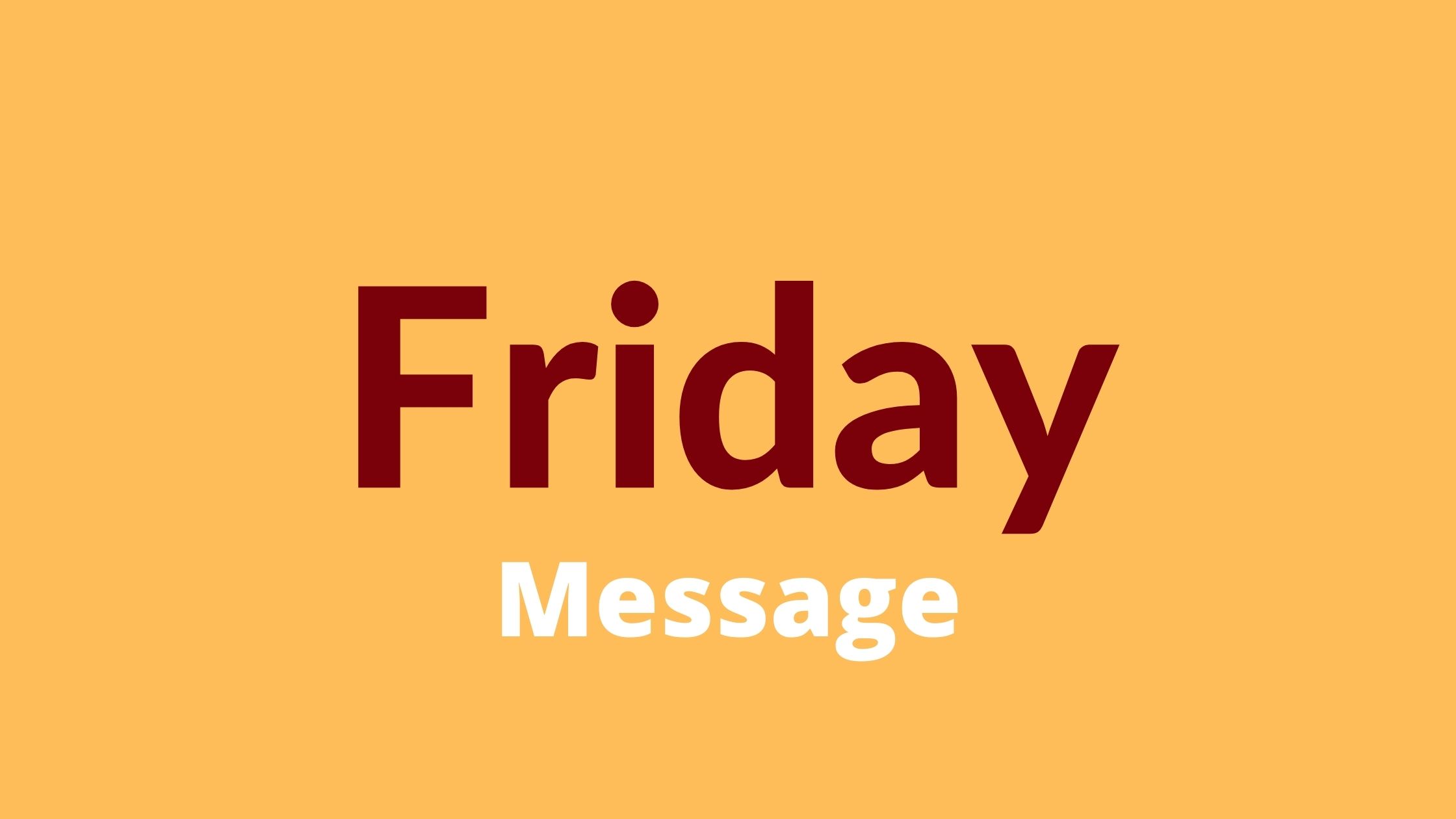 Good Day,
Our classrooms are in full force with active and ongoing learning already occurring. The adult learning continues each Friday during our PLC time when the staff gathers after dismissal. We frequently receive questions about our early dismissal and what our Administration, Staff and Teachers do during Friday afternoons.
Basically, teachers meet every Friday as learners. There is a specific planned rotation set up each week. . On Fridays when all K-8 teachers are together, our learning focus may include topics such as Social Emotional Education, Restorative Practices, Equity Training, Culturally Responsive Teaching, Teacher Evaluations, Professional Development on Multi Tiered Support Systems (MTSS) , Data Analysis or even Book Studies. Our differentiated Fridays might include the following themes; vertical Professional Development such as Writing or Math, Whole Child Study or Technology Professional Development.
Our PLC plan centers on our belief that all children can show growth academically and everyone, including adults, have to continue to learn and grow. We can implement practices that facilitate academic growth most effectively when we learn, plan, and work together to improve our classroom practices. Results are essential; planning based on standards is the starting point, teaching, knowing where each individual student is academically by assessing, evaluating the effectiveness of instruction, and then reteaching, are all essential components of the Teaching Learning cycle. Creating and housing a data system that shows assessment results, indicating strengths and needs of every student is an expectation at Bill Roberts.
Early Release Fridays are part of our Bill Roberts culture. We understand some families love this part (especially during ski season) while other families can find it challenging. As an administrative team, we know the benefits to our staff and the entire community are invaluable.
Enjoy your cool weekend!
Trich, Erik, & Katheryn
Coming Up:
9/13 Eat & Give, Chipotle
9/13 CSC Meeting
9/14 PTA Meeting
9/18 Community Garden Clean Up Day
9/20-9/22 Eat & Give, Hashtag
9/29 Eat & Give, Los Chingones
9/30 NO SCHOOL – Teacher Planning Day
10/1 Day at the Rapids
10/8 Golf Tournament
Eat & Give
Mention Bill Roberts when ordering and they'll donate a percentage of your order total back to our school!
Tuesday, September 13th, 4-8pm
Chipotle, 7400 E. 29th Ave.
Enter code BBHZHXD when ordering online.
Tuesday thru Thursday, September 20th-22nd
Hashtag, 10155 E 29th Dr.
Enter code ROBERTS when ordering online.
Thursday, September 29th, 4-8pm
Los Chingones, 10155 E 29th Dr.
Enter code ROBERTS when ordering online.
Collaborative School Committee (CSC) Meeting
Tuesday, 9/13, 4:00.
Use this link to join.
The Collaborative School Committee (CSC) brings together families, staff and community members to create and implement a plan to promote high achievement within a school. This committee meets on a regular basis throughout the school year and is an opportunity for key stakeholders to have a voice in their school.
First PTA Meeting of the Year
Wednesday, September 14th
PTA Meetings are held on the 2nd Wednesday of the month from 6:30 pm – 7:30pm in the School Library. You can also join remotely here.
We would love to have parents and teachers join us! Our first meeting is Wednesday. September 14 at 6:30 pm. Childcare is provided at all meetings.
Enrichment Programming
We realize that it has been a long time since we have hosted enrichments. Discovery Link will be in charge of hosting all enrichments this year. We apologize for the delay in starting the program but historically Bill Roberts has had a very high enrichment participation rate. Discovery Link and the school needed to work together to ensure we have adequate staffing to make sure all programming can run smoothly and safely. Thanks for your patience.
Parents will start to see communication from Discovery Link by November 18th.
See below for other upcoming dates to be aware of:
| | |
| --- | --- |
| WINTER 2022-2023 | |
| Winter Brochures/Marketing | By Friday, November 18th – December 14th |
| Winter Registration Opens: | Monday, November 28th @ 6:00am |
| Winter Registration Closes: | Wednesday, December 14th @6:00am |
| Winter Classes Start: | Monday, January 9th- Friday, March 24th |
| Winter Invoices Due | Monday, March 27th by 5pm |
| SPRING 2023 | |
| Spring Brochures/Marketing | By Friday, February 24th – Wednesday, March 22nd |
| Spring Registration Opens: | Monday, March 6th @ 6:00am |
| Spring Registration Closes: | Wednesday, March 22nd @ 6:00am |
| Spring Classes Start: | Tuesday, April 4th – Friday, May 26th |
| Spring Invoices Due | Tuesday, May 30th by 5pm |
Keep Reading for Book It Bobcats
September 10th and 23rd
Book It Bobcats has been going strong this summer and students have until September 10 to keep counting reading hours. All reading hours and donations need to be turned in by September 16th. Mark your calendar for the Book It Bobcats reading celebration that will take place September 23 during school hours. Click here for more information,
Community Garden Clean Up Day
Sunday, September 18th – 9:30-11:30am
Please join the Garden Committee for a community day to revitalize the round planter near the baseball field. We will be pulling weeds, clearing the planter and planting some seeds. Please sign up here if you and your family would like to join. Any time that you have to come out and help will be greatly appreciated.
Please contact Alia Chiappella with any questions 415-680-0934 or aliachia@yahoo.com
Bill Roberts Food Pantry
The BR food pantry is here to help! If you could use food assistance and would like to benefit from the Bill Roberts Food Pantry for the 2022-23 school year, please fill out this CONFIDENTIAL FORM.
We are so grateful for all the generous contributions from our BR families and are eager to distribute pantry assistance to any and all our families who need a little help. The success of ALL children at Bill Roberts is important to our entire community and giving is at the heart of the Bill Roberts outreach and critical needs committee.
Breakfast & Lunch
This year, Denver Public Schools will provide breakfast to all students at no charge, regardless of students free or reduced price meal benefit status. Breakfast at Bill Roberts will be served from 7:20-7:40 a.m. in the cafeteria.
It is still very important that families continue to complete the Household Application for Student Meal Benefits to determine lunch eligibility status.
The submission and approval of a Household Application for Student Meal Benefits provides advantages beyond eligibility for free or reduced priced meals. Submitting an application also helps ensure students receive the maximum amount of benefits they are eligible for, including discounts on bus passes and some school fees, such as athletics, and reduced AP testing fees. It ensures schools receive additional resources to support healthy meals for students and after school programs.
Your assistance in completing and submitting the Household Application for Student Meal Benefits is greatly appreciated and has the potential to help our school. Apply now at myschoolapps.com.
All information provided is confidential and protected.
Lunch Menu can be found at https://www.schoolcafe.com/. You will need to select your state (Colorado) and school district (Denver Public Schools)
Bill Roberts Day at the Rapids
Saturday, October 1st
Watch your Colorado Rapids take on FC Dallas on Saturday, October 1st at 1:30pm at Dick's Sporting Goods Park. Bill Roberts will earn $5 from each ticket purchased using the link https://rapids.ksetickets.com/BillRoberts.
Tee Up for Bill Roberts First Annual Golf Tournament
Saturday, October 8th
Registration has started for Bill Roberts 1st Annual Golf Tournament presented by Central Park Scoop scheduled on October 8th at Willis Case Golf Course. Sign up now to guarantee your spot on the course! Information and registration are available online at https://billrobertspta.org/support/events/golf-tournament/
Thank you to our fabulous sponsors for helping to make this event a success
Central Park Scoop powered by Focus Real Estate
Children's Dentistry of Cherry Creek
Your business can join these great sponsors – $500 and $1000 sponsorship levels are available – click here to become a sponsor.
.
Support BR with your Regular Purchases