Friday Message 11/4/2022
Posted November 9, 2022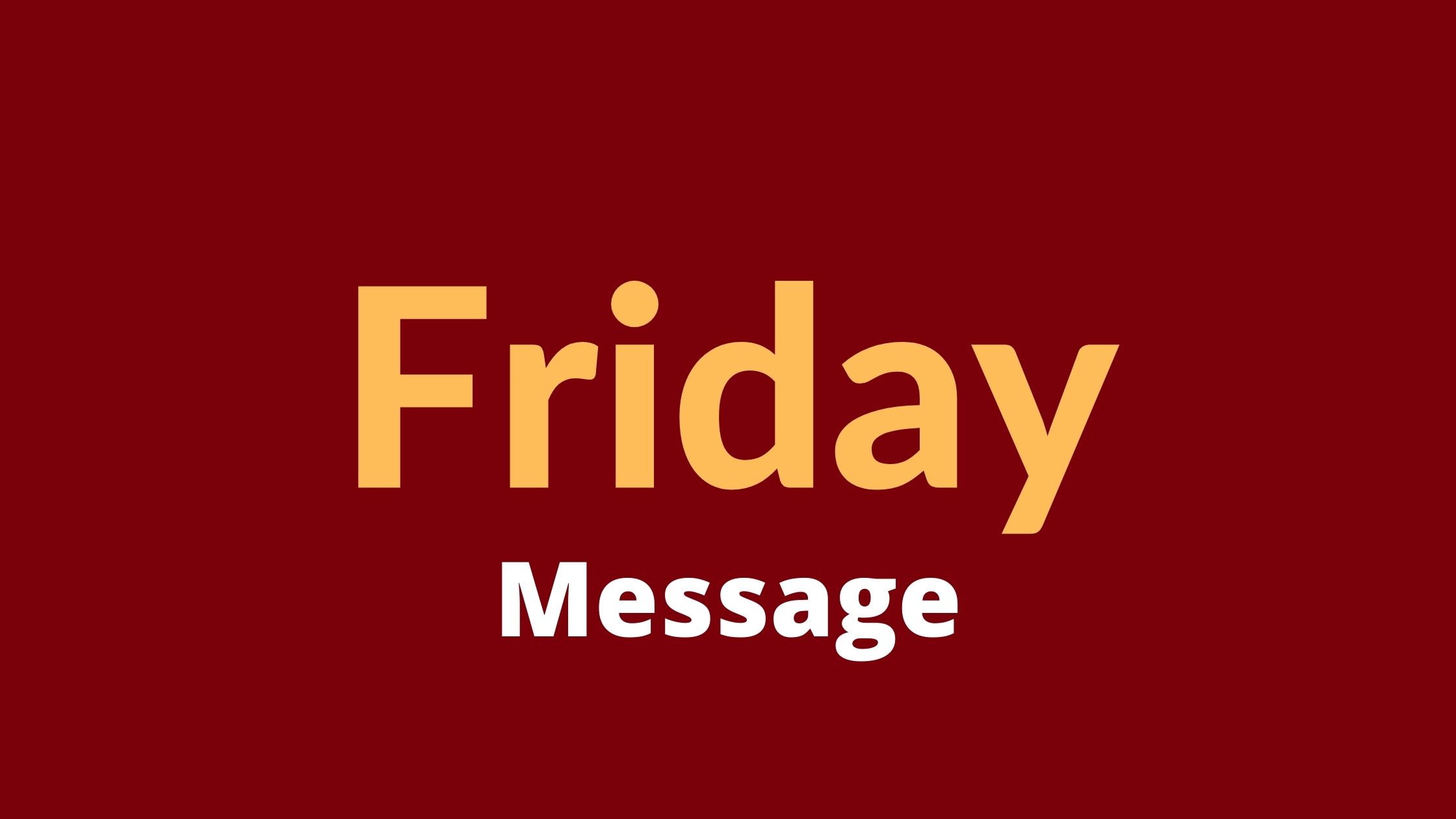 Good Day,
Welcome Fall and Hello Winter!
In typical Colorado fashion, we came to school yesterday in light jackets and by the time we left, needed our winter coats, hats and most of us could not find our car scrapers this morning, myself included. It was a good reason to be late. It was a timely snow – dropping two inches of snow as many of us drove home last night and back toward this morning. Snow often brings us thoughts of peace and calm, something that is very much needed right after Halloween. Students have seemed very emotional this past week. We can blame it on the sugar but let us all pay extra close attention to our kids to ensure that they remain healthy!!!
Enjoy the weekend.
Trich, Erik, & Katheryn
Coming Up:
11/5 Fun Run
11/9 Thanksgiving Lunch
11/9 PTA Meeting
11/9 Eat & Give, Torchy's
11/10 Online Giving Day
11/11 Original Works Deadline
11/11 MS Food Truck
11/17 Eat & Give, Panera
11/18-12/22 Eat & Give, Krispy Kreme
Eat & Give
Mention Bill Roberts when ordering and they'll donate a percentage of your order total back to our school!
Wednesday, November 9th, open to close
Torchy's Tacos, 8281 Northfield Blvd
Mention Bill Roberts in person
Thursday, November 17th, 4-8pm
Panera, 3700 Quebec St.
Friday, November 18th through December 22nd
Krispy Kreme, all locations!
50% of sales go back to Bill Roberts! Anyone, anywhere can order donuts and pick up. So tell family, and friends too – can be redeemed in any city/state where there is a Krispy Kreme! They are $15 dozen and need to be picked up at a local store.
Black Council Family Advisory Event- A Meeting with Dr. Marrero
Thanksgiving Lunch is Back- Last day to buy tickets will be Tuesday
Wednesday, November 9th
The kitchen staff invites all parents, grandparents, siblings and neighbors to enjoy our home cooked Thanksgiving Lunch. This comes with a full Thanksgiving meal and we will also offer a vegetarian option. Time will be at the same time your child normally eats lunch.
Adult tickets – $5
Non-student child – $3
Tickets are available for purchase at the front desk!
Costume Donations Needed
We are in need of costumes for the upcoming production of Cinderella and the Substitute Fairy Godmother. Ms. Lundblad is going to the DPS costume shop, but we are hoping to get a Bill Roberts costume shop started. We currently have a need for 80 costumes for our current show. If you have any ball gown-type dresses, fairy tale creatures, fairy costumes, royal-looking suits (for boys) or really anything you would like to donate, we will gladly take it. We will also need costumes for our K-8 spring production of Shrek the Musical. Costumes can be dropped off at the front desk or the drama room.
Enrichment Update
Enrichments at Bill Roberts are getting organized. Discovery Link manages the entire registration, logistics, and invoicing process. Joie Cohen is the East Region's Enrichment Coordinator. He books and organizes enrichments for 10-12 schools and will oversee everything for Bill Roberts. Each enrichment class is about one hour long and runs for approximately ten weeks. Each class needs to meet a minimum number for enrollment otherwise they cannot operate. Winter Session is scheduled from 1/17 until 3/24. At least one will be offered after school M-Th and sometimes two. There will be 3-4 offered on Friday. They will all be an hour long. Offerings will be for students kindergarten through 5th grade.
Below is a list of the classes that will be offered and also a PDF on how to set up an account in the system is coming shortly so you can be ready for the registration once it opens. You will want to register ASAP as classes do fill up quickly.
Please review the dates below.
Winter Brochures/Marketing By Friday, November 18th – December 7th
Winter Registration Opens: Monday, November 29th @ 6:00am
Winter Registration Closes: Wednesday, December 8th @10:00pm
Winter Classes Start: Monday, January 17th – Friday, March 24th
Monday (3:00pm-4:00pm)
-Science Matters: POP! BANG! FIZZ! (KG-5th)
– HERO Jumpers & Dunks Basketball (1st-4th)
Tuesday (3:00pm-4:00pm)
– Omniform Karate (KG-5th)
– Play-Well Teknologies: Adventures in STEM Using LEGO (KG-3rd)
Wednesday (3:00pm-4:00pm)
– Sound Formation Percussion (KG-5th)
Thursday (3:00pm-4:00pm)
– Berlitz: Spanish K-2 Beginner (KG-2nd)
– HERO Power Kickin' Soccer! (1st-5th)
Friday (1:00pm-2:00pm)
-Mighty Movement Academy: Speed and Strength (KG-2nd)
-Mighty Movement Academy: Speed and Strength (3rd-5th)
-MAD SCIENCE: FANTASTIC FORCES (KG-5th)
-CHESS WIZARDS AT BILL ROBERTS (1st-5th)
-Craftsman & Apprentice: Toy Shop (KG-5th)
DPS School Choice
Yes, it's only November but it's time to start thinking about the school choice process! Round 1 of Choice for the 2023-24 school year is January 13-February 14, 2023.
Elementary
If you have an incoming Kindergartner or know of a new incoming family, please sign up for an elementary school tour. These tours are designed for new and/or incoming Kindergarten/Elementary families.
Middle School
Calling all 5th grade families! Middle School tours have started. Learn how our MS program differs from our elementary. We would love nothing more than for you to choose to stay at Roberts for Middle School.
To Our 5th Grade Families: You are 100% guaranteed a spot at Bill Roberts Middle School if you select BR as #1. Every student going into 6th grade must fill out a DPS Choice Form.
For general Choice information, please refer to the DPS School Choice page: https://schoolchoice.dpsk12.org/
For questions please contact: schooltoursbillroberts@gmail.com
Fun Run
Saturday, November 5th
Lace up your sneakers and join the Fun Run THIS Saturday, rain or shine!
More than 300 runners of all ages are registered for this year's Fun Run. If you missed pre-registration, you can still participate by registering online from now until Friday at midnight OR ahead of the race on Saturday, Nov. 5, starting at 8:30am. Registration is $35 and T-shirts will be distributed 3-4 weeks later. Three food trucks will be on site throughout the morning, so even if you're not running, all are welcome to come hang out and support the Bill Roberts community!
Key details:
Register online for the Fun Run
We still need volunteers to help set up and run the event.
Early registrants can pick up packets before and after school on Friday, find us in front of the school.
Set up begins at 7:30 a.m., check in begins at 8:30, and runners will be off starting at 9:30
Running strollers are welcome.
No dogs on campus or in the race.
Prizes will be given out to the top boy and girl in three grade categories (K-2nd, 3rd-5th, 6th-8th) in both the 5K and the 1-mile run.
Check out a map of the set up and course.
See everyone Saturday morning!
Bill Roberts Food Pantry
Help fill the cupboards! The food pantry is running low due to an increase of families in need of assistance this year. We will have a donation box at the front office if you have non-perishable items to donate! The items we need most include cereal, spaghetti sauce, boxes of pasta, canned tuna/chicken, peanut butter, canned fruit/vegetables, rice, beans,
soup, macaroni & cheese and boxed meals. Thank you for making a difference!
Help Name the Bobcat!
We got so many great name submissions for the bobcat that we have a primary ballot! If you or your student would like to vote in the Primary Ballot, please do so by the End-of-the-day TODAY!. The school-wide election of the 5 finalists will be on Election Day, November 8! Vote Here
Original Works (K-5 Students Only)
Deadline to order: Friday, November 11th
It's time for Original Works, an art program where you can turn your child's art into gifts for family and friends, while also supporting Bill Roberts.
The online gallery is currently open! Please visit the Original Works Gallery, enter our school code (Biro), and search by your student's teacher to find your child's artwork! Deadline for ordering is Friday, November 11th. Gifts will be shipped directly to your home before the holidays.
If your child does not have artwork uploaded in the online gallery, please contact Laura Judd-Glossy (lejudd@gmail.com) to learn about how you can still participate.
Join Us for the November PTA Meeting
Wednesday, November 9th
Our November PTA meeting will be Wednesday, Novermber 9th, at 6:30 pm in the school library. We will be updating and discussing our winter and spring events and we hope you can join us in person. Childcare will be provided. If you are unable to attend in person, the meeting will be on Google Meet at meet.google.com/yiu-aejw-hij
American Furniture Warehouse Fundraising
We have a new fundraising opportunity through American Furniture Warehouse. Mention Bill Roberts at check out or with the code BREC8S and we will receive 2% back on purchases. They already allocated two sales to us including the teacher's lounge furniture.
Online Giving Day
Thursday, November 10th
One week from today we're going to raise $22K! And we've got 22 reasons for you! Get ready for the biggest online fundraising day in Bill Roberts' history!
Support BR with your Regular Purchases