A Letter from Dr. Cohen
Posted March 7, 2023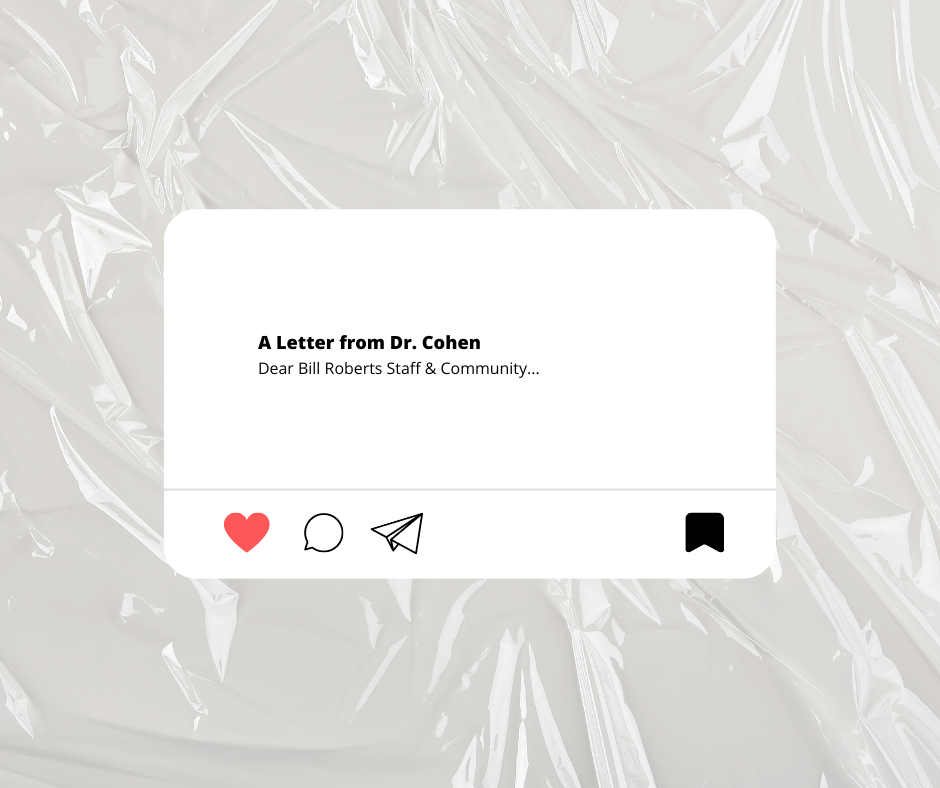 To the Bill Roberts Staff and Community:
It is with an extremely heavy heart that I announce I am leaving this wonderful school at the end of the school year. I have accepted a principal position in another district, at a school that reminds me of Roberts when I first started. In fact, the ideal school I was looking to lead was largely shaped by my experience here: an ECE-8 school, in a diverse community, with committed teachers, curious students and infinite potential. I would not leave Roberts for just any school, so please know this school is special, and needs the leadership necessary to grow into something great.
It is hard to believe that I have spent almost half of my professional career at Roberts. In a lot of ways, Roberts helped raise me as a school leader. I learned so much from everyone about the possibilities when we come together. I learned a great deal about what our kids need from their principal: from the high-fives, hugs, and read-alouds in kindergarten, to the mentorship and advocacy of middle school, and everything in between. I would not be the person and leader I am today without each student I watched grow up in front of me. To the teachers who showed me what real, high quality instruction looks like, any teacher I come across for years to come will only be better because of the bar you all have set. To our parents and community, I'll admit, I was pretty intimidated when I first got here; it was my first school with such an active and engaged base. Over the years, I have formed some of the most meaningful relationships I've experienced with you, which has carried me through many tough times. Your support of me throughout the years has been paramount in helping me reach my own potential. Finally, to Trich, who found me at one of the lowest points in my life. We connected in a classroom in Newark, New Jersey 10 years ago, and the rest is history. Now, it is time for me to take this learning and branch out on my own, spread my wings and see what I can do. I only hope to leave places and people better than I found them. I know I have met every promise I made to this school and it is a better place for our kids, not solely because of me, but I think I had something to do with it.
While leaving is bitter-sweet, I know it is not goodbye. My kids go here; I will still be invested in the school and care about its success. I will also be that parent who ensures the next leadership team is accountable to continuing our equity journey, to ensuring all students continue to feel a sense of belonging, to the celebration of diversity, and to the practices of inclusion. I am a man of many words, as you all know, but I will leave you with three powerful words from the bottom of my heart: I love you.
Thank you for nine memorable years,
Erik Cohen