Book It Bobcats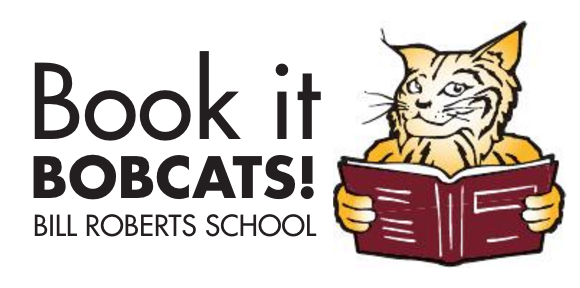 ---
What is BOOK IT BOBCATS?
Bill Roberts' summer reading program that fosters literacy while raising funds for our school. Kids track their summer reading, ask friends/family for sponsorship and in the fall we celebrate their success and give out some pretty cool prizes!!
Program goals
Our primary goal is to get EVERY child engaged in this program and reading throughout the summer. We want them to come back to school in the fall prepared to learn! We hope it will also help establish reading as a priority and a habit in our kids.
Need help finding books?
Start with some book suggestions from the Denver Public Library or use Scholastic's Grade Level Recommendations.
Denver Public School and Denver Public Library ebooks are available at soraapp.com with the same student username and password that your student uses for all DPS sites.We also have a fundraising goal. We are requesting each student to ask ten people to sponsor their summer reading to help us raise $20,000 for our school. Sponsorship and donations are NOT required to participate, but fundraising DOES support your child's education.
For younger students, did you know that there is a direct correlation between the number of books read to a child and the child's reading success? Reading aloud to our child is one of the best ways to help your child become a strong reader.
Prizes: The more you read, the more prizes you earn!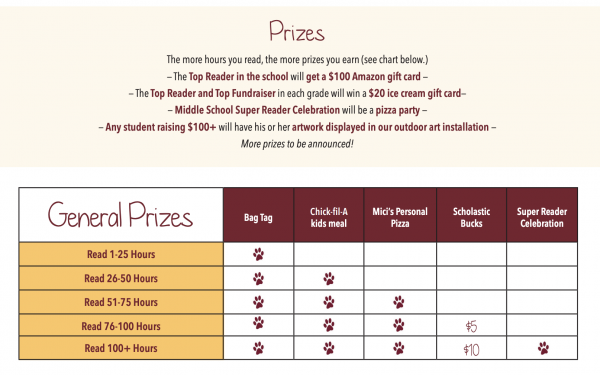 Update!
– Due to the current public health guidelines, we will not be able to have the Book It Bobcats school-wide celebration on September 18th as planned. We are hopeful that we will be able to have a school-wide celebration in the future, but will be unable to this year.
– All individual prizes (Bag Tag, Chick-fil-A kids meal, Mici's Pizza and Scholastic Bucks) will be distributed after September 18th. Be on the lookout for details at a later date.
– The Super Reader Celebration (for students who read 100 hours or more) will be replaced with an individual $5 gift card to Sweet Cow Ice Cream!
Fundraising Prize
We are excited to announce that any student raising $100 or more will get to decorate a border rock for the outdoor rock garden that will be installed outside the school. These rocks will be distributed after September 18th.
Who can participate?
We want ALL Bill Roberts students to participate in BOOK IT Bobcats. From ECE to 8th grade, we would love to have full school participation. If you didn't receive the materials, download the Book It Bobcats Reading Chart and Participation Form to start.
New to Bill Roberts?
BOOK IT BOBCATS is the perfect way to help your child prepare for school and get them involved in Bill Roberts right away. Regardless of grade, THIS PROGRAM IS FOR YOU! Download the Reading Chart and Participation Form to start. Your child will not want to miss the fun in the fall BOOK IT celebrations!
What You Need To Do
Spring

Parents can help kids set a summer reading goal and complete the online participation form by June 3rd!

Some families have also found it useful to set up their own GoFundMe page to track donation (these donations also go through PayPal, so it is all goes to the same place). If you set up a GoFundMe, please set it up as a charity donation to PTA Colorado Congress (Bill Roberts PTA) EIN # 20-8747940
Summer

READ! READ! READ! Use the reading chart to keep track of your hours read from June 3rd to September 10th. Parents or siblings reading to children counts! Over the summer, try asking at least 10 people to donate to your reading campaign.
Fall

Add up your summer reading hours, donations and fill out your participation forms and submit them to your teacher by September 15th. Donations can be made online by clicking the PayPal form at the top of the page or collecting cash or checks (made payable to Bill Roberts PTA).
Celebrate!

We will celebrate all of our participants in the Fall. Students who read 100 hours or more will receive VIP treatment at the Book It Bobcat celebration!
Questions? For more details or questions, please email our parent volunteer committee leader.