Eddie Egloff
Art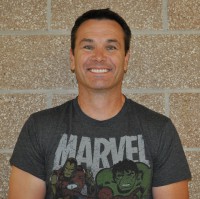 Email:
Eddie_Egloff@dpsk12.org
Department(s):
Specials & Subjects
Why did you choose to become a teacher?
My dream job would be the Mascot for a professional basketball, but I am pretty happy teaching.
What is your hometown?
Denver
What is your favorite noise?
Kids laughing or the sound of shoes squeaking on the basketball court
What is your favorite treat?
M&Ms
Do you have any pets?
I need to give away to bunny rabbits!!!!
What is your favorite book for children?
"The Giving Tree" or "Where the Wild Things Are…" and "Maybe No David!"
Who is your hero or heroine?
My Mom
What is the funniest thing a student has ever said to you?
I get new ones every day
What is your funniest moment teaching?
I laugh at (with) these kids every day
What do you love about Bill Roberts?
Great Staff, Great Bosses, Great Community