Erik Cohen
Assistant Principal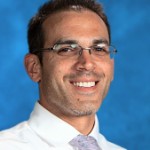 Email:
Erik_Cohen@dpsk12.net
Department(s):
Administration
Where did you grow up?
Los Angeles, California
What college did you attend?
(Undergrad) Indiana University (Doctorate) The Ohio State University
Why did you choose to become a teacher?
To make a difference.
What is your favorite book?
"100 Years of Solitude" by Gabriel García Márquez
Do you have a favorite sports team?
Los Angeles Dodgers
What is your favorite food?
Israeli Salad
What is your favorite sound?
The ocean
What is your favorite season?
Autumn
Do you have any hidden talents?
Best if they are left hidden.
What is something that didn't come easy for your or you struggle at?
School
What is your favorite vacation destination?
New Orleans
What would your students say is your favorite thing to say to them?
"3,2,1"
Who is your hero?
Any Marine, Soldier, Airman or Sailor killed in action.
Who was your favorite teacher growing up? why?
Mr. Bloom, I felt he cared about me.
What do you love about Bill Roberts?
The students.