Brenna Markson
5th Grade Math & Science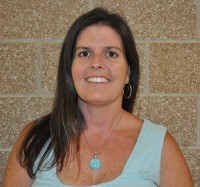 Email:
Brenna_Markson@dpsk12.org
Department(s):
5th Grade
Where did you grow up?
Florence, Colorado
What college did you attend?
Fort Lewis College (Durango, CO) and grad school at CU Boulder
Why did you choose to become a teacher?
I was working at a school while trying to figure out what I wanted to do with my life. My Mom asked what I liked and I said I liked my job. And so it began.
Do you have a favorite sports team?
Broncos!
What is your favorite food?
Mexican
What is your favorite sound?
Laughing uncontrollably
What is your favorite season?
Spring
What is something that didn't come easy for your or you struggle at?
Focus – I'm easily distracted.
What is your favorite vacation destination?
Hawaii
Who is your hero?
My Dad
Who was your favorite teacher growing up and why?
Mr. Heid because he made learning fun and was enthusiastic.
What do you love about Bill Roberts?
I love working at a school where I'm proud to send my own kids.