Cassie Pretlow
Library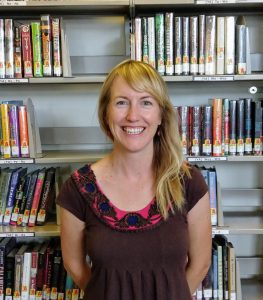 Email:
Catherine_Pretlow@dpsk12.org
Department(s):
Specials & Subjects
Where did you grow up?
Phoenix, Arizona
What college did you attend?
Tulane, New Orleans
Why did you choose to become a librarian?
I was getting a computer programming degree and needed a part time job. One opened at the New Orleans Public Library and I was hooked, changed my direction.
What is your favorite book or author?
Book- "Autobiography of Malcom X;" Author – Shel Silverstein
Do you have a favorite sports team?
I grew up a Raiders fan (sorry) because Arizona did not have a team, but now I am a BRONCOS fan all the way!
What is your favorite food?
Street tacos
What is your favorite sound?
A bubbling stream.
What is your favorite season?
Fall
Do you have any pets?
One 90-pound dog named Lobo
Do you have any hidden talents?
I can make really good scrambled eggs (and that's about it!)
What is something that didn't come easy for your or you struggle at?
As a kid I hated to read. Ha! Eighty percent of the struggle was just opening the book and finding the right genre.
What is your favorite vacation destination?
Any beach.
What would your students say is your favorite thing to say to them?
What do you like to read?
Who is your hero?
Rachel Carson.
Who was your favorite teacher growing up and why?
My favorite teacher was Mrs. Roth (3rd grade.) She was like a second Mom and always believed in me.
What do you love about Bill Roberts?
The welcoming community and growth mindset attitude.