Chelsea Teutsch
7th & 8th Grade Social Studies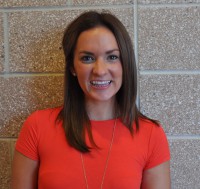 Email:
Chelsea_Teutsch@dpsk12.org
Department(s):
7th Grade , 8th Grade
Where did you grow up?
Dayton, Ohio
What college did you attend?
Wright State University (BA), University of Northern Colorado (MA)
Why did you choose to become a teacher?
I worked in Marketing for 2+ years and wasn't happy. I chose to be a teacher to be happy with kids! ?
What is your favorite book or author?
The Harry Potter series by J.K. Rowlings
Do you have a favorite sports team?
Ohio State Buckeyes and Dayton Flyers
What is your favorite food?
Sushi
What is your favorite sound?
The ocean
What is your favorite season?
Fall!
What is something that didn't come easy for your or you struggle at?
Public Speaking, it makes me so nervous!
What is your favorite vacation destination?
Hilton Head Island & Ireland
What would your students say is your favorite thing to say to them?
They like when I jump on/off tables and yell about math. ?
Who is your hero?
My grandma
Who was your favorite teacher growing up and why?
Miss Hoey. She cared about us not only as students, but as people. I still communicate with her to this day!
What do you love about Bill Roberts?
I love the students, parents and coworkers! Some of my most favorite people I've met through Bill Roberts.