Christine Stuhr
Kindergarten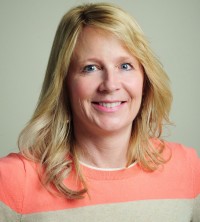 Email:
Christine_Stuhr@dpsk12.org
Department(s):
Kindergarten
Where did you grow up?
In a tiny village in Illinois with one stop sign and no stoplights! Ladd, IL
What college did you attend?
Undergraduate – University of Northern Colorado
Masters – University of Phoenix
Why did you choose to become a teacher?
I worked as a school secretary for two years and really enjoyed being around the children. I took a job as a paraprofessional so I could be around the kids more often, and did that for ten years. When my youngest child got his driver's license I decided that my family was independent enough for me to go to college (for the first time!), thus, my career as a teacher began.
What is your favorite book or author?
"To Kill a Mockingbird"
Do you have a favorite sports team?
Broncos
What is your favorite food?
Popcorn
What is your favorite sound?
kids laughing
What is your favorite season?
Summer
Do you have any pets?
My sweet Lola is a labradoodle.
Do you have any hidden talents?
I play the piano
What is something that didn't come easy for your or you struggle at?
Math
What is your favorite vacation destination?
Europe… anywhere in Europe!
What would your students say is your favorite thing to say to them?
"You're such a smarty!"
Who is your hero?
Hands down, my hero is Frederick Douglass. His book "Narrative of the Life of Frederick Douglass: An American Slave" made a big impact on me. He was incredibly eloquent for someone who was illiterate until his teens
Who was your favorite teacher growing up and why?
Mrs. Newton was very funny and often took us outside for math class.
What do you love about Bill Roberts?
I love my Kinder team.