Donny Cavallo
5th Grade Literacy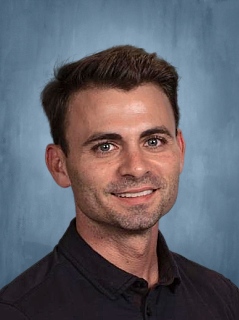 Email:
Donny_Cavallo@dpsk12.net
Department(s):
5th Grade
Where did you grow up?
Reading, Pennsylvania
What college did you attend?
Albright College (Reading, PA)
Why did you choose to become a teacher?
I like working and learning with kids. They make every day novel and fun!
What is your favorite book or author?
"Into the Wild" by Jon Krakauer
Do you have a favorite sports team?
Philadelphia Eagles, Phillies, 76ers, Flyers, etc.
What is your favorite food?
Steak
What is your favorite sound?
The rain
What is your favorite season?
Fall
What is something that didn't come easy for your or that you struggle at?
Golf
What is your favorite vacation destination?
The beach
What would your students say is your favorite thing to say to them?
"Who lives in a pineapple under the sea?"
Who is your hero?
My grandmother
Who was your favorite teacher growing up and why?
Dr. Kalouche – he's the person who taught me to love learning for the sake of learning.
What do you love about Bill Roberts?
I love my teammates and the families that make up our awesome community.