Katheryn Keyes
Assistant Principal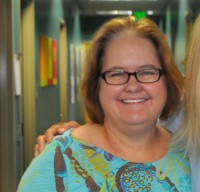 Email:
Katheryn_Keyes@dpsk12.org
Department(s):
Administration
Where did you grow up?
Golden, CO
What college did you attend?
CU Boulder with one year at the Universite de Bordeaux
Why did you become a teacher, then administrator?
First because I loved literature but it wasn't long before I discovered that is was because I loved kids and helping them to love reading and writing.
What is your favorite book or author?
Oh so many! I named my first son Owen after "A Prayer for Owen Meany." That book is in my top 10 for sure. For a classic I love "Cry the Beloved Country". And the for a fun read I loved "What Alice Forgot". And as a kid I could not get enough of the Francis books.
Do you have a favorite sports team?
Broncos and Avalanche (when they are winning)
What is your favorite food?
Mac and cheese (gourmet).
What is your favorite sound?
I used to marvel at the sound of my kids breathing while they slept. So soothing. Since they are both young adults now I settle for listening to Mr. Jones snore (he is my new Frenchton puppy).
What is your favorite season?
Fall and the start of a new school year
Do you have any pets?
Mr. Jones!
Do you have any hidden talents?
I'm a good finder of things lost or misplaced. Which is good because I often lose things!
What is something that didn't come easy for your or you struggle at?
I struggle with keeping things tidy: both at home and at work.
What is your favorite vacation destination?
Our family alternates each year between an ocean and a beach vacation. Recommendations please!
What would your students say is your favorite thing to say to them?
What are you learning?
Who is your hero?
Jean Valjean (Les Miserables) or Xander Harris (from Buffy the Vampire Slayer)
What do you love about Bill Roberts?
The fact that every student is embraced as a whole child. No labels here!