Laurel Davis
6th Grade Math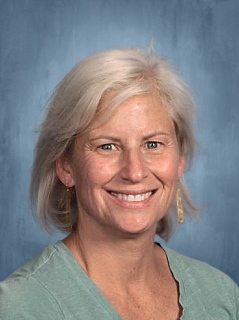 Email:
Laurel_Davis@dpsk12.net
Department(s):
6th Grade
Where did you grow up?
I am a Navy brat, so we have lived in many places. I was born in Honolulu, Hawaii and have lived in Connecticut, northern Virginia, Virginia Beach, Scotland, Washington state, Buffalo, San Diego, and Colorado. I have lived in Colorado much longer than any other place and I love it here. I consider this my home.
What college did you attend?
I have an undergraduate degree in Mathematics from Virginia Tech and a graduate degree in Elementary Education from Regis University.
Why did you choose to become a teacher?
To have a rewarding career.
What is your favorite book?
"Pride and Prejudice" by Jane Austen
What is your favorite food?
Lobster – crab – shellfish
What is your favorite sound?
Broadway music! My kids singing and laughing.
What is your favorite season?
Spring
Do you have any pets?
A doggie, Stella
Do you have any hidden talents?
I love to sing and am in a local choir.
What is something that didn't come easy for your or you struggle at?
Letting go of control. ? Not worrying about what people think.
What is your favorite vacation destination?
the Beach
What would your students say is your favorite thing to say to them?
Telling them something they did made me laugh. They love to hear that.
Who is your hero?
So many… I can't pick one. Anyone overcoming adversity.
Who was your favorite teacher growing up? why?
Wanda Snuggs – trigonometry. She was funny and a woman mathematician.
What do you love about Bill Roberts?
The culture.