Tracy Schoneman
5th Grade Math & Science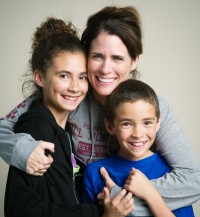 Email:
Tracy_Schoneman@dpsk12.org
Department(s):
5th Grade
Where did you grow up?
Grand Junction, Colorado
What college did you attend?
Bachelors at University of New Mexico, Teaching Certification at Mesa State College, Master in Administration from UCD
Why did you choose to become a teacher?
I originally wanted to be a cop/FBI (like Clarice Starling) but decided to help kids before they got in trouble.
What is your favorite book?
"Memoirs of a Geisha" by Arthur Golden
Do you have a favorite sports team?
Broncos
What is your favorite food?
Hamburgers
What is your favorite sound?
My kids laughing together.
What is your favorite season?
Fall
Do you have any hidden talents?
I can walk at a brisk pace while reading.
What is something that didn't come easy for your or you struggle at?
Reading and following directions.
What is your favorite vacation destination?
Anywhere – I love to travel.
What would your students say is your favorite thing to say to them?
"Oops I forgot."
Who is your hero?
Mr. E – He is a kid whisperer
Who was your favorite teacher growing up and why?
Ms. Cain, she made me feel special.
What do you love about Bill Roberts?
I love that I get to teach siblings and that I see prior students all the time.