Donate

Why do we fundraise?
Denver Public Schools funds basic education, but there is nothing basic about Bill Roberts. In order to provide all of the amazing extras that our children receive every day, the Bill Roberts PTA encourages every family to make a direct financial contribution to the school. No contribution is too small and certainly none is too large.
And who is "we?"
We are the parents and teachers who have gotten involved at Bill Roberts as volunteers for the PTA. The more we participate, the more we have realized the need for financial support, so we work to make it happen, all in support of education for all of our children.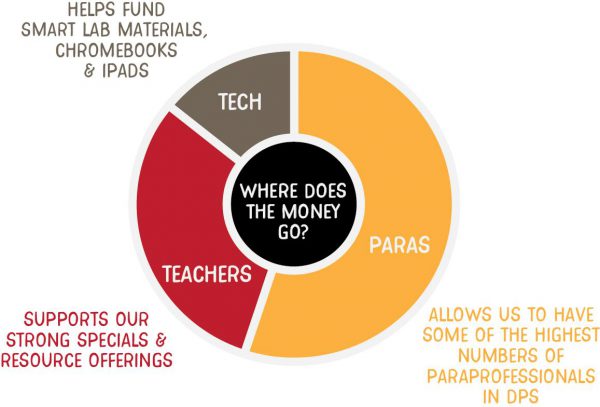 Families can make a donation online here or set up an automatic monthly payment. Checks can also be made out to the Bill Roberts PTA.
At the start of every school year, the Bill Roberts PTA organizes a series of Greet & Give parties. These parties are open to all Bill Roberts families and are a great opportunity to get to know the school community and learn about how the PTA uses families' donations to improve our children's overall education. There will be no in-person Greet & Give parties for the 2020-2021 school year due to COVID-19 restrictions.
What you may not know about PTA Fundraising
If every family contributes $20 per month for each student they have at Bill Roberts we will raise over $192,000 through Direct Giving alone!
100% of the money that PTA raises goes directly to support Bill Roberts.
Your active participation helps the PTA raise more than $160,000 a year – an amazing feat!
The money raised directly fund various programs including: specials, scholarships, family programs, staff support and more!
This money makes a huge difference in the quality of education and support that our children receive at Bill Roberts.
100% of your donation is tax-deductible.
You can pay in monthly installments, no donation is too small!
Greet & Give Party Host QA
If anyone is interested in giving back to Bill Roberts in a fun and unique way, please consider co-hosting one of these Greet-and-Give parties or create one of your own! Have fun planning and throwing an epic bash (or a more intimate get-together) as a way to donate to Bill Roberts. Friends often co-host to share costs, but anyone is welcome to plan a party of their own!
Why are these called "Greet and Give" parties?

These festive parties hosted by fellow Bill Roberts families are a great way to get to know (GREET) fellow BR families. The events are no cost to you, but we encourage folks to donate (GIVE) whatever you can.
Why do we need to raise money?

While we do get money from the school district, there are some things that are funded by donations from our amazing families…things like paras, SMARTLab materials and specials including art, drama, music and PE.
Is there a minimum to donate?  

No! Some donate what they'd spend on a night out, some donate monthly, some donate hundreds, some give whatever amount they can. EVERY donation, no matter the size, helps keep our school great.
What if I want to donate a bit at a time?

You can! In fact, this is a popular way to give. You can visit our website anytime (or do it at a party) and donate any amount monthly.
What if I want to give $2/day for my child's education?  

That's $29/month! Yep, 174 days of school times $2 divided by 12 months = $29
How do I RSVP?

Check out the calendar or Facebook for future parties.
Furthermore…
Some families feel like Bill Roberts provides a public school education that's reminiscent of a private school, but not for the same price tag! On average, a private school education in Denver is at least $10,000-$15,000/year.
Come join us at these parties to mix and mingle and celebrate this fabulous school. If you can donate when you're there, great! It's at your discretion, but remember that EVERY amount helps. No donation is too small and none is too big.
Please join us to see what a great community we are and celebrate our children's fantastic education. THANK YOU!
Contact our PTA volunteer parent leader at brdirectgiving@gmail.com to discuss ideas and options.